Blood Orange Pie Bites
Are you a risk taker?
Kristen of Dine and Dish
asked that question awhile back on Twitter, and it had me thinking. My initial reaction was no. In January, I was at a meeting where they talked about saving for retirement and how you can set up your account to try and outperform the market, calling it a high risk investment. Not for me. Then there's the whole gambling thing. I may participate a little, but I'm not spending tons when I do. I'd rather buy butter than lose money with some silly card game. But then I took a step back. I studied abroad in Ireland for a semester. I moved away, by myself, to a small town 2.5 hours away from anybody I knew. I even went snorkeling when I'm terrified of swimming. All high risk decisions. So where does that put me? And what does risk have to do with these Blood Orange Pie Bites? For starters, if I never took the risk to go snorkeling in the Bahamas, I wouldn't have had my first blood orange fresh from the tree.
[rss-cut]
Of course, you can argue that even if I didn't go snorkeling in the Bahamas, I would have eventually stumbled upon blood oranges, but let's face it – having one fresh from the tree is much more exciting than buying one at the grocery store. Plus I have memories attached to the fruit. Snorkeling around in the ocean while wearing a life vest (what? I'm not a good swimmer). Staying at a geology research center where the staff fed you surprisingly tasty home-cooked meals from canned ingredients (even the milk was powdered because fresh milk spoiled too soon when shipped in). Having no internet (or technology for that matter) for the week because it took 10 minutes just to send one email. Flying from the tiniest airport I've ever seen. I wouldn't have any of these if I didn't take the risk.

The airport in San Salvador, Bahamas. Not kidding. That's the building to check in and wait. The trailer is the security area where your bags are inspected.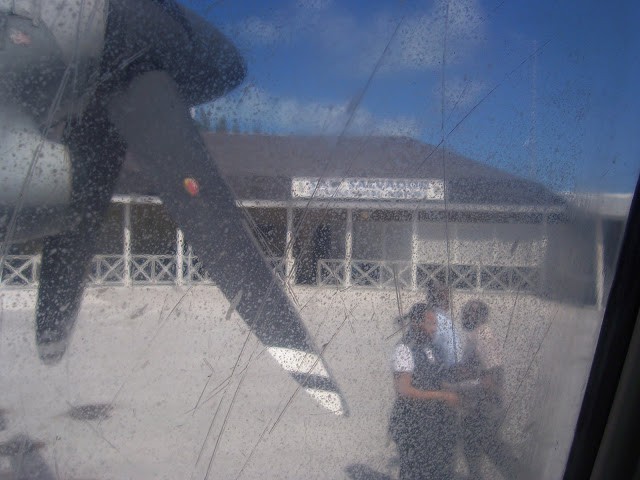 From inside the airplane so you can see behind the airport.
But then there are risks I haven't taken. Starting my own bakery business or becoming a full time blogger. Moving cross country and living on the west coast. Quitting my job without having a back-up plan. Would I love to do these things? Yes. Will I take the risk? I have no clue. I guess if/when the opportunity presents itself, I will decide if I will jump.
So about these Blood Orange Pie Bites. I didn't want to call them tartlettes, not only because I already have a recipe for
Blood Orange Tartlettes
, but also because tartlettes to me are made in little tart pans, not mini muffin pans. Because I made these with pie crust, I decided pie bites would be more appropriate. The filling is the one I use in my
Blood Orange Bars
. They taste just like lemon bars but with blood oranges and pie crust.
Blood Orange Pie Bites
Ingredients
6 ounces cream cheese, softened
1 cup (2 sticks) unsalted butter, softened
2 Tablespoon sugar
2 cups flour
Filling
3/4 cup sugar
1 egg
1/3 cup blood orange juice
1 Tablespoon blood orange zest
1/3 cup flour
Instructions
In a large bowl, beat together the cream cheese and butter until light and fluffy, about 2-3 minutes. Gradually beat in the flour and sugar. Wrap the dough in plastic wrap and chill at least 15 minutes.
Preheat oven to 425F degrees. Have two mini muffin pans ready. Divide the dough into 36 pieces. Press the dough into the bottom and up the sides of each cup, forming a mini pie. Chill in the refrigerator as you prepare the filling.
For the filling: Whisk together the sugar and egg until smooth then whisk in the juice, zest, and flour.
Take the muffin pans out of the refrigerator. Fill each mini pie with some of the filling. Bake 15-18 minutes or until set. Let cool for a few minutes then remove to a wire rack and cool completely. Once cool, dust with powdered sugar.
Source: Filling adapted from
Eating Out Loud
This post may contain affiliate links. As an Amazon Associate and member of other affiliate programs, I earn from qualifying purchase.