Chocolate Peanut Butter Fudge Cake
This two layer Buckeye Layer Cake, aka chocolate peanut butter fudge cake, is made with fudgy chocolate cake layers with a creamy peanut butter filling then covered in chocolate ganache.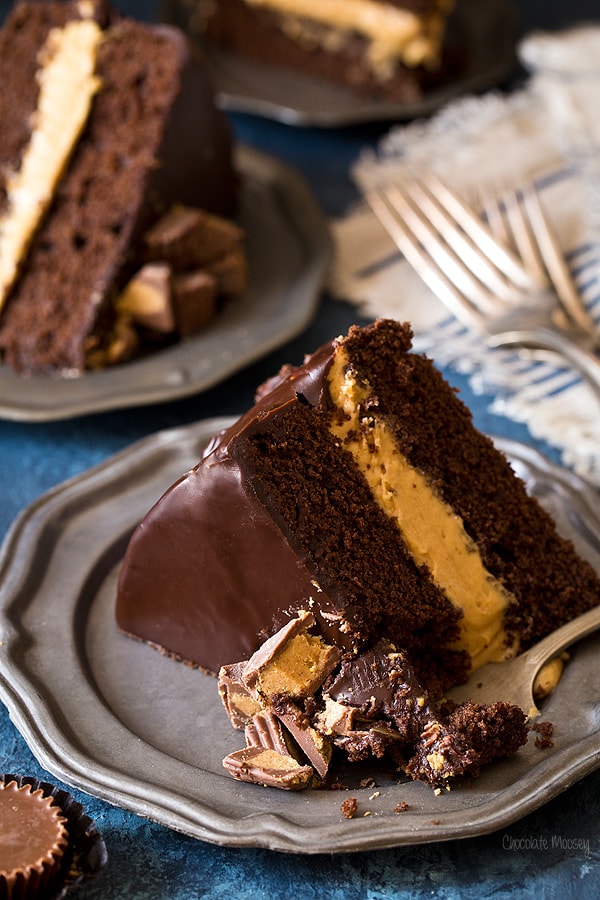 This week marks 9 years of blogging, which is ironic because I've been super frustrated with it this month.
My new posts are barely seen the first day then drops off the rest of the week. Social media sites like Pinterest and Instagram changed their algorithms, so nobody is seeing my content.
It feels like I'm shouting into an abyss and hoping that maybe someone out there is enjoying my work, even though they may not ever leave a comment or like it on social media.
This blog is tied into who I am, so it's hard not to take it personal. I am forever grateful for this job because my last one didn't end so well, and I know most people would happily trade me.
I remind myself why I started in the first place and my success is based more on my talent than my numbers, but sometimes my self confidence cracks, leaving me with many whys and not enough answers.
I've accepted the fact I will never be super popular with millions of pageviews. I can live with that.
Maybe I can't give quantity, but I can give quality. I don't take shortcuts.
Anyway, I needed to get that off of my chest. Today needs to be about celebration, not self pity.
I want to thank you for reading and supporting my blog for the past 9 years. Without you coming back, I wouldn't still be writing.
This Buckeye Layer Cake is dedicated to you because I know you love chocolate and peanut butter as much as I do. At least I hope you do!
I struggled to figure out what kind of anniversary cake I wanted to make.
I knew I wanted chocolate, but I've already made devil's food cake. What other kind of chocolate cake can I make?
Then it hit me – duh, peanut butter! After taking even more time on deciding on the frosting, this Buckeye Layer Cake was born.
Two fudgy chocolate cake layers with a creamy peanut butter filling then covered in chocolate ganache.
If that doesn't scream celebration, then I don't know what will.
The combination of chocolate and peanut butter is often referred to as buckeye, named after the popular buckeye candy that is peanut butter fudge dipped in chocolate.
I adapted the cake layers from my devil's food cake recipe. I kept it mostly the same but added peanut butter to the batter.
The batter will be thick like frosting, which makes it more difficult to transfer to the cake pans because you'll be too busy licking your spatula.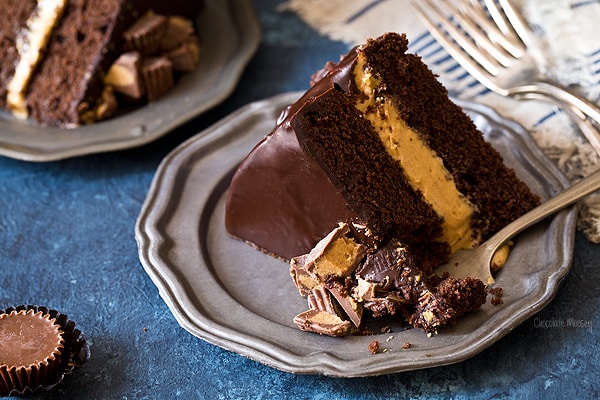 The glaze is chocolate ganache, which is melted chocolate and heavy cream mixed together until smooth. As it cools, it thickens into a more solid form.
Because the ratio of chocolate to cream is 1:1, the ganache is solid enough to cut yet soft enough to bite without crunch, adding another element of fudge to the cake.
Learn how to make ganache complete with step by step photos.
I may not be the most popular blog in the universe, but that's ok. At least I know how to make cake.
Buckeye Layer Cake (Chocolate and Peanut Butter Fudge Cake)
Yield: 10-12 servings
Prep Time: 1 hour
Cook Time: 30 minutes
Total Time: 1 hour 30 minutes
Ingredients
Cake
1 1/3 cups all purpose flour
1/2 cup unsweetened cocoa powder
3/4 teaspoon baking soda
1/2 teaspoon baking powder
1/4 teaspoon salt
6 tablespoons unsalted butter, softened
1/2 cup creamy peanut butter
1/2 cup brown sugar
1/2 cup granulated sugar
3 eggs
1 teaspoon vanilla extract
2 ounces bittersweet chocolate, melted
1/2 cup whole milk
1/2 cup hot coffee or hot water
Peanut Butter Filling
1/2 cup creamy peanut butter
6 tablespoons unsalted butter, softened
2 cups powdered sugar
1/2 teaspoon vanilla extract
2 tablespoons heavy whipping cream
Chocolate Ganache
8 ounces semisweet chocolate, chopped
1 cup heavy whipping cream
Chopped peanut butter cups, for garnish
Instructions
Preheat oven to 350F. Lightly grease two 8 x 1 1/2 inch round cake pans then line the bottoms with parchment paper (cut to fit the bottoms only).
For the cake: In a medium bowl, whisk together the flour, cocoa, baking soda, baking powder, and salt.
In a large mixing bowl, beat together the butter, peanut butter, brown sugar, and sugar until light and creamy, about 2-3 minutes. Beat in the vanilla and eggs, one at a time, until fully incorporated (don't be concerned if it looks curdled). Beat in the melted chocolate.
Add the flour mixture alternately with the milk, adding the flour in 3 additions and the milk in 2 additions (begin and end with dry ingredients). The batter should be thick like frosting. Carefully add in the hot coffee or water.
Divide the batter evenly between the two pans. Bake 25-30 minutes or until a toothpick inserted in the middle comes out clean. Cool in the pans for about 15 minutes, run a knife along the edge of the pan to loosen, and invert onto a cooling rack or plate. Cool right-side-up.
For the filling: In a large mixing bowl, beat the peanut butter, butter, and powdered sugar until smooth and creamy, about 2-3 minutes. Add the vanilla and cream. Beat for about 2-3 minutes until light and fluffy.
For the ganache and assembly: If the cake layers have rounded tops, use a long serrated knife and a gentle sawing motion to cut off the rounded part and have flat layers.
In a large bowl, add the chopped chocolate.
In a large saucepan, heat the cream until hot (but not boiling). Pour it over the chocolate. Wait 5 minutes then whisk everything together until completely smooth.
Place one cake layer on a cooling rack placed over a baking sheet lined with parchment paper or serving plate. Using a long metal icing spatula, cover the top with the filling. Top with the second layer (top side up) and gently press down to stick.
Pour the ganache all over, covering the whole cake then top with peanut butter cups. Let the chocolate harden before moving and serving. Store in an airtight container for up to 1 week. If the chocolate starts to soften too much, store in the refrigerator.


Source: Adapted from
Baking: My Home To Yours
More Layer Cakes

Funfetti Layer Cake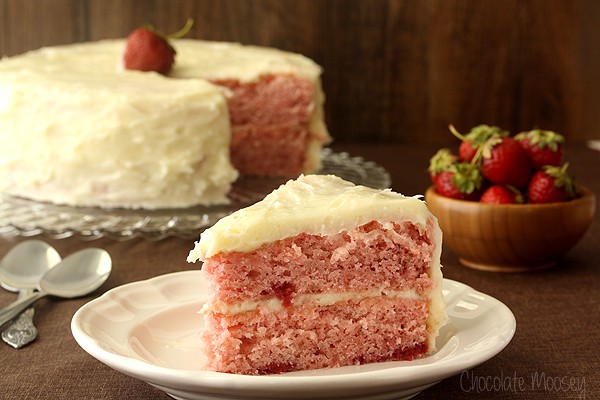 Strawberry Layer Cake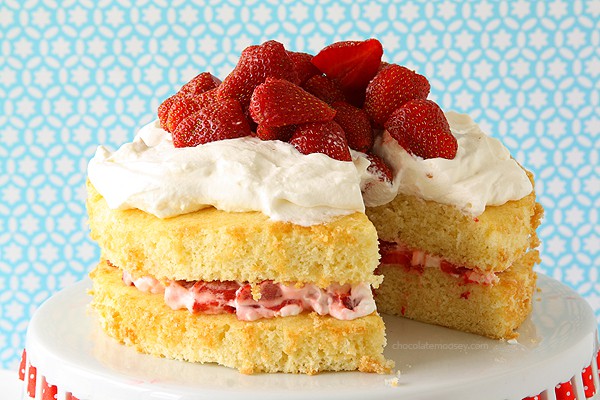 Strawberry Shortcake Layer Cake

Banana Layer Cake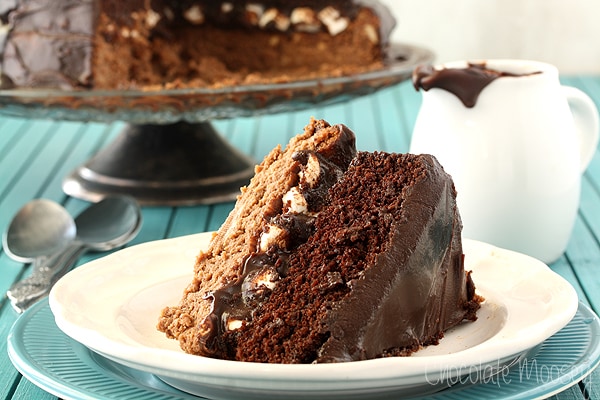 Chocolate Caramel Cheesecake Cake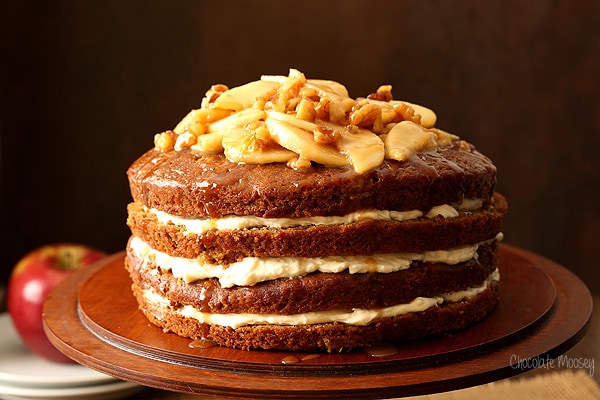 Caramel Apple Butter Layer Cake
This post may contain affiliate links. As an Amazon Associate and member of other affiliate programs, I earn from qualifying purchase.