Hate cutting out sugar cookies? No need to roll and cut dough with Soft Chocolate Sugar Cookies! Just scoop and bake then frost with a creamy chocolate frosting. Top with chocolate sprinkles or mini chocolate chips.
One thing I love about Christmas is all of the
cookie recipes
available. You have your special Christmas cookies like peppermint and gingerbread. Then you have your classics like chocolate chip and peanut butter. Then you have your fancy I'm-ready-for-Christmas cookies with their fun Christmas shapes topped with red and green sprinkles. I don't think any holiday is complete without sugar cookies.
However, I'm not a fan of decorating cookies. I love eating them. I love looking at them. But I do not enjoy chilling, rolling, cutting, more chilling, more rolling, more cutting then decorating with my subpar art skills with sprinkles all over the floor. That's when I opt to make sugar cookies by scooping and baking, like with these Soft Chocolate Sugar Cookies. They are similar to my soft pumpkin sugar cookies but made for chocolate lovers with their chocolate batter and creamy chocolate frosting. Make them for your cookie trays. Make them for your friends. Make them for a snack while watching your favorite Christmas movies (Elf, anyone?)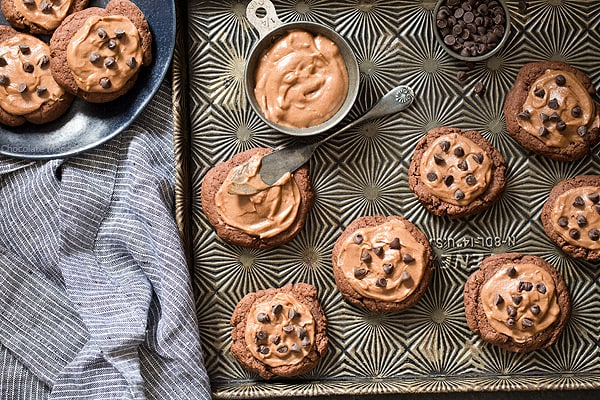 One of my secrets to the best chocolate cookie is adding cinnamon and clove to the batter. The spices add another depth of flavor, bringing out the chocolate even more. When I shared the cookies at my coworking space, everyone asked me what that special flavor was. I highly recommend adding the spices, but the cookies are still enjoyable without them.
When I went to my pantry to decorate, I realized I was completely out of chocolate sprinkles. The horror! I had every color and shape of sprinkles except chocolate. I didn't want to run to the store for one item and didn't want to leave them naked, so I improvised with mini chocolate chips.
Soft Chocolate Sugar Cookies
Ingredients
1 1/2 cups all-purpose flour
1/2 cup unsweetened cocoa powder
1/2 teaspoon baking powder
1/2 teaspoon ground cinnamon
1/4 teaspoon ground clove
1/4 teaspoon salt
1/2 cup (4 ounces or 8 tablespoons) unsalted butter, softened
1/2 cup granulated sugar
1/4 cup powdered sugar
1 egg
1/4 cup sour cream
1/2 teaspoon vanilla extract
Creamy Chocolate Frosting
2 tablespoons unsalted butter, softened
1/2 cup powdered sugar
Pinch of salt
1/4 teaspoon vanilla extract
1 ounce semisweet chocolate, melted
1 teaspoon milk (optional)
Sprinkles or mini chocolate chips, for decoration
Instructions
Preheat the oven to 350F. Line a baking sheet with parchment paper.
In a large bowl, whisk together the flour, cocoa powder, baking powder, cinnamon, clove, and salt.
In another large bowl, beat together the butter and both sugars until smooth and creamy, about 2-3 minutes. Beat in the egg then beat in the sour cream and vanilla. Gradually beat in the flour mixture until completely incorporated (do not overmix).
Scoop the dough into 2-inch balls. Flatten each one with the bottom of a glass. Bake 8-9 minutes or until edges are firm and center puffs (do not overbake). If they didn't spread enough, carefully flatten again. Cool on the sheet for 5 minutes then move to a wire rack to finish cooling.
For the frosting: