No slow cooker? No problem! These BBQ pulled pork sandwiches with coleslaw can easily be made in the oven and makes just enough to generously feed two people.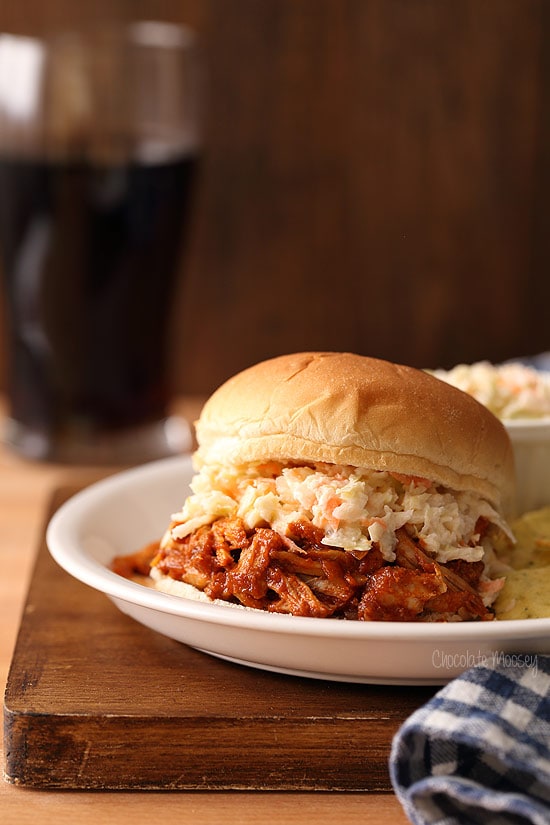 Now that spring is in the air, I've been on a bit of a spring cleaning spree. For the past few months, I made a pile of cookbooks that I've either outgrown or no longer interested in, so I finally donated those to the library. Funny how developing your own recipes can change your perspective on which cookbooks to keep. Next on my agenda is to donate the various food magazines that I've accumulated over the years. Libraries tend to not like magazines, so I'm not sure what to do with them. I did finally cancel all of magazine subscriptions to help save some money (and clutter). The ones I do have I store in an ottoman in the living room, so as I was reading and organizing them into piles, I came across a Cook's Country magazine that I probably bought for 25 cents at a yard sale. As I was looking through what I had bookmarked, I noticed their cooking for two pulled pork recipe. I had completely forgotten about this! I love pulled pork and often look for a good BBQ joint when eating out as it's too cumbersome for little ol' me to make at home. Cook's Country recognized this dilemma as well and proposed a solution, which involves using a smaller cut of pork and 90 minutes of oven time. I decided to take it one step further and Pittsburgh it up with homemade coleslaw on the sandwich (seriously, is that just a Pittsburgh thing?). No need for a slow cooker, a smoker, or other equipment you may or may not have. Just you, your oven, and common pantry ingredients.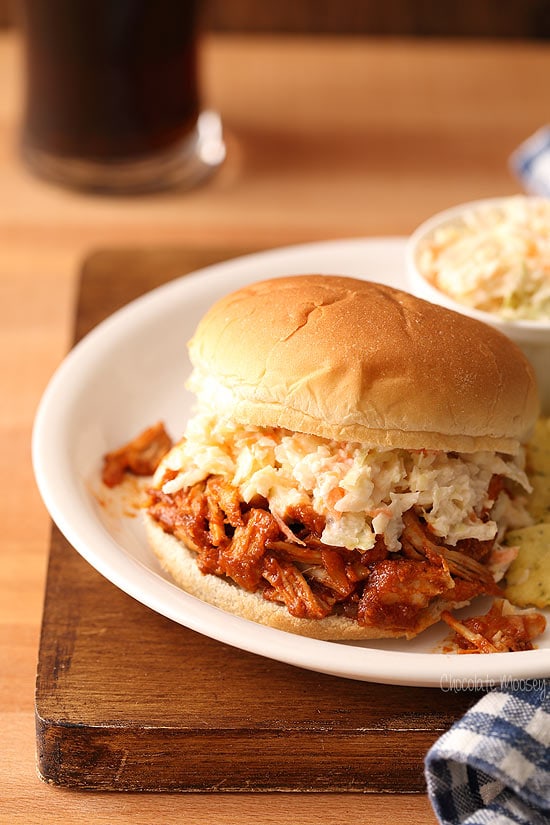 This is one of those lazy weekend dinners, mainly because it does take over an hour to make, but it's also mostly hands off time. After you brown the pork and make the sauce, all you have left to do is throw it in the oven and patiently wait (which is hard to do as the sweet BBQ aroma fills the air). Even though I followed Cook's Country's technique, I did add a few personal touches to the sauce to make it my own.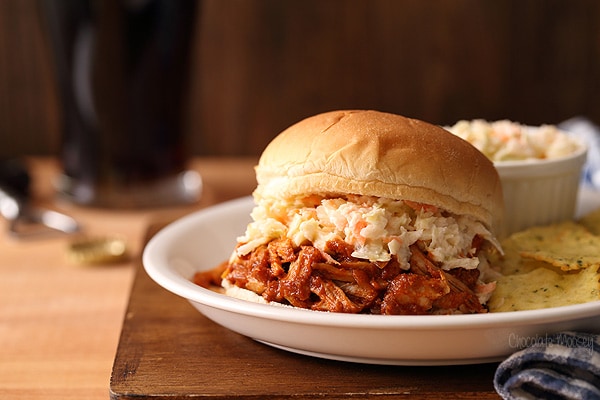 I'm going to warn you – after you make the coleslaw, you will more than likely have cabbage leftover as there's no such thing as buying a small head (although I've seen on occasion half of a head of cabbage for sale, sealed in plastic wrap), so take that into account when you are menu planning. What I do is cut all of the cabbage up at one time and store them in several plastic containers. Then later in the week I either make
haluski
or
Thai sweet chili shrimp with cabbage "noodles"
, which takes almost no time at all to make dinner since the cabbage is all ready to go.
Items you may need (affiliate links):
Pulled Pork For Two
Yield: 2 servings

Prep Time: 1 hour

Cook Time: 1 hour 30 minutes

Total Time: 2 hours 30 minutes

No slow cooker? No problem! These BBQ pulled pork sandwiches with coleslaw can easily be made in the oven and makes just enough to generously feed two people.
Ingredients
2 pounds bone-in blade cut pork chops, cut from the bone and into long, 1-inch thick strips
2 tablespoons brown sugar, divided
2 teaspoons smoked paprika
1 teaspoon ground chili powder
1 teaspoon ground cumin
1 teaspoon garlic powder
1 teaspoon onion powder
1/2 teaspoon ground mustard
1/2 teaspoon salt
2 slices raw bacon, chopped fine
1 small onion, chopped
2 garlic cloves, minced
1/2 cup ketchup (homemade or store bought)
2 tablespoons white distilled vinegar
2 tablespoons honey
2 tablespoons tomato paste
2 teaspoons Worcestershire sauce
Coleslaw
1 cup shredded cabbage (roughly 4 ounces cabbage)
1 small carrot, peeled and shredded
1 tablespoon chopped onion
1/4 cup mayonnaise
1 tablespoon milk
1 teaspoon white distilled vinegar
1/2 teaspoon granulated sugar
Instructions
Preheat oven to 300F degrees.
In a small bowl, whisk together 1 tablespoon brown sugar, paprika, chili powder, cumin, garlic powder, onion powder, mustard, and salt. Pat pork pieces dry with a paper towel then rub with spice mixture.
In a large ovenproof Dutch oven or other large pot with a lid, cook the bacon until crisp, 4-6 minutes. Remove the bacon to a paper towel-lined plate. Add half of the pork to the pot and brown on both sides, roughly 3-4 minutes per side. Remove to a plate. Repeat with the remaining pork.
If there isn't a lot of grease left in the pot, add 1 tablespoon cooking oil and heat. Add the onion and cook until softened, roughly 3-5 minutes. Add the garlic and cook for 30 seconds. Stir in the remaining 1 tablespoon brown sugar, ketchup, vinegar, honey, tomato paste, and Worcestershire sauce, scraping up any browned bits. Bring to a boil.
Return the bacon and pork to the pot and cover with a lid. Bake in the oven for 1 1/2 hours or until the pork is fork-tender. Cool for 10 minutes then shred into bite-size pieces using two forks. Serve on hamburger buns with coleslaw.
While the pork is baking, make the coleslaw: In a medium bowl, combine the cabbage, carrot, and onion. Whisk together the mayonnaise, milk, vinegar, and sugar then add to the cabbage mixture. Refrigerate for at least 30 minutes before serving.
Notes
After you make the coleslaw, you will more than likely have cabbage leftover, so take that into account when you are menu planning. What I do is cut all of the cabbage up at one time and store them in several plastic containers. That way throughout the week, the cabbage is all chopped up and ready to go. If you're looking for ideas, check out my list of cabbage recipes.



Source: Adapted from Cook's Country
More Sandwich Recipes

Guinness Pulled Pork Sandwiches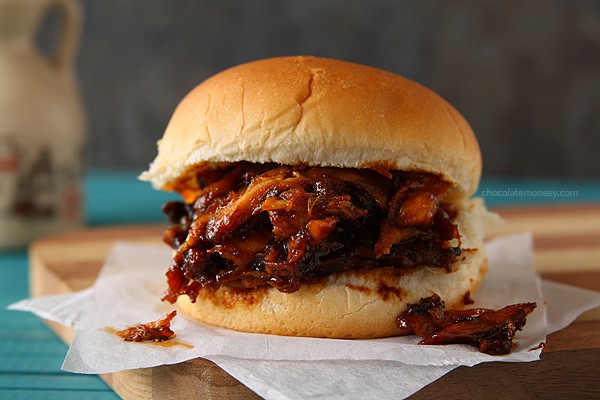 Maple BBQ Pulled Chicken Sandwiches

Homemade Sloppy Joe Sandwiches

Greek Sloppy Joes