Creamy Gingerbread Cheesecake Cupcakes combine the rich flavors of gingerbread and cheesecake into one handheld treat for Christmas.
"Deck the halls with lots of cheesecake. Fa la la la la la la la la"
Today I made Gingerbread Cheesecake Cupcakes. Let's face it – holiday parties are usually filled with trays of handheld treats, such as cookies and candies. That's why I wanted to make cheesecake in grabbable form, not only to fit onto your snack plate but also for portion control. You can't argue that we consume extra calories during the holiday because of the abundance of food, but that doesn't mean you have to skip the cheesecake. I never skip the cheesecake. Of course gingerbread is almost synonymous with Christmas, so I incorporated gingerbread and cheesecake into one holiday snack.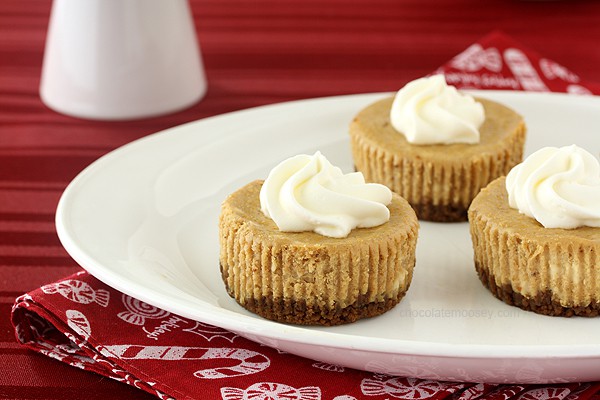 A few months ago I made
Snickerdoodle Cheesecake Cupcakes
. After making that recipe, I knew I'd be doing different variations throughout the year. For the base, I used crushed gingersnaps to emphasize the ginger flavor even more. Make sure you crush them up really finely in the food processor and not leave little chunks behind. That makes it easier to bind a crust.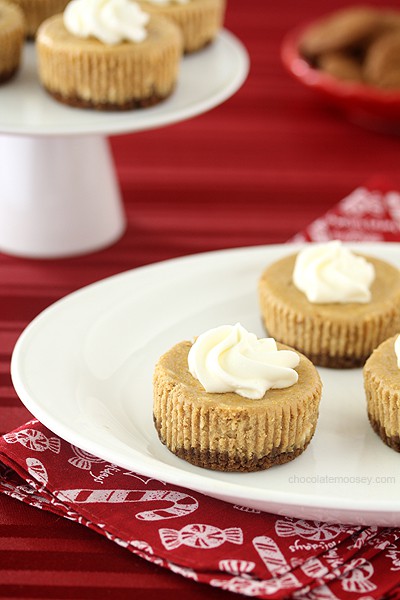 I peeled off the cupcake liners to serve because I felt they made a better presentation for a dinner party. Totally up to you. If you gift these, you can leave the liners on. And yes, you can gift these cupcakes as long as you remember to tell the person to refrigerate them! A lot of stores, including the dollar store, are selling cupcake gift boxes with an insert in the middle so the cupcakes don't fall over during transport.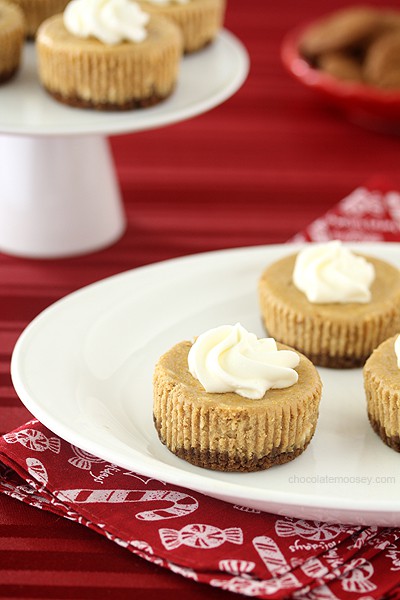 Ingredients
1 1/2 tablespoons flour
1 teaspoon ground ginger
1/2 teaspoon ground cinnamon
1/2 teaspoon ground nutmeg
1/8 teaspoon ground clove
1 cup gingersnap crumbs
3 tablespoons butter, melted
16 ounces cream cheese, softened
3/4 cup granulated sugar
2 eggs
1 teaspoon vanilla extract
1/4 cup sour cream
1/4 cup heavy whipping cream
2 tablespoons molasses
Whipped cream, for garnish
Instructions
Preheat oven to 350F. Line two cupcake pans with 18 paper liners.
In a small bowl, whisk together the flour, ginger, cinnamon, nutmeg, and clove.
In a medium bowl, mix together the gingersnap crumbs and melted butter. Divide among the 18 liners and press down to form an even layer on the bottom.
In a large mixing bowl, beat together the cream cheese and sugar until smooth and creamy, about 2-3 minutes. Beat in the eggs, one at a time, until smooth. Beat in the vanilla, sour cream, and heavy cream until smooth. Beat in the molasses then gradually beat in the flour mixture.
Scoop the batter into each paper liner, filling close to the top (they won't rise very much). Bake for 18-20 minutes or until done with the centers still slightly jiggly (do not overbake). Cool in the pan for 1 hour (if you try to remove them, the liners may not stick). Cover with plastic wrap and refrigerate for at least 2 hours or overnight. Garnish with whipped cream before serving.
7.6.3
3223
https://www.chocolatemoosey.com/2013/12/10/gingerbread-cheesecake-cupcakes/
Source: Adapted from
Cooking Classy