Peppermint Mocha Brownie Cookies
Sinful peppermint mocha brownie cookies dipped in chocolate will disappear faster than you can say Merry Christmas.
Welcome to Christmas Week, a multi-blogger event co-hosted by Kim of
Cravings of a Lunatic
and Jen from
Juanita's Cocina
! Each day we will be celebrating the holidays with Christmas-themed treats as well as fabulous Christmas giveaways. There will be posts going on all week until Saturday, December 14th. I'll personally be posting today until Thursday, so make sure you check out all the participating blogs all week (hint: participants and giveaways are listed at the bottom of each post).
I'm starting things off with several of my favorite flavors rolled into one – Peppermint Mocha Brownie Cookies. Tis the season for those famous red cups at a famous coffee chain. I know you can technically buy peppermint mochas all year long, but it just doesn't taste the same having one in June. I toyed with the idea of making it a cupcake but instead chose brownie cookies. Not only can you mail these (and I have), you can put them on your cookie trays or serve them with evening coffee. Texture like a brownie, shaped like a cookie, tastes like December is here.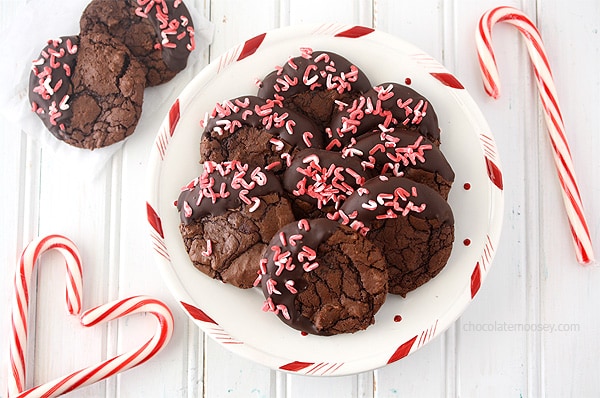 Whoever originally decided to marry a brownie into a cookie is a genius. I couldn't stop eating these, so I mailed them off to a friend. Otherwise the whole dozen would've been gone in a day. I have no self control when it comes to brownies and cookies. Or any dessert I make, really. That's why I send most of it to work because if I didn't, I'd be wearing really big pants.
Peppermint extract is a lot stronger than vanilla, so please measure accurately. I say this because I'm pretty lax in measuring vanilla when I'm not testing a recipe. I use it so much I can guesstimate what a teaspoon of vanilla is. But peppermint extract? Very potent if you pour too much! And if you're looking to make these cookies plain since peppermint is a love or hate flavor, substitute 1 teaspoon vanilla.
You'll notice that I used candy cane-shaped sprinkles instead of crushed candy canes. I'm not a fan of hard candy. I can somewhat tolerate eating candy canes, but sprinkles are much easier for me texture-wise. I'm not sure how much of a novelty candy cane-shaped sprinkles are, so feel free to use your favorite Christmas sprinkles.
UPDATE: I didn't think the sprinkles would be that popular! I got them at a local farm, but if you'd like to order them online, this is what I have.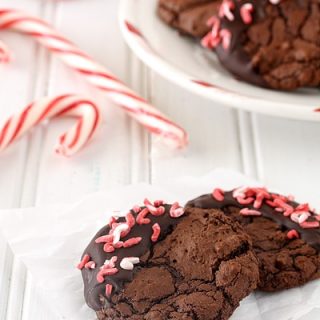 Peppermint Mocha Brownie Cookies
Sinful peppermint mocha brownie cookies dipped in chocolate will disappear faster than you can say Merry Christmas.
Ingredients
1/4 cup all purpose flour
1 tablespoon Dutch-processed cocoa powder
1 tablespoon espresso powder
1/8 teaspoon baking powder
1/8 teaspoon salt
4 ounces bittersweet chocolate, chopped
2 tablespoons unsalted butter
1 egg
6 tablespoons granulated sugar
1/4 teaspoon peppermint extract
4 ounces semisweet chocolate, chopped
Crushed candy canes or sprinkles
Instructions
Preheat oven to 350F. Line two baking sheets with parchment paper.
In a small bowl, whisk together the flour, cocoa powder, espresso powder, baking powder, and salt.
In a heatproof bowl over a saucepan of simmering water, melt the bittersweet chocolate and butter. Remove from the heat.
In a large mixing bowl, beat together the egg, sugar, and peppermint extract until pale and creamy, about 5-8 minutes. Add the melted chocolate then gradually add the flour mixture.
Drop the batter by the tablespoonful onto the baking sheets two inches apart. The batter will be somewhat loose and will thicken the longer it sits. Bake 7-8 minutes or until the edges are set and the tops are cracked. They puff a little but will deflate as they cool. Remove from the oven and cool on the sheet 4 minutes before removing the cookies to a wire rack. Cool completely.
In another heatproof bowl over a saucepan of simmering water, melt the semisweet chocolate. Remove from the heat. Dip one half of each cookie into the chocolate then cover with crushed candy canes or sprinkles. Let the chocolate harden before serving.
Source: Adapted from
Love and Olive Oil
—-
If you liked these Peppermint Mocha Brownie Cookies, you may also like these recipes from me:
This post may contain affiliate links. As an Amazon Associate and member of other affiliate programs, I earn from qualifying purchase.