Gingerbread Linzer Cookies #ChristmasWeek
Nutty and spiced Gingerbread Linzer Cookies filled with peach jam are a fancier alternative to regular gingerbread men cookies.
It's Day 3 of Christmas Week! Once again, Kim of
Cravings of a Lunatic
and Jen from
Juanita's Cocina
are co-hosting this multi-blogger event, and each day we will be celebrating with Christmas-themed treats as well as fabulous Christmas giveaways. There will be posts going on all week until Saturday, December 14th. I'll personally be posting four days, so make sure you check out all the participating blogs all week (hint: participants and giveaways are listed at the bottom of each post). Make sure you check out
Day 1
and
Day 2
for recipes and giveaways.
For Christmas, I wanted to make my gingerbread cookies a little bit more elegant, so I immediately thought about linzer cookies. Linzer cookies are fancy sandwich cookies originating from Austria where the top has a little window cut out so you can see the jam filling. It's different than a regular sandwich cookie because the dough has ground nuts, so I played around with hazelnuts. The result? Soft and spiced, just like gingerbread.
My first attempt resulted in a successful cookie after playing around with my favorite linzer cookie recipe from Dorie Greenspan; however, you couldn't taste any ginger or molasses to justify calling them gingerbread. For my second attempt, I decided to take a traditional gingerbread recipe and substitute ground hazelnuts for some of the flour, resulting in the cookies you see here.
Linzer cookies almost always use jam for the filling, so I used peach to complement the cookie. You could also use cherry or even raspberry. I bet orange marmalade would work great too.
Normally you would dust the tops in powdered sugar, but I used up the last bit that weekend and wasn't driving 30 minutes round trip to the store just for one item. It's times like these where I wish I lived with someone to run errands while I finished baking.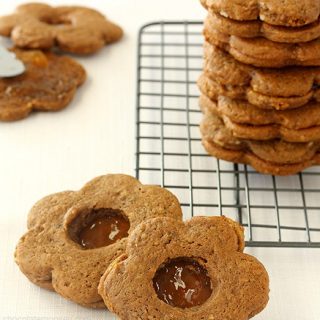 Gingerbread Linzer Cookies
Nutty and spiced Gingerbread Linzer Cookies filled with peach jam are a fancier alternative to regular gingerbread men cookies.
Ingredients
2 1/2 cups all purpose flour
1 cup ground toasted hazelnuts
1/2 teaspoon salt
3/4 teaspoon baking soda
2 teaspoons ground ginger
1 teaspoon ground cinnamon
1/4 teaspoon ground nutmeg
1/4 teaspoon ground cloves
1/2 cup (1 stick) unsalted butter, softened
1/2 cup granulated sugar
1 egg
2/3 cups molasses
6 tablespoons peach jam
Instructions
In a large bowl, whisk together the flour, hazelnuts, salt, baking soda, ginger, cinnamon, nutmeg, and cloves.
In another large bowl, beat together the butter and sugar until light and fluffy. Beat in the egg and molasses. Gradually beat in the flour mixture until incorporated.
Divide the dough in half and wrap each half in plastic wrap. Refrigerate until firm, at least two hours or overnight.
Preheat oven to 350F. Line two cookie sheets with parchment paper.
Working with one dough half at a time, roll out the dough to a thickness of about 1/4 inch on a lightly floured surface. Cut out shapes using a 2.5-inch cookie cutter. If the dough gets too warm, refrigerate until cold again. Place the shapes on the cookie sheets roughly 1 inch apart. Refrigerate the trays for 15 minutes. It's important to keep the dough cold to minimize spreading.
Bake for 8-10 minutes or until firm on the edges. Immediately cut a circle into half of the cookies (I used the back of a piping tip for perfect circles). Cool 2 minutes on the tray then transfer to wire racks to finish cooling. Repeat with the remaining dough.
When the cookies are completely cooled, place 1 teaspoon of jam onto the solid cookies. Top with the cookies with the holes.
Source: Adapted from
Joy Of Baking
—-
If you liked these Gingerbread Linzer Cookies, you may also like these recipes from me: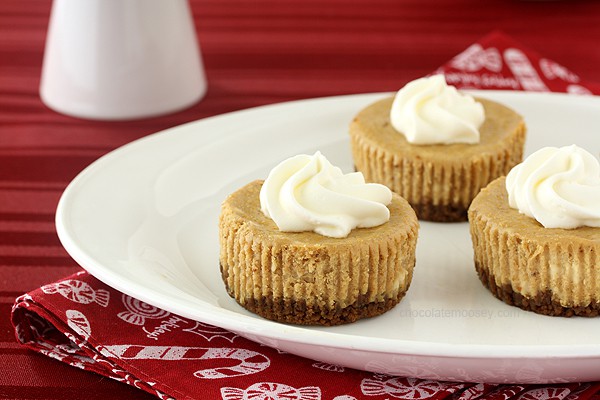 For more Christmas recipes:
—-
Today's #ChristmasWeek giveaway comes courtesy of
Freund Container & Supply
.
Freund Container & Supply has been helping build businesses since 1938 as the largest distributor of glass bottles, containers, and wholesale packaging supplies online. Freund offers over 5,000 items in stock every day, 98% same day shipping, and low-price guarantees. Take a look at Freund's wide selection of jars, tins, bottles and vials for all your crafting and food related needs!
To enter to win one of FIVE different Freund gift certificates, read the details and use the Rafflecopter below!
***This giveaway is for five (individually awarded) $100 gift certificates to Freund Container & Supply. Gift certificate is a one-time use certificate and must be used in its entirety; any leftover monies on the gift certificate will be forfeited. This giveaway is open to both US and Canadian residents. However, it should be noted that due to current International shipping rates, any Canadian winners will pay higher shipping costs for orders. ***
a Rafflecopter giveaway
Disclosure: This giveaway is being provided by Freund Container and Supply. Participating bloggers have not received product nor been compensated as a part of this giveaway.
This post may contain affiliate links. As an Amazon Associate and member of other affiliate programs, I earn from qualifying purchase.