This chocolate covered popcorn recipe with mini marshmallows and sprinkles is one of the easiest recipes you can make. Wrap it inside a coffee mug and give as a thoughtful Christmas present.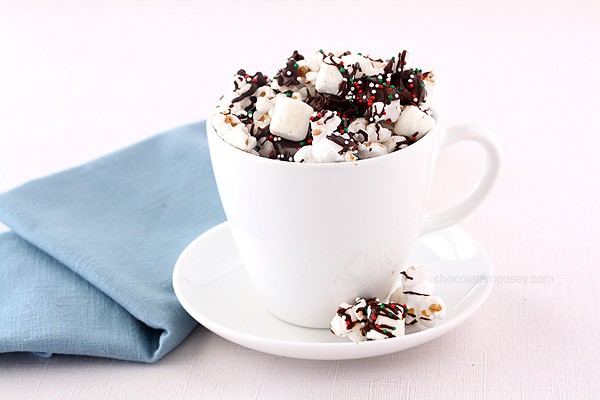 Chocolate covered popcorn is nothing new to me. I remember when my childhood friend introduced me to it, telling me how her aunt came up with this recipe and we just had to try it. Of course we were impatient and ended up eating the popcorn before the chocolate hardened, making a mess of our hands and faces. I've also been known to mix in a handful of mini marshmallows with just-popped microwave popcorn. No chocolate; just buttered popcorn and marshmallows. Sometimes I even throw in M&Ms, making my own snack mix. Seriously – if you haven't tried sweet and salty before, you're totally missing out.
I made this Hot Chocolate Popcorn last year for my coworkers. I don't remember exactly why, but I didn't have time to prepare much and needed a big batch of something to give. Popcorn and snack mixes are great for these situations. Just melt some chocolate, throw in marshmallows and sprinkles then boom – instant snack gift. Everybody else gives hot chocolate mixes; you give hot chocolate popcorn. Place in a treat bag inside a mug, and you have one of the most thoughtful homemade winter gifts ever.
I tried a new technique with mixing everything together, which visually works better than just pouring and stirring. You melt the chocolate then drizzle half of it on parchment paper. Add the popcorn and marshmallows in a single layer on the chocolate then finish drizzling the chocolate on top. That way, you can still see the shape of the popcorn while evenly distributing the chocolate. I added sprinkles to give it a bit of Christmas color, but of course that's totally optional.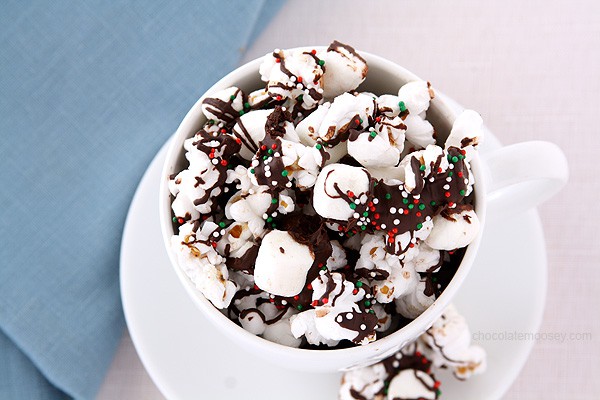 This popcorn isn't restricted to gift giving. After shooting these photos, I dumped it all into a bowl and ate it while watching tv. Such a tough job but somebody has to taste test this recipe for quality control.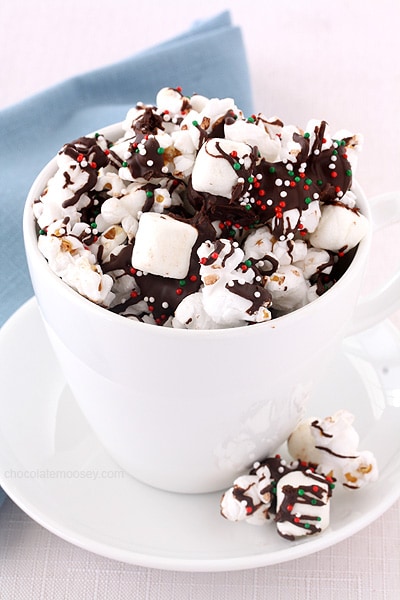 Equipment you may need (Amazon affiliate links):
Hot Chocolate Popcorn
Ingredients
6 ounces semisweet chocolate
3 cups salted popcorn
3/4 cup mini marshmallows
Sprinkles
Instructions
Melt the chocolate in a heat-proof bowl over a pan of simmering water. As soon as all of the chocolate has melted, remove from the heat. Excess cooking time after melting may cause it to seize and/or bloom after hardening.
Drizzle half of the chocolate on a large sheet of parchment paper. Add the popcorn and marshmallows in a single layer, gently pressing into the chocolate. Drizzle the remaining chocolate on top then add sprinkles. Let the chocolate harden then break the popcorn into pieces. Store in an airtight container.
Source: Adapted from
Cooking Club
—-
If you liked this Hot Chocolate Popcorn, you may also like these recipes:
From me: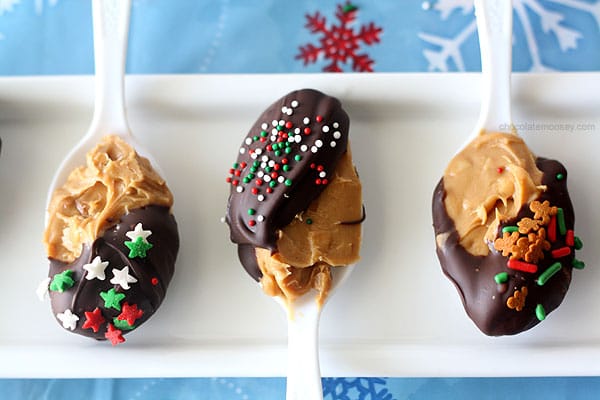 From other bloggers: