Don't want to cook with canned cream of mushroom soup or canned green beans? Here is my favorite easy green bean casserole from scratch for Thanksgiving and Christmas using frozen green beans, fresh mushrooms, and sour cream. Recipe makes 4 servings, ideal for two people to share.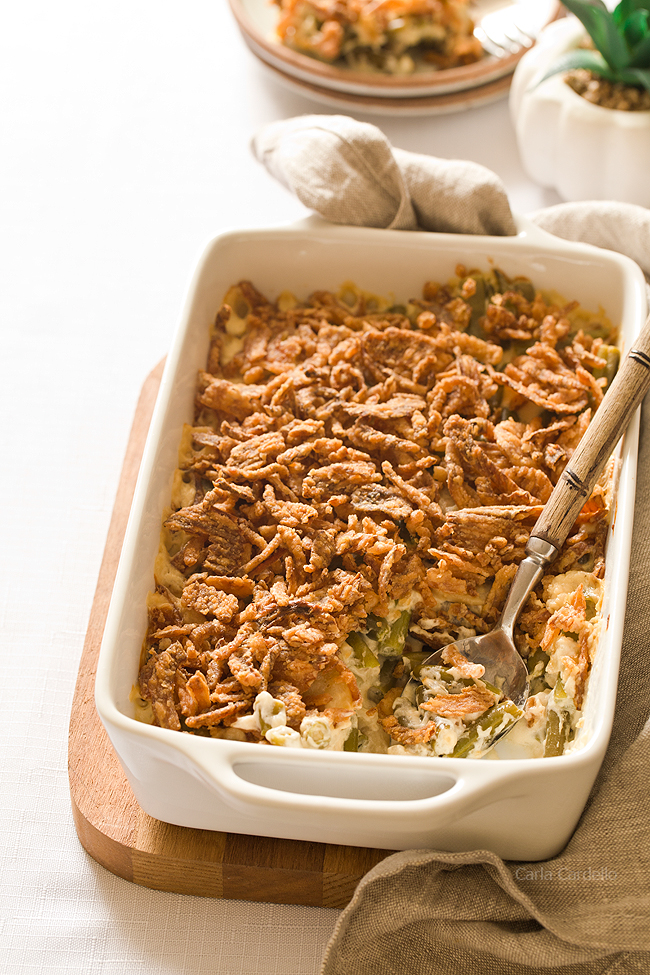 I've been eating Green Bean Casserole every
Thanksgiving
for as long as I can remember. Growing up, Mom made the famous version with canned cream of mushroom soup, canned green beans, and French fried onions. It was my absolute favorite thing to eat for the holiday.
As I started cooking for myself and my palate matured, I could no longer eat a lot of canned items, especially cream of whatever soup. Not wanting to give up the casserole, I was on a mission to make it from scratch.
And I succeeded using sour cream and fresh mushrooms plus some Worcestershire sauce to add some depth (bonus points if you can pronounce it). Mom always added cheese, and I didn't know until a few years ago that there is no cheese in the original. You'll definitely want the cheese.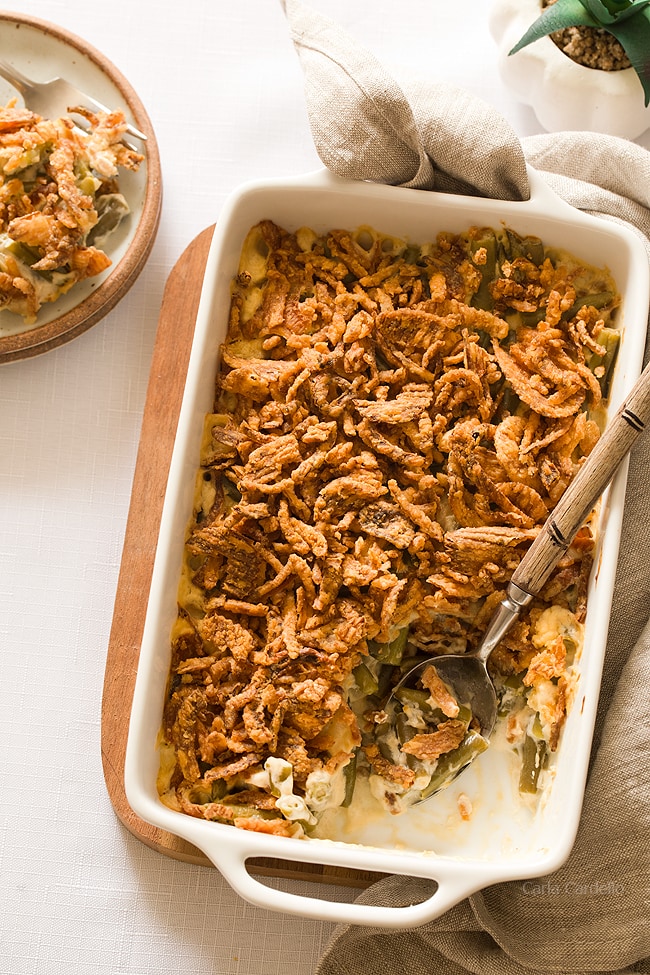 I don't think a year has gone by where we don't make this casserole for Thanksgiving and Christmas. Dad doesn't even need me to write a shopping list anymore. It's like, holiday shopping list? Green beans, mushrooms, onions, sour cream, cheese. Done.
Because green bean casserole is typically made in the winter, I opt for frozen green beans rather than fresh. Sometimes I can find frozen French cut green beans, which is the style I used previously with the canned version. However, regular cut green beans work just as well.
When I originally posted this recipe, I was on a mission to replace everything, included the French fried onions on top. Nowadays I cut myself some slack and make the casserole from scratch using them. If you really want to go all out, fry up some shallots in butter.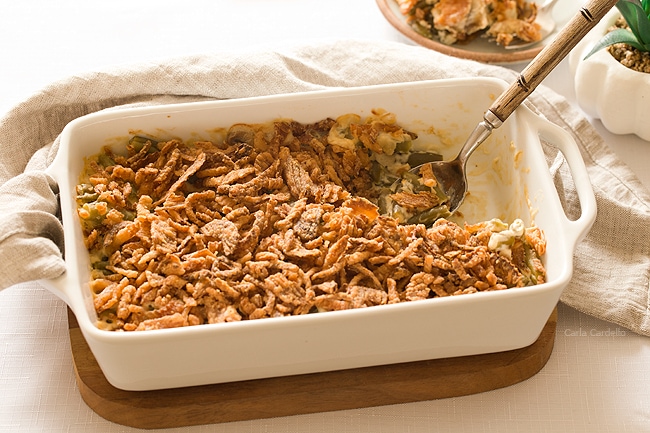 Looking for more Thanksgiving recipes? Make sure you check out my
Cornish Hen with Homemade Classic Stuffing
,
Garlic Parmesan Au Gratin Potatoes
, and
Homemade Gravy Without Meat Drippings
.
Yields 4 servings
Green Bean Casserole (Without Canned Soup)
15 minPrep Time
45 minCook Time
1 hrTotal Time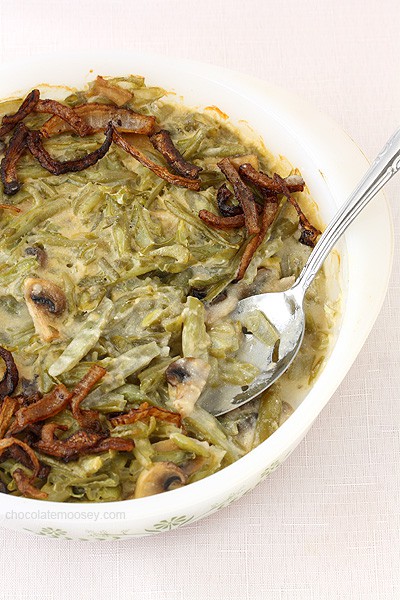 Ingredients
1 bag (12-16 ounce) frozen regular cut or French cut green beans
2 tablespoons unsalted butter
Salt, to taste
1 cup sliced white button mushrooms
1/4 cup chopped white or yellow onion
1 clove garlic, minced
2 tablespoons all-purpose flour
1/4 cup vegetable or chicken stock/broth
1 cup full-fat sour cream
1/2 cup shredded cheddar cheese
1/4 cup heavy whipping cream or whole milk
1 teaspoon Worcestershire sauce (leave out if making vegetarian)
1 cup French fried onions
Instructions
Preheat oven to 350F. Have a 1 quart casserole dish ready.
Bring a large pot of water to a boil. Once boiling, add a big pinch of salt then add green beans. Cook for 3 minutes. Drain and run under cold water to stop the cooking.
Meanwhile, in a large deep skillet, melt butter. Add mushrooms, onion, and a pinch of salt. Cook until softened, about 5 minutes. Add the garlic and cook 1 minute.
Stir in flour until a roux (paste) forms. Slowly stir in the broth.
Add the sour cream, cheese, cream/milk, and Worcestershire sauce. Stir until smooth and cheese has melted. Add salt to taste, up to 1 teaspoon. Stir in the drained green beans and 1/4 cup French fried onions.
Transfer to the casserole dish and top with remaining 3/4 cup French fried onion. Bake 30 minutes or until bubbling.
7.8.1.1
3217
https://www.chocolatemoosey.com/2013/11/21/green-bean-casserole-without-canned-soup/