Making mini deep dish pumpkin pies means you'll have room for a slice on Thanksgiving after the big feast. They also make great gifts to box up for the holidays.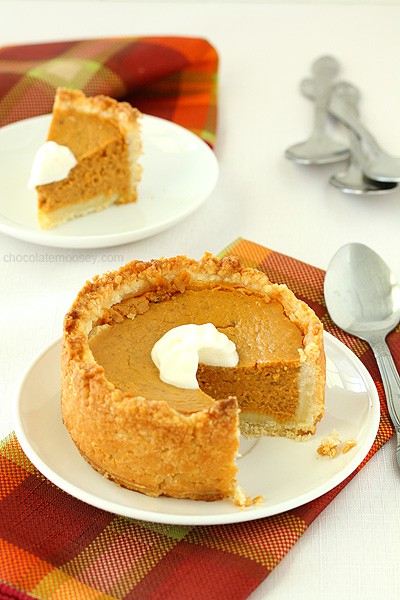 Thanksgiving to many people means lots of family gathered at the dinner table, eating 20 pound turkeys, 10 side dishes, and 3 different kinds of pie. For me, I don't have a huge family. It's just me, my parents, and my brother. This year will be one less at the table because it'll be the first Thanksgiving
without Murray
. I know there are other families just like us where by the time you get to dessert, you can barely fit in a slice of pie. Or maybe there's just two of you and can't justify baking a whole 9-inch pie. That's why I opted for Mini Deep Dish Pumpkin Pies. Small pumpkin pies made in mini springform pans are guaranteed to be the talk of the night.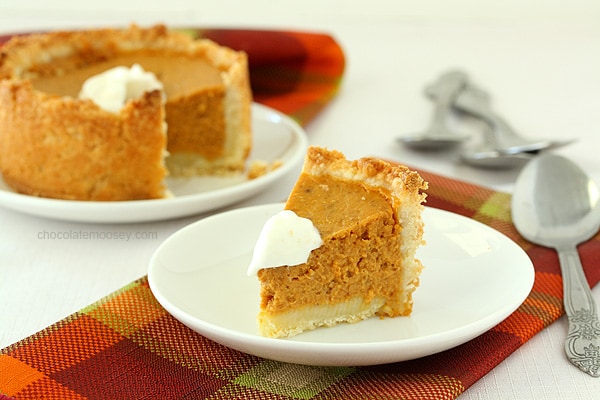 Why mini pies? The slices are smaller so you can still get a taste of Thanksgiving tradition without as many calories (different story if you eat the whole pie). Or maybe only some of your family likes pumpkin, so a whole pie won't get eaten. Or maybe you want to serve both pumpkin and pecan pies. The pies make nice gifts too. Often times you take a break between dinner and dessert (wait, just us?), so if you have family who don't stay long or (worse) are going Black Friday shopping, box up the pie and put a bow on it. Instant departure gift. Mini pies are much cuter with a bow than a slice of pie. Just one slice? No, have a whole pie.
This recipe makes three pies, which may defeat the purpose of baking a whole pie in the first place. However, pumpkin pie freezes well, so if you only want one or two pies now, wrap and freeze the extra pie(s). Then the following week where you wish you had more, boom – emergency pie in the freezer.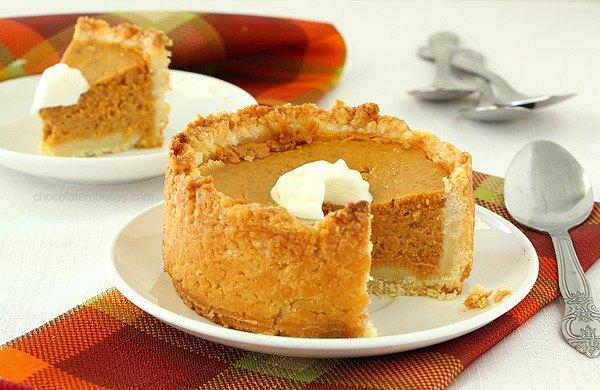 When I brought these mini pumpkin pies into work, coworkers asked how I made them. I used my mini 4-inch springform pans. The original plan was to make two pies, but I had enough dough and filling leftover to fill a third pie. Hence freezing the extra one. The recipe is based off of the traditional Libby's Famous Pumpkin Pie recipe, which my dad swears by. I just cut the filling down and used a cream cheese and butter pie dough.
Speaking of Dad, no we won't be making these mini pies for Thanksgiving. Dad won't let me bake the pies and insists on two 9-inch pies. One to pregame on Wednesday and one to eat on Thanksgiving. Did I mention there are only four of us?
Equipment you may need (Amazon affiliate links):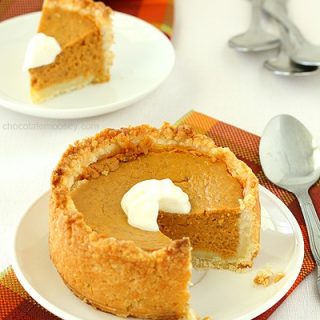 Mini Deep Dish Pumpkin Pies
Making mini deep dish pumpkin pies means you'll have room for a slice on Thanksgiving after the big feast. They also make great gifts to box up for the holidays.
Ingredients
1/2 cup (1 stick) unsalted butter, softened
3 ounces cream cheese, softened
1 cup all purpose flour
2 tablespoons granulated sugar
Pinch of salt
Pie
6 tablespoons granulated sugar
1/2 teaspoon ground cinnamon
1/4 teaspoon ground nutmeg
1/4 teaspoon ground ginger
1/8 teaspoon ground cloves
1/4 teaspoon salt
1 egg
1 cup canned pumpkin puree
3/4 cup evaporated milk
Whipped Cream, for garnish
Instructions
Wrap the outside of three 4-inch springform pans with aluminum foil to help prevent leaks.
In a large bowl, beat together the butter and cream cheese until light and fluffy, about 2-3 minutes. Gradually beat in the flour, sugar, and salt. Divide and shape the dough into three flat disks, wrap in plastic wrap, and chill at least 15 minutes.
Working with one disk at a time, roll the dough into a circle little bit bigger than one springform pan. Press the dough into the bottom and up the sides of the pan (if the dough breaks, patch into pieces). Repeat with the remaining disks. Refrigerate all three pans until ready to fill.
Preheat the oven to 425F.
For the pie filling: In medium bowl, whisk together the sugar, cinnamon, nutmeg, ginger, cloves, and salt.
In a large mixing bowl, beat together the egg and pumpkin. Beat in the sugar mixture then add the milk.
Divide the filling among the three pans and bake 10 minutes.
Turn the heat down to 350F and bake an additional 40-50 minutes or until the filling is set and toothpick comes out clean. Cool for at least two hours then refrigerate or serve immediately. Top with whipped cream before serving.
Source: Adapted from
Very Best Baking
—-
If you liked these Mini Deep Dish Pumpkin Pies, you may also like these recipes:
From me: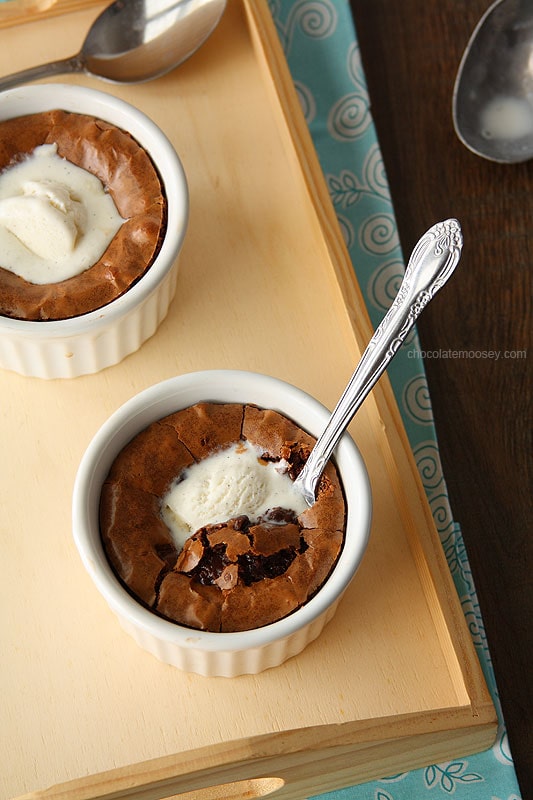 From others: