This baked barbecue chicken wings recipe is a sweet honey barbecue sauce made with Jack Daniel's Tennessee Honey whiskey and will leave you licking your fingers for more.
A few weeks ago, one of my coworkers took a trip to Tennessee and brought me back a little sample bottle of Jack Daniel's Tennessee Honey whiskey from her tour of the distillery. Immediately my mind went to my high school days when my friends and I were old enough to drive and ate at TGIFriday's quite often. One of their specialties is the Jack Daniel's barbecue sauce. Not only did it taste good, we thought we were so cool having alcohol in our food. That was my inspiration for this Jack Daniel's Honey Barbecue Sauce for this week's Sunday Supper. And what better way to serve barbecue sauce than with crispy baked chicken wings? I promise these are so crispy that you won't even miss the fryer.
If I'm going to eat chicken wings, there better be lots of finger-licking sauce. No sauce on the side for me. As you can guess by the name, this honey barbecue sauce is sweet with a bit of a kick from the cayenne (which is totally optional if you don't like heat). This is a great alternative if you're tired of wings setting your face on fire.
The key to crispy chicken wings is a technique I learned from Bon Appetit. You place a roasting rack inside a baking pan, allowing heat to circulate underneath the chicken. Plus if you've ever cooked wings directly on a cookie sheet, you probably know that they tend to stick and be a pain to pull off. Don't skip tossing the wings in oil either. Not only does the oil help the chicken crisp up, it ensures the wings don't stick to the rack. If you do skip the oil, make sure you lightly grease the rack for minimal sticking.
Here's a lesson on saucing chicken wings – bake the wings plain then toss in the sauce before serving. If you sauce them before you bake, the sauce will evaporate. I did that once with buffalo sauce. The wings still had a spicy kick but were not saucy. Which I guess could be a good thing if you wanted the flavor without the mess (can't promise the same result with these – I love my wings saucy).
Although Jack Daniel's gives this barbecue sauce its unique flavor, if you don't want to use alcohol, you can make this sauce without. Instead, sauté the onions in some olive oil. After the sauce is finished, taste it. If you think it needs more honey, add another tablespoon or so.
Jack Daniel's Honey Barbecue Baked Chicken Wings
Ingredients
Chicken
1 dozen chicken wings, thawed and patted dry
Vegetable oil
Salt and black pepper
Sauce
1/4 cup Jack Daniel's Tennessee Honey whiskey*
1/4 cup onion, chopped
2 cloves garlic, minced
1/2 cup ketchup (homemade or store bought)
1 tablespoon vinegar
1 teaspoon worcestershire sauce
2 tablespoons brown sugar
2 tablespoons molasses
2 tablespoons tomato paste
1-2 tablespoons honey
Pinch of cayenne pepper (optional)
Instructions
For the chicken
Preheat the oven to 400F. Line a rimmed baking sheet with foil and set a wire rack on top.
In a large bowl, add the chicken wings, enough oil to coat the wings, and a few pinches of salt and pepper then toss together. Spread into a single layer on the sheet and bake 50-60 minutes or until crispy and fully cooked. Toss the wings in the sauce and serve immediately.
For the sauce
While the wings are cooking, make the sauce. In a medium saucepan, heat the Jack Daniel's. When hot, add the onion and garlic. Cook until the onions start to soften.
Stir in the ketchup, vinegar, worcestershire sauce, brown sugar, molasses, tomato paste, and 1 tablespoon honey. Bring to a boil. Cook until reduced and thickened, about 10-15 minutes, stirring often. Taste the sauce and add the extra tablespoon of honey if needed.
Notes
*To make the sauce without Jack Daniel's, use about 2 tablespoons oil to saute the onions and garlic.
Source: Adapted from
Bon Appetit
and
About.com
Want more saucy recipes?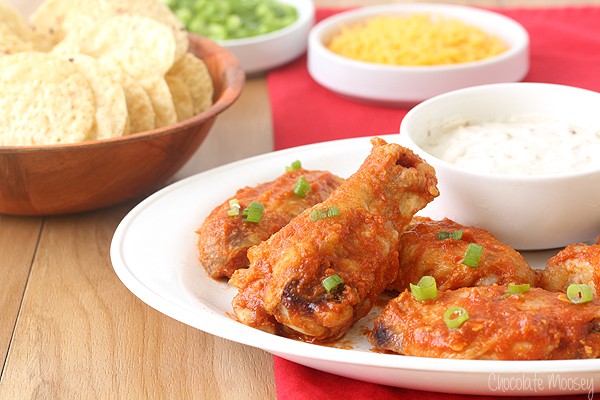 Saucy Taco Baked Chicken Wings