Pumpkin Spice Kiss Cookie Cups
Chewy chocolate chip cookie cups topped with Pumpkin Spice Hershey's Kisses to put you in the mood for Halloween.
These cookie cups weren't supposed to happen. They were a back up of a back up of a back up plan and now a symbol of my perseverance and victory for October. There's a Halloween curse going around, I swear, but before I get into that, let me introduce these Pumpkin Spice Kiss Cookie Cups I made for today's Holiday Food Blogger party. You may remember us from
St. Patrick's Day
,
Cinco de Mayo
, and
Fourth of July
, but pretty much we are group of bloggers who have a virtual holiday party with plenty of recipe inspiration. I took chocolate chip cookie dough, divided it into mini muffin pans, and topped with Hershey's Kisses. Not bad for a last minute party idea.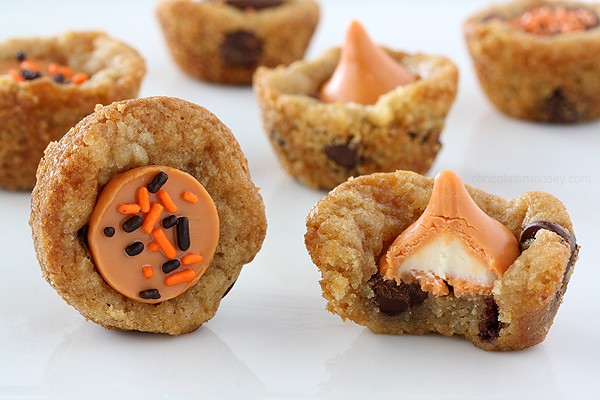 I'm sure I'm not the only one out there who has had multiple recipe fails in a row. You're tasked with bringing food to an event, and you want to make sure it's perfect because your reputation is on the line. My original idea was a candy corn cheesecake cake. I wasn't satisfied with the cheesecake layer, so I scratched that (fortunately, I didn't make the cake layers yet). My next idea was festive snack cakes using Halloween cookie cutters, but the cake tasted like cornbread. At this point I'm exhausted and running out of time (and ingredients), so I opened my bag of pumpkin spice kisses and quickly made chocolate chip cookie cups. Except the first batch didn't turn out because I didn't add enough flour. Made another batch and called it a night.
I was wondering if using the kisses were Halloween enough, so I inverted a few of the kisses, added sprinkles while the candy started to softened, and hey look – Halloween! If you've never seen pumpkin kisses, you can find them in the Halloween candy section of Walmart or Target during the fall months.
This recipe makes three dozen cookies at a time, so you can easily have a tray ready in little time. No need to spend time piping frosting or decorating sugar cookies. The dough chills well too. I refrigerated enough dough for six cookies then baked them later in the week when I had family visiting. Fresh cookies, anyone? Of course don't limit yourself to Halloween. Make them year round with regular or even caramel filled Hershey kisses. Sprinkles optional (but highly recommended).
Pumpkin Spice Kiss Cookie Cups
Chewy chocolate chip cookie cups topped with Pumpkin Spice Hershey's Kisses to put you in the mood for Halloween.
Ingredients
1 1/2 cups all purpose flour
1/2 teaspoon salt
1/2 teaspoon baking soda
1/2 cup (1 stick) unsalted butter, softened
3/4 cup brown sugar
1 egg
1 teaspoon vanilla extract
1 cup semisweet chocolate chips
36 pumpkin spice or chocolate Hershey's Kisses, unwrapped
Sprinkles (optional)
Instructions
Preheat oven to 350F. Have two mini muffin pans ready.
In a medium bowl, whisk together flour, salt, and baking soda.
In a large mixing bowl, beat together the butter and brown sugar until creamy and smooth. Add the egg and vanilla then beat until smooth. Gradually add in the flour mixture then add the chocolate chips just until mixed in (don't overbeat).
Divide the dough into roughly 1-inch 36 dough balls and place into the muffin pans. Bake 10 minutes or until cookies fill the cup, done in the middle, and golden brown. Immediately press a kiss into the top of each cookie, pressing down slightly. If you invert the kisses into the dough, add sprinkles on top. Cool completely before removing from the pan.
Adapted from my
S'mores Chocolate Chip Cookie Cups
—-
If you liked these Pumpkin Spice Kiss Cookie Cups, you may also like these recipes from me: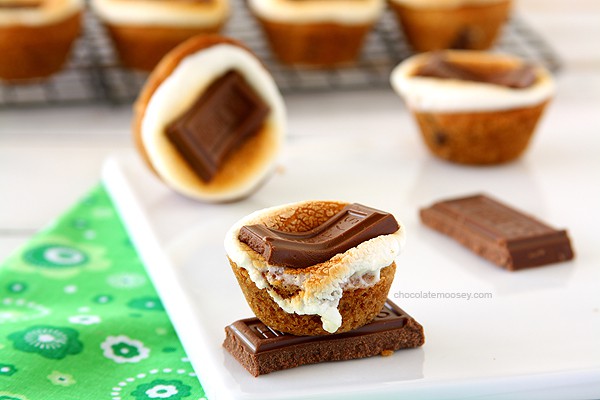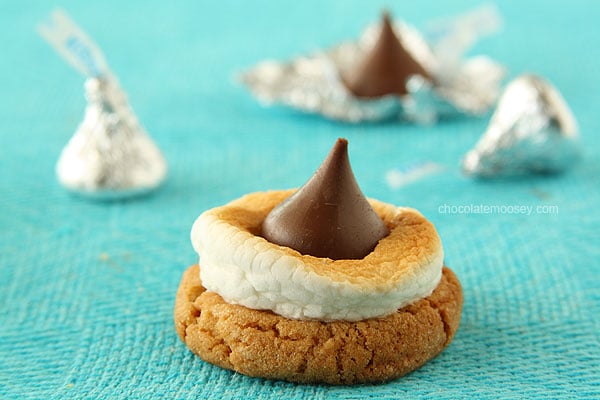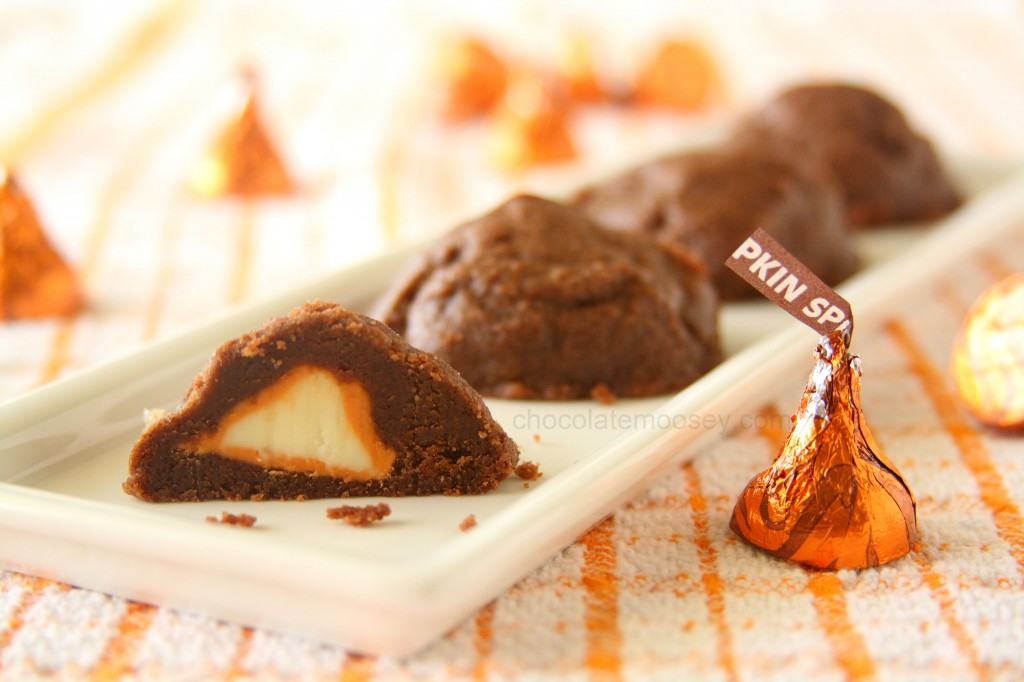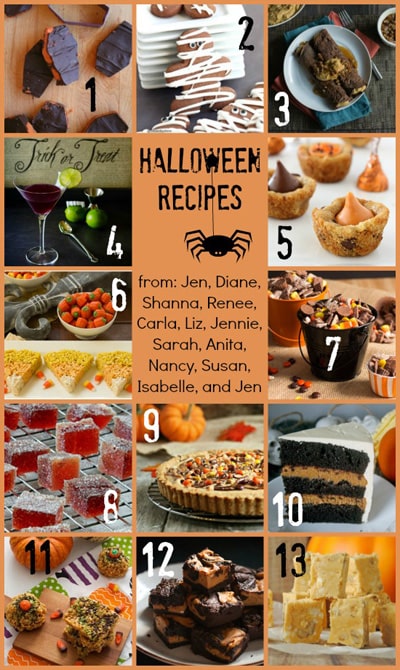 As I said earlier, a bunch of us bloggers got together to party! Here is what everyone made:
1. Butterfinger Bark from Jen's Favorite Cookies
2. Chocolate Pumpkin Spice Cut-Out Cookies from Created by Diane
3. Chocolate Crepes with Pumpkin Butter Filling and Spiced Maple Pecan Syrup from Pineapple and Coconut
4. Vampire Delight Martini from Magnolia Days
5. Pumpkin Spice Kiss Cookie Cups
6. Rice Krispie Candy Corn from That Skinny Chick Can Bake
7. Chocolate Peanut Butter Halloween Puppy Chow from The Messy Baker
8. Homemade Sour Patch Kids from What Smells So Good
9. Reese's PB&C Pretzel Crust Pie from Hungry Couple NYC
10. Chocolate Pumpkin Layer Cake from Gotta Get Baked (no longer available)
11. Pumpkin Rice Krispie Treats from Girl in the Little Red Kitchen
12. Pumpkin Cheesecake Swirl Brownies from Crumb Blog
13. Pumpkin Pie Fudge from Juanita's Cocina
This post may contain affiliate links. As an Amazon Associate and member of other affiliate programs, I earn from qualifying purchase.