Crispy salt and vinegar potato chips will make you question why you buy chips in the first place. Recipes for baked potato chips and fried potato chips provided. Recipe now updated to give these potato chips that lip-smacking flavor thanks to vinegar powder, just like store-bought chips!

For the longest time, I've had "make my own potato chips" on my bucket list. Something I did a long, long time ago when taking foods class in middle school. So long ago that I'm pretending I never did. The problem is you have to cut the potatoes super thin to crisp up; otherwise they become French fries (French chips?). Unless you have superior knife skills, you need a mandoline to slice them paper thin. Today I teamed up with OXO to review their
handheld mandoline
and can finally cross homemade salt and vinegar chips off of my list. And if you're really good, one of you can win one as well.
The key to making chips is having super thin slices. So thin that you can practically see through them. Too thick and the middle becomes cooked, not crisped. The OXO mandoline has three settings. I would tell you those settings, but the sizes aren't labeled anywhere. I'm guessing 1/8 inch thick, 1/4 inch thick, and 1/2 inch thick. They are labeled as 1, 2, and 3. I started out on setting 3 but realized my slices were a tad thick for chips, so then I switched to setting 2 then to setting 1. Much better. If you're making a dish such as
scalloped potatoes
or au gratin, then you'll want to use setting 2 or 3 for uniformed yet slightly thicker slices.
UPDATE: After asking OXO, I found out the measurements for each setting. Setting 1 is 1.5 mm; setting 2 is 2.5 mm; and setting 3 is 4.5 mm.
To use the mandoline, place it over any bowl and use the gripper to hold the item you are slicing. This is very important because the blade is sharp. However, some long and skinny vegetables such as carrots or parsnips don't grip very well. When I sliced some carrots for a soup, I couldn't use the gripper until I got closer to the blade. Fatter produce such as potatoes and apples gripped just fine. Because the blade is so sharp, OXO installed two safety devices. The first is locking the blade in place. Make sure you do this before washing. Second is the gripper slides onto the mandoline and covers the blade for storage. This is very critical if you have a junk drawer of tools (me!) and that you don't accidentally cut yourself when reaching for something else.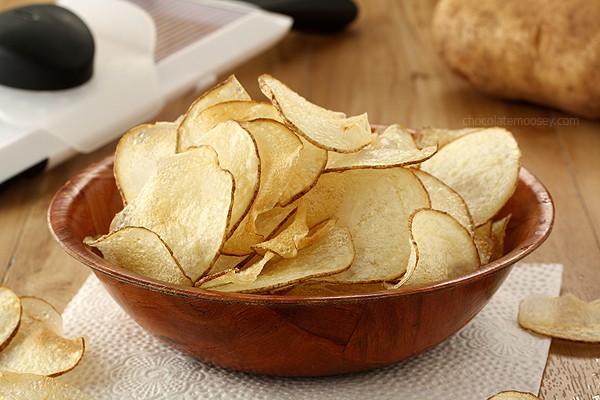 Now for the best part – the chips! I chose salt and vinegar chips because that's one of my favorite flavors. Not only do I love the taste, it helps calm my stomach when I feel nauseous from motion sickness. Typically when you make chips, you soak the slices in water. For these chips, you soak them in vinegar instead. I've experimented with 30 minutes, 1 hour, and 2 hours. I highly recommend 2 hours for maximum flavor; however, if you are in a hurry, soak at least 1 hour. 30 minutes only gives some hint of vinegar.
Update 1/11/15: I updated the recipe to reduce soaking time since the flavor now comes from vinegar powder (keep reading for more info)
I also made these chips two ways – fried and baked. I'm going to include directions for both methods, but I think I'm going to stick with baking. The result of both methods produces crispy chips, so why add extra calories? However, frying cooks them much faster. If you have the time, bake them. If not, fry them. In addition to potato chips, I also made apple chips the same way. The possibilities are endless – carrot chips, sweet potato chips, even beet chips.

This photo shows the chips are on a rack after they are fried, not baked. Sorry for the confusion.
Update 1/11/15: Thanks to several readers, I was introduced to vinegar powder, which is the key to giving these potato chips that lip-smacking store-bought flavor. Although soaking them in vinegar did help, the vinegar flavor was subtle. After multiple test batches, the best way to achieve maximum flavor is to toss the chips into the vinegar powder and salt after frying or baking. Because the flavor now comes from the powder and not soaking, I reduced soaking time to a half hour, which is still needed to ensure the chips crisp up. You can
buy vinegar powder online
.
Items You May Need:
Carla Cardello (www.chocolatemoosey.com)
Yields 2
Homemade Salt and Vinegar Potato Chips
Recipe has been updated on 1/11/2015 to reflect vinegar powder in the ingredients and to reduce the soaking time. Vinegar powder is highly recommended as it gives these chips that signature lip-smacking taste.
60 minPrep Time
15 minCook Time
1 hr, 15 Total Time
Ingredients
1 large russet potato, peeling optional (roughly 6-8 ounces)
3/4 cup white distilled vinegar (or water in a pinch)
1 tablespoon vinegar powder* (see Note)
1/2 teaspoon salt
Frying oil (such as vegetable or peanut), enough to fill a fryer or to brush slices before baking
Instructions
With a mandoline (or awesome knife skills), thinly slice the potato to about 1/10 inch (2.5 mm) thick (setting 2 on the OXO mandoline). You do not want to see through the slices.**
Put the potato slices in a bowl and pour vinegar over top. The potatoes should be submerged - if not, add more liquid. Soak for 30 minutes. Drain and pat completely dry.
In a large bowl (preferably with a lid so you can shake it for easier coating), combine the vinegar powder and salt.

For frying the chips

Fill a fryer (or a really deep saucepan) with frying oil of choice and heat to 350F. Place a cooling rack on top of a cookie sheet.
When the oil is ready, ensure the potato slices are completely dry. Fry a few at a time until golden brown, being careful not to overcrowd the fryer. Time will vary depending on the size and thickness of the slices, but the average is 3-5 minutes.
Remove the chips and place on the cooling rack. Let cool for a few minutes to allow them to crisp up then toss in the salt and vinegar mixture.
Repeat with the remaining slices, ensuring the oil is 350F when frying. You may need to pause in between batches to let the oil heat up again.

For baking the chips

Preheat oven to 400F. Line two baking sheets with foil and lightly grease with cooking spray.
Ensure the potato slices are completely dry then place the slices in a single layer on the two sheets. Brush each slice with oil.
Bake for 10-15 minutes or until golden brown and crisp (but not burnt). If you find that some of the smaller pieces are baking faster after 10 minutes, you can remove those then finish baking the rest. Let cool for a few minutes to finish crisping up then toss in the salt and vinegar mixture.
Notes
Vinegar powder is the key to giving these chips that lip-smacking store-bought flavor. You can buy vinegar powder online.

*If you can't slice them that thinly, make sure all slices are evenly sliced and adjust cook time. If a slice is too thick, it may not crisp up like a chip.
7.6.3
3194
https://www.chocolatemoosey.com/2013/09/25/homemade-salt-and-vinegar-potato-chips/
More Snack Recipes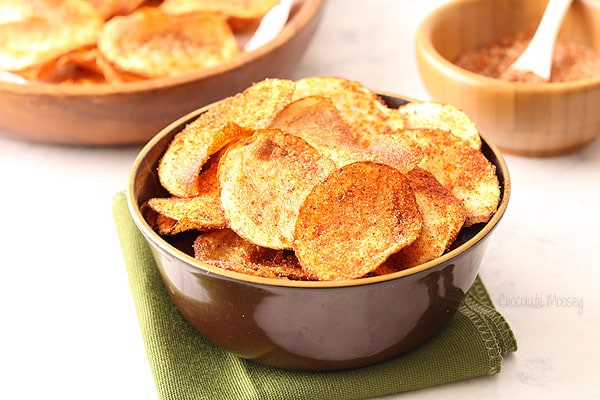 Homemade Barbecue Potato Chips
Disclosure: OXO provided me with one handheld mandoline to review and one to give away (giveaway over). All thoughts and photographs are mine. This post also contains Amazon affiliate links, which means I earn a tiny bit of commission if you buy through these links. Each penny made goes back into the blog.