Caramel Latte Pops
Get your summer caffeine fix with these 3 ingredient Caramel Latte Pops. Eat one on the go or as an afternoon snack.
If you follow
@chocolatemoosey
on Instagram, you probably noticed a good bit of coffee photos. One thing I love doing on the weekends is drinking at coffee shops because of the excellent coffee and the atmosphere. Hot drinks almost always make a great photo with their latte art, although quite frankly I'm getting tired of feathers and hearts (someone please make me fun latte art!). Sometimes I'll drink my lattes plain. Other times I'll order caramel or mocha. As you can imagine, the cost adds up; I can't run out every single time I want a cup. When I'm working at home during the week, I make coffee at home.
With it being summer and 90 degrees outside, hot coffee isn't going to cut it. I do drink one hot cup every morning, but once afternoon hits, I'm craving a cold caffeine fix. Sure, I could make a pitcher of cold brew or pour coffee over ice, but sometimes I also want an afternoon snack. Why not combine both into one recipe with Caramel Latte Pops? In addition to storing them in your freezer to eat at a moment's notice, you can also take a walk around the neighborhood with one. Exercise AND caffeine at the same time. Technically caramel lattes are made with espresso, but I know not everyone has an espresso maker at home. You can use your favorite roast of coffee brewed using your favorite method, whether it's a regular drip machine, French press, pour over, or cold brew.
Sometimes when making homemade popsicles, they can be a bit icy. One way to reduce the ice crystals is making sure the liquid is as cold as possible before freezing, which is why my directions include refrigerating for 1 hour before freezing. That way, the pops don't take as long to freeze compared to room temperature liquid, meaning there's less time for ice crystals to form.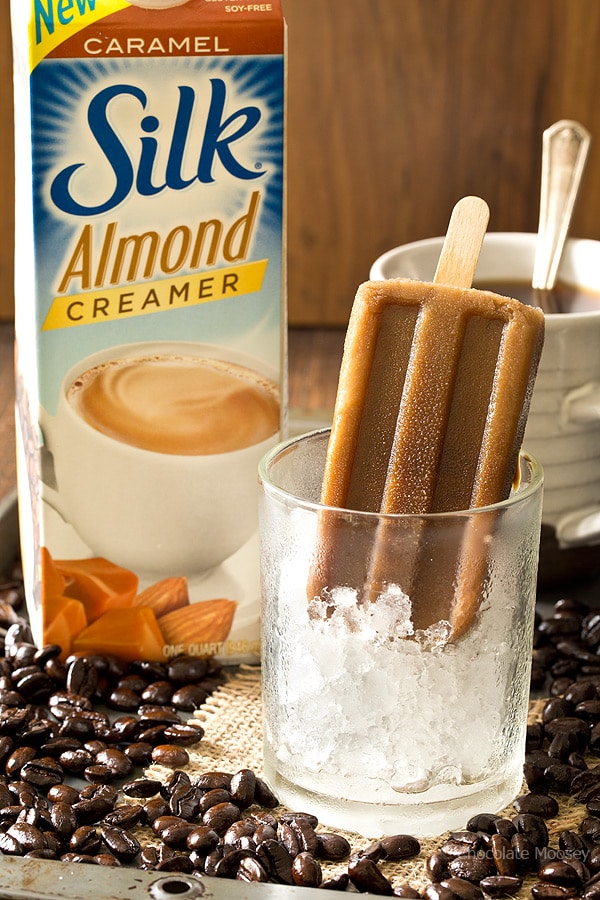 For the caramel taste, I used Silk Caramel Almond Creamer, which tastes like, well, caramel coffee creamer (imagine that). I couldn't taste a difference between this and regular dairy creamer. Don't get me wrong – I love my dairy milk, but I also enjoy
almond milk
and
coconut milk
in recipes. You don't have to be vegan to enjoy almond milk. Almond milk is made using natural flavors and is free of dairy, lactose, and gluten. Although I'm fortunate to not worry about those allergens, I have a few friends who do watch what they eat. Silk creamers are available in two sizes – pint and quart – and multiple flavors, including vanilla, caramel, and hazelnut. Check out Silk's website for a
store locator
.
Because everyone's preference in coffee varies, this recipe is more of a guideline. I like dark roast coffee and some sugar. If you prefer a lighter roast, no sugar, more sugar, more creamer, etc., make the pops the way you enjoy coffee in the morning.
Items You May Need (Amazon affiliate links):
Caramel Latte Pops
Ingredients
1 cup espresso or strong coffee
1/2 cup Silk Caramel Almond Creamer
1/4 cup granulated sugar (or to taste)
Instructions
Whisk together the coffee, creamer, and sugar. Pour into popsicle mold or paper cups then insert wooden sticks. Refrigerate for 1 hour or until cold then transfer to the freezer. Freeze until firm, preferably overnight.
Notes
Because everyone's taste in coffee varies, the amount of sugar listed is a recommendation. I highly recommend mixing together the coffee and creamer, tasting it, then adjusting for sweetness. Feel free to leave it out altogether or using your favorite sweetener instead.
Refrigerating the mixture first helps reduce the amount of ice crystals formed after freezing. The colder the mixture is, the quicker it'll freeze. If you use both cold coffee and creamer straight from the fridge, you can skip this part and go straight for the freezer.
Disclosure: This post is sponsored by Silk. Thank you for supporting me and the companies I work with as sponsored posts help pay for the costs of running Chocolate Moosey, including website hosting and groceries for recipe development.
This post may contain affiliate links. As an Amazon Associate and member of other affiliate programs, I earn from qualifying purchase.