General Tso's Sweet Chili Fried Chicken Strips
These General Tso's Sweet Chili Chicken Strips were inspired by chicken wings I had at a local bar. Yes, there is a place that tosses fried chicken wings in General Tso's sauce, which I've never heard of but it makes sense. General Tso's is fried chicken pieces. Why not do the same thing to wings? However, I wasn't in the mood to mess with bones, so I fried boneless chicken breast. Instead of your typical General Tso's sauce, I added sweet chili sauce to the mix. Extra sweet. Extra spicy.
The first time I had the chicken wings at the bar, the sauce was a lot spicier than you get at most Chinese places, making it the perfect blend of sweet and spicy. I crave that sauce all the time, especially when I'm over in that area. I am lucky it's quite a drive just to grab something to eat; otherwise, I'd gain 50 pounds from eating them all the time! The bad thing is it has raised my expectations in Chinese food. When I get General Tso's from the place in town, it's never as spicy as I'd like. That's where making homemade comes into play. If I can't order it the way I want, I'll just make it the way I want. I don't know their actual recipe, so I guessed by using sweet chili sauce instead of red pepper flakes.
If you never fried meat before, there are a few things you need to know. First, have lots of paper plates and towels handy to drain as much oil as possible. Second, use a thermometer so you have an accurate temperature reading. It is important because if your oil is too hot, the chicken will burn before being fully cooked. If your oil is too cold, it won't brown as nicely and retain more oil. It is also important to maintain temperature. When you add relatively cold chicken pieces to hot oil, the temperature will drop. You want to maintain it between 350-375F degrees. If your oil drops too much, let it heat back up in between batches.
I originally had the idea of calling them boneless wings, but they really aren't wings. Then I thought about chicken fingers, but who wants to eat fingers? So finally, I decided on chicken strips. Eat a plate by yourself or serve them for your big Super Bowl party. Or eat a plate yourself at your big Super Bowl party. Nobody will judge you.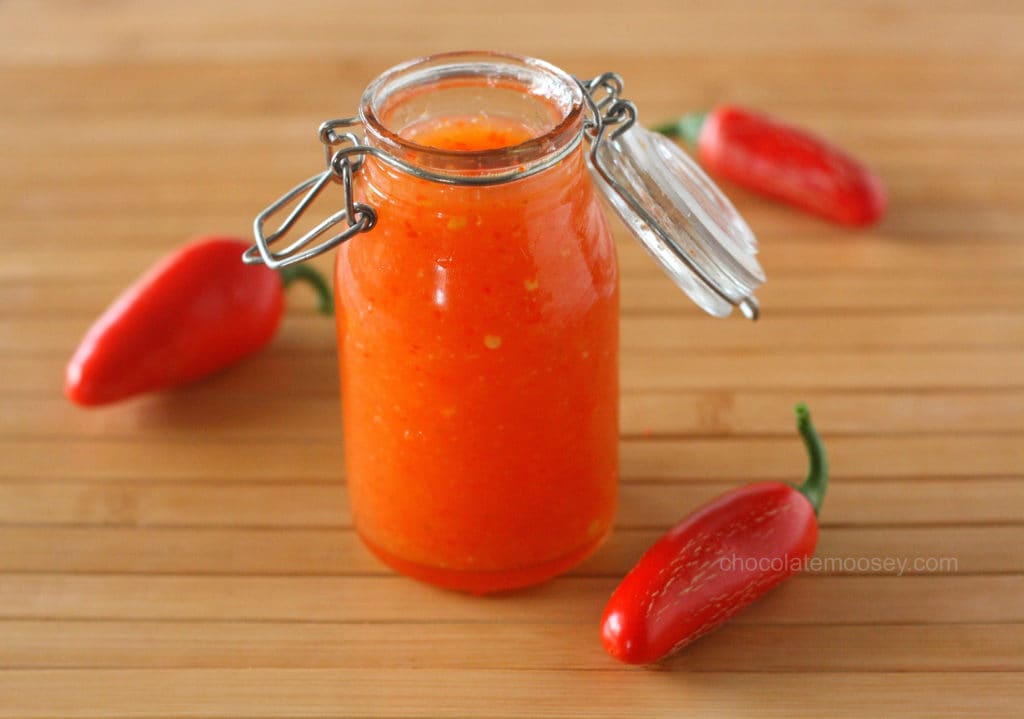 Also, making homemade sweet chili sauce is easy! Blend the ingredients together then cook. I posted my recipe for it in September,
so click here to read it
.
[rss-cut]
General Tso's Sweet Chili Chicken Strips
Ingredients
Sauce*
1/4 cup chicken stock
1 tablespoon soy sauce
1 tablespoon vinegar
2 tablespoons sweet chili sauce
1 teaspoon vegetable oil
1 tablespoon sugar
1 teaspoon cornstarch
Chicken strips
Vegetable oil, for frying
Digital thermometer
1 boneless, skinless chicken breast
1/3 cup buttermilk
1/2 cup flour
1/4 cup cornstarch
1/2 teaspoon salt
1 teaspoon black pepper
Chopped scallions and sesame seeds, for garnishing
Instructions
For the sauce: In a medium saucepan, combine the chicken stock, soy sauce, vinegar, sweet chili sauce, oil, sugar, and cornstarch. Bring to a boil and cook for a few minutes or until slightly thickened. Remove from the heat and set aside.
In a deep large skillet, pour in oil until it is 1/2 inch deep. Stick the tip of a digital thermometer into the oil and heat until 375F degrees. Line some paper plates with paper towels.
Meanwhile, pour the buttermilk into a shallow bowl. In another shallow bowl, whisk together the flour, cornstarch, salt, and pepper. Dip each chicken strip into buttermilk first then into the flour mixture.
When the oil is ready, fry a few strips at a time for a few minutes (do not overcrowd the skillet). When they are golden brown on the bottom, flip and fry the other side for a few minutes until golden brown. Remove from the oil and drain onto paper towels. Immediately toss into the sauce. Remove from the sauce and place on a regular plate. Repeat with remaining chicken. If the oil drops below 350F, let the oil reheat in between batches. Garnish chicken strips with scallions and sesame seeds.
Notes
* If you want sauce leftover to dip in, double the sauce ingredients then reserve some in a small bowl before tossing in the chicken.
If you liked these General Tso's Sweet Chili Chicken Strips, you may also like these recipes:
This post may contain affiliate links. As an Amazon Associate and member of other affiliate programs, I earn from qualifying purchase.