Churro Ice Cream Sandwiches
Think outside the cookie for your next ice cream sandwich! Churro Ice Cream Sandwiches made with homemade churros and homemade cinnamon sugar churro ice cream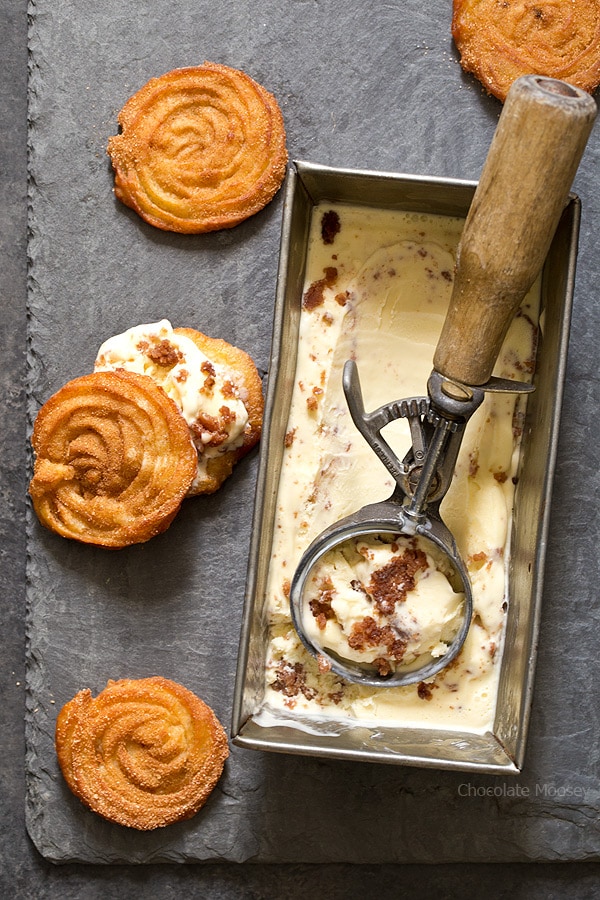 When was the last time you ate churros?
For me I can't remember. I know I've eaten them, but it's been so long I can't even guess.
There's no doubt I love them – fried pieces of dough coated in cinnamon sugar, but it's not something I actively seek out to order.
Of course they are fine on their own when crispy and hot, but they're even better when sandwiched with ice cream.
I got the idea for these Churro Ice Cream Sandwiches with homemade cinnamon sugar churro ice cream from a photo I saw on Instagram.
I can't remember the source since I was browsing recommended photos, but a restaurant in Los Angeles makes churro ice cream sandwiches, and it looked amazing.
It's not often a craving hits me that hard, but I knew in that moment since I wasn't traveling to LA anytime soon, I needed to make it asap.
If you know me, you know deep frying is something I try to avoid as much as possible. When you see me breaking out the fryer for this recipe, you know it's worth it.
And I couldn't make homemade churros alone. I wanted to make homemade churro ice cream to sandwich in between, which is really cinnamon ice cream with a cinnamon sugar crumble.
I call it churro ice cream because the crunch and flavor from the crumble is reminiscent of eating churros without using pastry bits.
I think it's my new favorite flavor since I already made it twice. That's a bold statement right there, considering there's no chocolate in sight.
The hardest part was figuring out how to do the churro sandwiches without the circles falling apart in the fryer.
After discussing with a friend, we concluded the dough was frozen first then fried, which worked out fine.
Next I had to figure out the best time to assemble.
You see, churros are best eaten shortly after they're made. I put some in an airtight container for the next day to experiment, and they were very soggy. No bueno.
The ideal time to assemble and eat a sandwich is right away, as soon as you stop burning your fingers from the hot churros.
Yes, hot churros + cold ice cream = one hot mess, but boy was it worth it.
However, if you do have leftovers (say what?) or you're trying to portion yourself, freeze them once the churros cool down.
The sooner, the better. If you wait until the next day, they'll be too soggy.
Even if you don't want to fry churros, that churro ice cream alone is all you need.
I wanted to make churro ice cream without using actual churro pieces (because let's face it – who wants to make churros just to chop up into ice cream?).
After much brainstorming, I made a cinnamon sugar crumble to stir into cinnamon-infused ice cream. Perfecto. You got the crunch and flavor of churros without breaking out the fryer.
Enjoyed this recipe? Check out my other Small Batch Ice Cream Recipes you can make.
Items you may need (affiliate links):
Churro Ice Cream Sandwiches
Yield: 6 sandwiches
Prep Time: 30 minutes
Cook Time: 1 hour 30 minutes
Chill Time: 5 hours 30 minutes
Total Time: 7 hours 30 minutes
Think outside the cookie for your next ice cream sandwich! Churro Ice Cream Sandwiches made with homemade churros and homemade cinnamon sugar churro ice cream
Ingredients
1/2 cup granulated sugar
1 teaspoon ground cinnamon
2 tablespoons butter, melted
1 cup heavy cream
1/2 cup whole milk
1/8 teaspoon salt
1 cinnamon stick
2 egg yolks
1/2 teaspoon vanilla
Churro Dough
1/2 cup water
1/4 cup (2 ounces or 4 tablespoons) unsalted butter, cut into 4 pieces
1/4 cup granulated sugar
1/8 teaspoon salt
1/2 cup all-purpose flour
1 egg
1/2 teaspoon cinnamon
Vegetable oil, for frying
Instructions
Preheat oven to 350. Line a rimmed baking sheet with a silicone mat or parchment paper.
Mix together 1/4 cup sugar, cinnamon, and melted butter. Spread evenly on the baking sheet. Bake 15 minutes. Cool completely then break into small pieces.
In a large saucepan, warm up 1/2 cup heavy cream, milk, remaining 1/4 cup sugar, salt, and cinnamon stick. Once warm, remove from the heat, cover, and let steep for 30 minutes.
In a separate small bowl, add the egg yolks. Slowly pour some of the warm milk into the yolks, whisking constantly, then scrape it all back into the saucepan.
Continue cooking over medium heat, stirring often, until the mixture thickens and coats the back of a spatula or spoon (170F on a thermometer).
Remove from the heat, pour through the mesh strainer into a bowl sitting in an ice bath, and discard cinnamon stick.
Stir in the remaining 1/2 cup heavy cream and vanilla. Cool until room temperature. When cool, refrigerate for at least 1 hour or until cold.
Once the ice cream mixture is cold, freeze it in your ice cream maker according to the manufacturer's instructions. During the last few minutes of churning, add the cinnamon sugar pieces. Freeze until firm, roughly 4 hours or overnight.
For the churros:
In a large saucepan, whisk together water, butter pieces, 2 tablespoons sugar, and salt. Bring to a boil.
Once the butter has melted, stir in the flour with a wooden spoon until mixture forms a ball. Remove from the heat and beat egg into the dough.
Line a baking sheet with parchment paper. Spoon the churro dough into a pastry bag fitted with a large 1M star tip then pipe 12 circles roughly 2 inches wide onto the baking sheet. Freeze for at least 30 minutes or until firm and easy to peel.
In a shallow plate or bowl, mix together the remaining 2 tablespoons sugar and cinnamon.
Heat 3 inches of oil in a deep pot or fryer to 350F. Line a few paper plates with paper towels.
Once hot, fry a few churros at a time (do not overcrowd) until lightly golden brown on the bottom, roughly 2-3 minutes. Flip and fry until golden brown, another 2-3 minutes.
Using a slotted spoon, remove each churro and drain on paper towels. While still hot, toss each one with the cinnamon sugar mixture. Repeat until all of the churros are fried. If the oil dips below 350F, let the oil reheat in between batches.
For best results, once churros are cool enough to handle, scoop ice cream in between two churro pieces and eat immediately.
To store for later, once churros are completely cool to room temperature, scoop ice cream in between churro pieces. Place on a tray lined with parchment paper and freeze immediately. Once frozen, roughly 1 hour, wrap with plastic wrap and store in an airtight container.
Recommended Products
As an Amazon Associate and member of other affiliate programs, I earn from qualifying purchases.
Source: Churros adapted from
Food Network
; ice cream adapted from
The Perfect Scoop
This post may contain affiliate links. As an Amazon Associate and member of other affiliate programs, I earn from qualifying purchase.