Shepherd's Pie Twice Baked Potatoes
Change up your boring shepherd's pie recipe for St. Patrick's Day with these fun Shepherd's Pie Twice Baked Potatoes.
Normally I'd say Happy March, but it's still February, thanks to that pesky leap day.
I was curious as to why we even observe leap years, and to my surprise I learned this: "While the calendar assumes the Earth revolves around the sun every 365 days, it actually takes the Earth a bit longer – 365 days, 5 hours, 48 minutes and 46 seconds.
If the calendar were not adjusted for the extra six hours by adding an extra day approximately every four years, the calendar would slowly shift and the seasons would no longer be aligned with the traditional months."
That makes total sense, but then I wonder how scientists were able to calculate the exact time it takes to revolve around the sun, down to 46 seconds. Guess that's why they're scientists and I'm not.
Anyway.
March is a love/hate month for me, mainly because of St. Patrick's Day. I've talked about it multiple times in past blog posts, but I miss Ireland.
When I studied abroad for a semester in college, it really felt like a second home; after all, I lived there for four months (plus the government made me pay them money for staying longer than 90 days).
I celebrated St. Patrick's Day in Dublin, which ironically was filled more with tourists than locals (the locals stay far away during the parade).
Surprisingly I didn't eat much shepherd's pie while overseas, but every year around St. Patrick's Day I make it at home along with my Corned Beef and Cabbage For Two and Mini Irish Soda Bread.
Shepherd's pie is a meat pie, usually with ground beef or lamb, topped with mashed potatoes.
I decided to do a playful twist with potatoes and serve them up inside potato skins, making Shepherd's Pie Twice Baked Potatoes.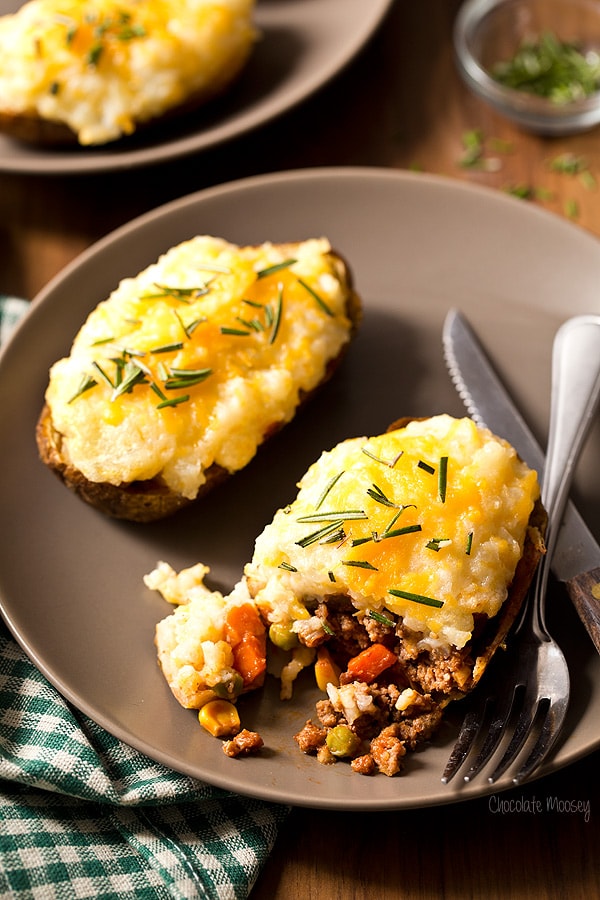 Twice baked potatoes get their name by baking the potatoes once, scooping out the insides to make a filling, then restuffing and baking them a second time.
Since shepherd's pie is topped with mashed potatoes, it made perfect sense to make twice baked potatoes.
The meat filling is similar to my Guinness shepherd's pie but without the beer.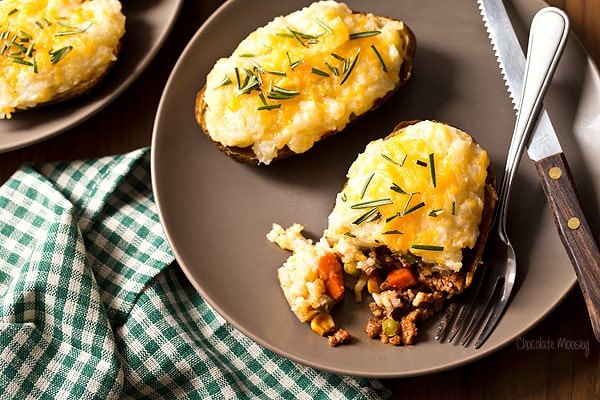 The best kind of potato to use for twice baked potatoes is Russet Burbank potatoes because they are high in starch with a fluffy interior. Make sure you select large enough potatoes to scoop and fill.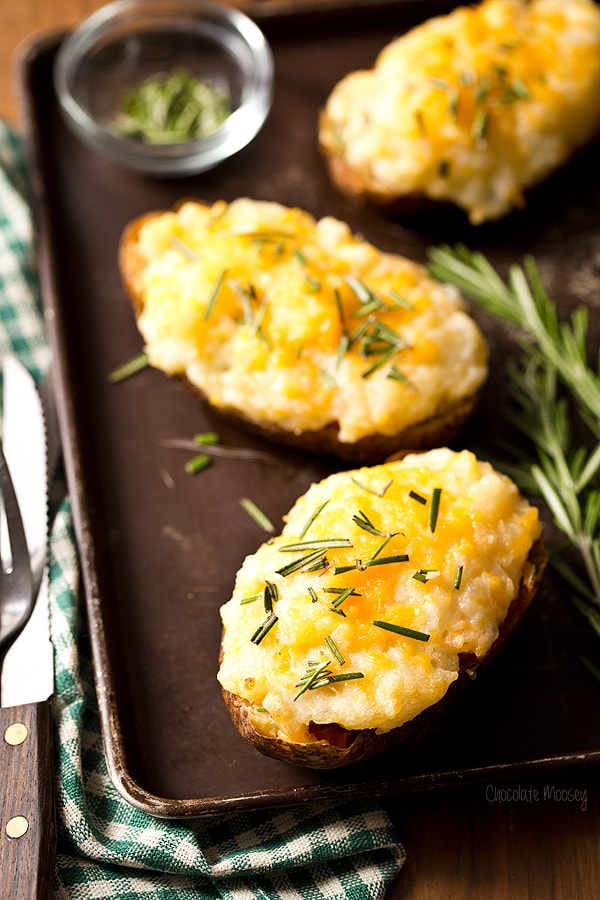 In the mood for a snack with your extra potatoes? Check out my Salt and Vinegar Chips and BBQ Chips.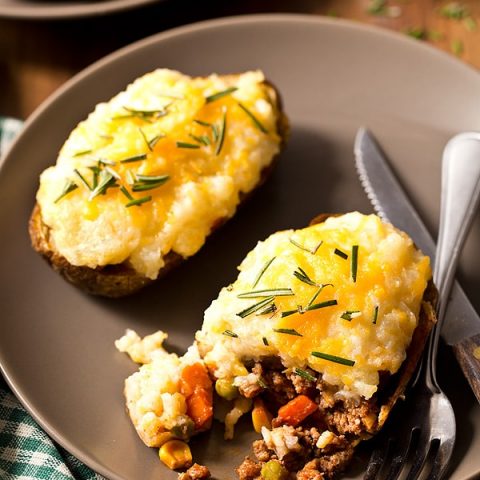 Shepherd's Pie Twice Baked Potatoes
Yield: 2 servings
Prep Time: 30 minutes
Cook Time: 1 hour 20 minutes
Total Time: 1 hour 50 minutes
Change up your boring shepherd's pie recipe for St. Patrick's Day with these fun Shepherd's Pie Twice Baked Potatoes.
Ingredients
2 large russet potatoes
4 ounces ground beef
1/4 cup chopped onion
3/4 teaspoon salt
1 garlic clove, minced
1/4 cup canned tomato sauce (not spaghetti sauce)
1 cup frozen vegetable medley (carrots, peas, corn, and green beans), thawed
1/4 cup beef broth
1 1/2 teaspoons Worcestershire sauce
1 1/2 teaspoons chopped fresh rosemary
2 tablespoons (1 ounce) unsalted butter, softened
2 tablespoons whole milk
1/4 cup + 2 tablespoons shredded cheddar cheese
Instructions
Preheat oven to 425F. Place potatoes on a baking sheet. Brush each with olive oil, sprinkle with salt, and prick with the tines of a fork. Bake for 45-60 minutes or until fork tender. Lower oven temperature to 350F.
Meanwhile in a large hot skillet, add the beef, onion, and 1/2 teaspoon salt and cook until the beef is browned, breaking it into pieces with a spatula as it cooks. Drain off any excess grease. Add the garlic and cook 30 seconds.
Add the tomato sauce and vegetables. Cook for 4-5 minutes, stirring often. Add the broth and Worcestershire sauce and bring to a boil. Turn down the heat and simmer for 15-20 minutes or until the mixture is thick and glossy, stirring often. Add the rosemary.
Once the potatoes are done cooking, cut in half lengthwise. Scoop out the insides into a large mixing bowl, being careful not to tear the shell. Place the hollowed potato shells back onto the baking sheet.
With an electric mixer or by hand with a potato masher, beat the cooked potato insides until mashed and smooth (do not overbeat). Beat in the butter and remaining 1/4 teaspoon salt until completely incorporated then slowly beat in the milk. Stir 1/4 cup cheese.
Divide the meat mixture among the potato shells. Top with mashed potatoes then sprinkle with the remaining 2 tablespoons cheese. Bake at 350F for 18-20 minutes or until golden brown and cheese has melted.
More Potato Recipes

Chicken Pot Pie Baked Potatoes

Cheddar Pumpkin Mashed Potatoes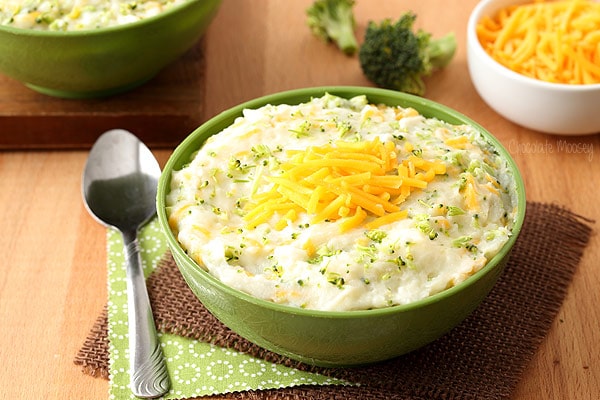 Broccoli and Cheese Mashed Potatoes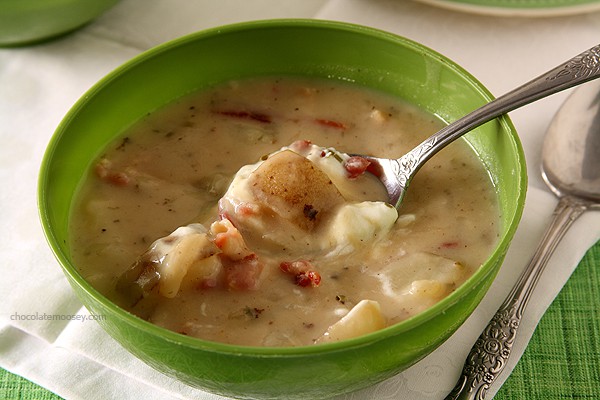 Baked Potato Soup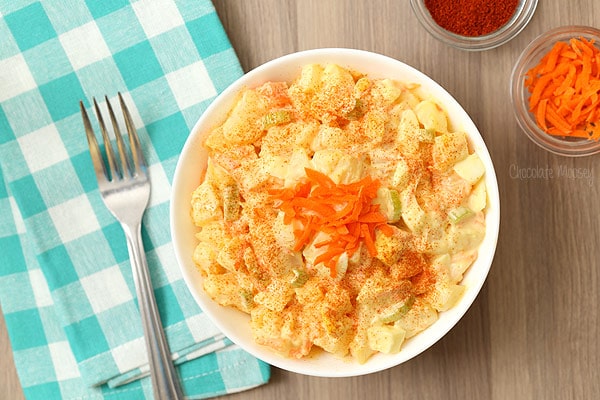 Amish Potato Salad
This post may contain affiliate links. As an Amazon Associate and member of other affiliate programs, I earn from qualifying purchase.