Sesame Shrimp Peanut Noodles
If you're craving shrimp like I always do, then you must make these Thai peanut noodles with sesame shrimp tossed in a sweet chili peanut sauce. Serve it cold for lunch or dinner on those hot days where you don't feel like eating much and don't want to eat yet another salad.
How much do you enjoy grocery shopping? I hear often times that people hate it, but not me – I kinda love it. Maybe it's because I know the end results will be fantastic. The other day I bought coconut yogurt to go with some fresh strawberries because I couldn't stop thinking about how much I enjoyed the pairing for breakfast one morning. Very rarely do I ever buy anything I'm not excited to eat (I mean, who does though?). A few weeks ago in my
Salted Caramel Affogatos
post, I talked about an area in Pittsburgh called The Strip where there are local businesses lined up, including ethic-based grocery stores. If you're looking for an ingredient specific to a region or cuisine, you'll probably find it. Mexican, Middle Eastern, Greek, Italian, Asian – it's all here. Even if I'm not looking for anything specific, I just love browsing the shelves. Asian food is something I make a lot, so one Saturday afternoon, I was browsing the four Asian stores they had (yes, four! All within a few blocks of each other). I found
durian
in one of the stores. Not that I ever have plans of buying durian, but it was the first time I actually saw it in person. Out of all four stores, I did pick a favorite where the prices were reasonable and I could figure out what most of the items were. Here I bought gunpowder green tea (which I didn't realize meant loose leaf tea), shittake mushrooms, and udon noodles. Or at least I think they were udon noodles; the package I bought wasn't in English. There was another package labeled udon, but it was a few dollars more. The noodles looked exactly the same to me, so I went with the cheaper one.
Now that I bought udon noodles, what to make? I've been wanting to make peanut noodles for the longest time after seeing the recipe in one of Nigella Lawson's cookbooks. Even though she didn't use udon, I knew it would still work. I did expand on her recipe a little and came up with this Sesame Shrimp Peanut Noodles recipe, which I've probably made and eaten at least half a dozen times by now. Typically you serve peanut noodles cold, which is ideal for those hot days you don't feel like eating much and don't want to eat yet another salad. There is a little bit of cooking involved; however, the noodles only take 4-5 minutes to boil and the shrimp only takes 3-5 minutes to cook. Cook them at the same time, and that's only 5 minutes of cooking involved. Once everything is ready, you toss everything together with a sweet chili peanut sauce and chill in the refrigerator to serve as a cold lunch or dinner.
What are udon noodles? They are thick Japanese wheat noodles that are pretty neutral in flavor, making them ideal for dishes that pack a lot of flavor, like these peanut noodles. You cook them just like you would with spaghetti except they only need about 4 minutes of cooking time. They are becoming more and more common in regular grocery stores, so check your store's Asian cuisine aisle for it. If you're really, really stuck, you can use linguine, fettuccine, or even spaghetti (but I really do recommend udon as your first choice).
Peanut noodles are a great way to use up leftover produce in your fridge. Sometimes instead of sugar snap peas, I'll use broccoli or even edamame. If I have mushrooms, I'll cook them with the shrimp and add those as well. Don't like/have shrimp? Use chicken. Or double up on the vegetables and go vegetarian. There is no wrong way to make this recipe your own.
Sesame Shrimp Peanut Noodles
Yield: 4 servings
Prep Time: 25 minutes
Cook Time: 5 minutes
Total Time: 30 minutes
If you're craving shrimp like I always do, then you must make these Thai peanut noodles with sesame shrimp tossed in a sweet chili peanut sauce.
Ingredients
Peanut Sauce
1/3 cup creamy peanut butter
1/4 cup sweet chili sauce (homemade or store bought)
1 tablespoon olive oil
1 tablespoon soy sauce
1 tablespoon lime juice
1 tablespoon garlic paste (or 1 large garlic clove, minced)
1 tablespoon cilantro paste (or 1 tablespoon fresh chopped cilantro)
Shrimp
4 ounces dry udon noodles
1 cup frozen or fresh sugar snap peas
1 tablespoon olive oil
1/2 pound raw medium shrimp, peeled, deveined, and patted dry
2 tablespoons sesame seeds
2 carrots, peeled and chopped
2 green onions, chopped
1 medium bell pepper, seeded and cut into small strips
Instructions
Make the dressing: In a large measuring cup or bowl, whisk together the peanut butter, sweet chili sauce, oil, soy sauce, lime juice, garlic, and cilantro. Set aside.
Bring a large pot of water to a boil. When boiling, add the udon noodles and cook for 4 minutes. Add the sugar snap peas and cook for another minute. Drain and rinse under cold water to stop the cooking. Drain again and add to a large bowl.
While the noodles are cooking, in a large skillet over medium heat, heat the oil. When hot, add the shrimp and sesame seeds. Cook 3-5 minutes or until the shrimp are pink and no longer transparent.
Add the cooked shrimp, carrots, green onion, and bell pepper to the noodles. Add the dressing and mix thoroughly. Refrigerate for at least 30 minutes or until cold. Serve cold.
Source: Adapted from
Nigella Lawson
More Shrimp Recipes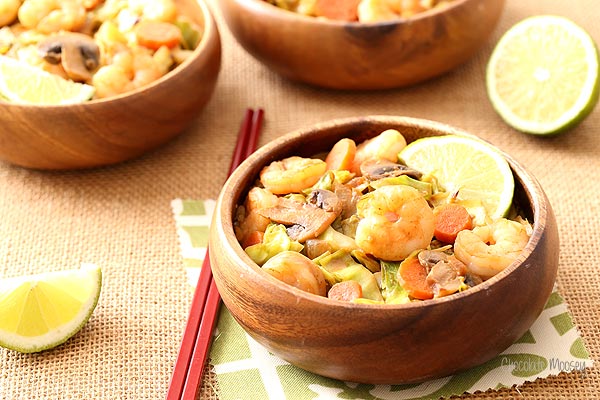 Thai Sweet Chili Shrimp with Cabbage "Noodles"
This post may contain affiliate links. As an Amazon Associate and member of other affiliate programs, I earn from qualifying purchase.