S'mores Spritz Sandwich Cookies
S'mores Spritz Sandwich Cookies are pretty little pressed cookies that taste almost exactly like graham crackers then sandwiched together with marshmallow and chocolate.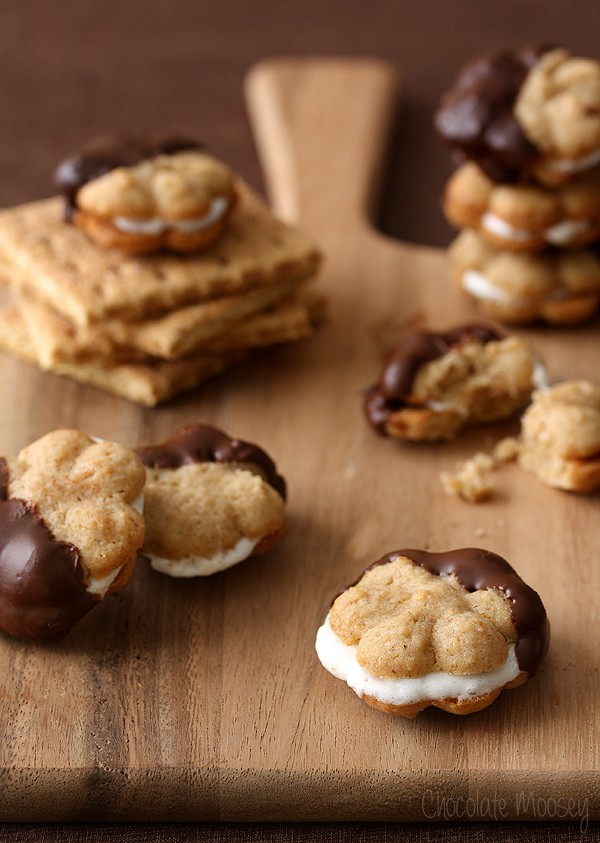 Despite all of the differences and chaos going on in the world – racism, sexism, war, political agendas, etc. – every human being has at least two things in common – we all love food and we all know someone affected by cancer. Whether it's a family member, friend, neighbor down the street, coworker, or even a pet, we all know at least person whose life changed forever after hearing that dreaded diagnosis. What makes it even more heartbreaking is that pediatric cancer is the number one disease killer of children in the U.S. That is why today's S'mores Spritz Sandwich Cookies are dedicated to
OXO's Good Cookie Campaign
which is committed to raising funds for pediatric cancer research. Last year I participated in OXO's Bake A Difference campaign with my
Nutella Dream Pocket Cookies
. It was a beautiful yet sad piece dedicated to my friend Leigh who had leukemia. This year's post won't be as heartbreaking and will hopefully inspire you to bake a difference for pediatric cancer research.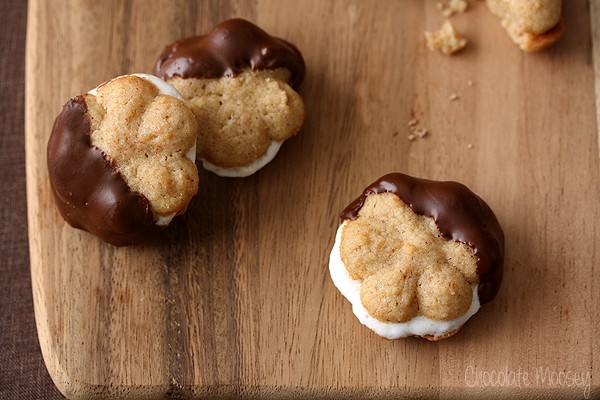 I don't have kids (and quite frankly not sure if I even want any), but I do believe that parents should never outlive their child. I can't even imagine the emotional roller coaster it must be. It may not feel like much, but if I can do what I'm good at (make, shoot, and write about cookies) to help raise awareness and funding, then it's the least I could do to help.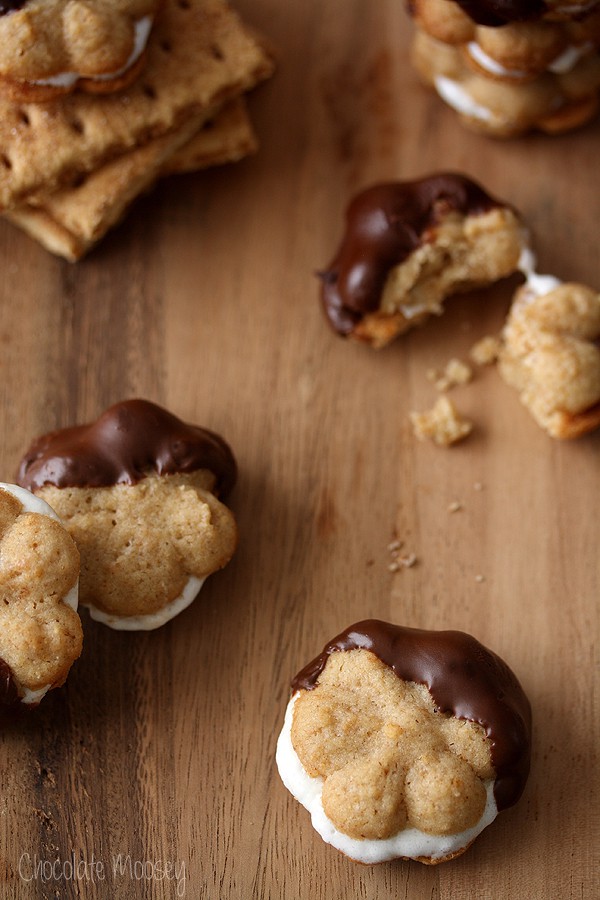 My S'mores Spritz Sandwich Cookies are a play on traditional s'mores. The cookies taste as if you were eating actual graham crackers. Then I used real marshmallows in the middle (not fluff or frosting). I had a slight problem with the marshmallows puffing up under the broiler, so that's why I opted for mini marshmallows. I toyed with the idea of sandwiching chocolate squares in the middle as well, but then I decided to dunk them in chocolate instead.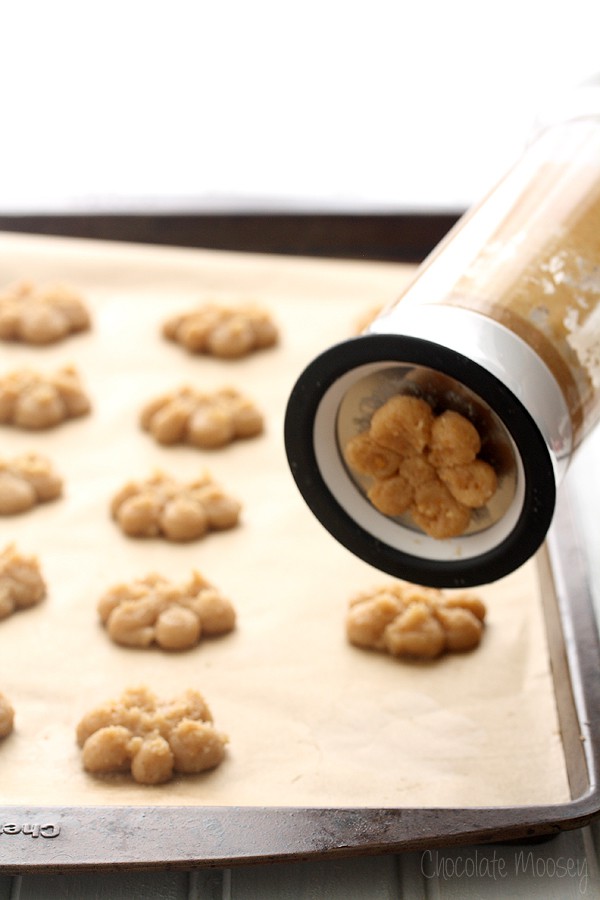 Spritz cookies do require the
OXO Cookie Press
(Amazon affiliate link), but it's worth the investment . You can easily knock out a few dozen cookies with just one batch of dough. For example, this recipe made 48 individual cookies. Plus you can easily switch out the pressing disk and make several designs with one batch. I don't think you can do that with another cookie! The key to spritz is making sure the dough is soft, almost borderline too soft. If the dough is firm even the slightest bit, you will have trouble pressing out the dough.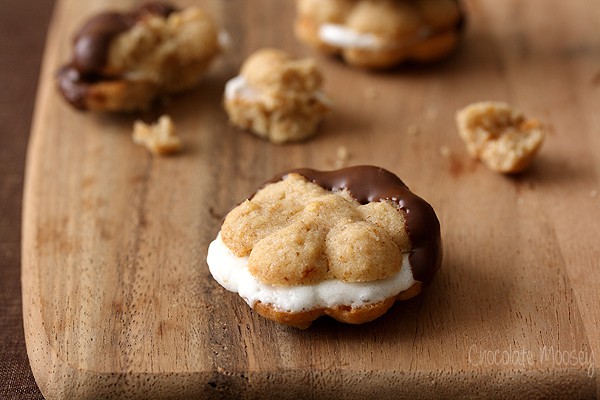 You may be asking yourself how these spritz cookies help raise money for research. Starting in September, buy
any specially marked OXO baking tools
and 25 cents will be donated towards Cookies For Kids' Cancer. In other words, buy the tools needed to make these spritz cookies, and you are on your way to baking a difference. You can even take it one step further and sell these cookies at a local bake sale then donate the money to cancer research.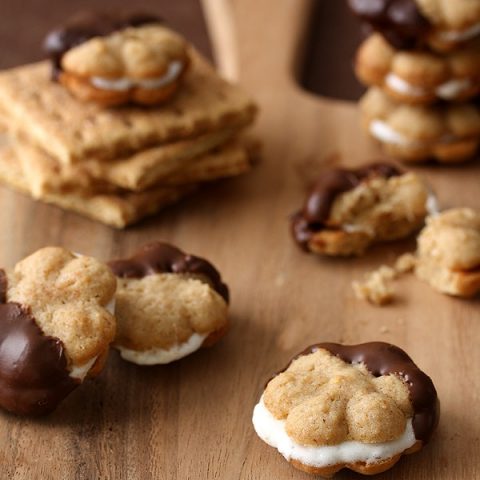 S'mores Spritz Sandwich Cookies
Yield: 2 dozen
Prep Time: 20 minutes
Cook Time: 11 minutes
Total Time: 31 minutes
S'mores Spritz Sandwich Cookies are pretty little pressed cookies that taste almost exactly like graham crackers then sandwiched together with marshmallow and chocolate.
Ingredients
1 cup all-purpose flour
1/2 cup graham cracker crumbs
1 teaspoon cinnamon
1/8 teaspoon salt
1/2 cup (1 stick or 4 ounces) unsalted butter, softened
1/3 cup granulated sugar
1 egg
1/2 teaspoon vanilla extract
24 mini marshmallows
2-4 ounces chopped semisweet chocolate
Instructions
Preheat oven to 375F. Line two cookie sheets with parchment paper.
In a medium bowl, whisk together the flour, graham cracker crumbs, cinnamon, and salt.
In a large mixing bowl, beat together the butter and sugar until light and creamy, about 2-3 minutes. Beat in the egg and vanilla (the dough may look curdled - keep going). Gradually beat in the flour mixture.
Fill a cookie press with the dough* and press out shapes onto the cookie sheets. Bake 8-11 minutes or until golden brown and firm. Cool for 1 minute then remove to a cooling rack.
Once the cookies are completely cool, place half of the cookies on a cookie sheet, flat side up. Top with 1 mini marshmallow. Place under a broiler until marshmallows are puffed and toasted. Immediately top with the remaining cookies, flat side down, to form sandwiches. Cool.
Melt 2 ounces chocolate in a narrow yet deep enough bowl or cup for dunking. Dip half of each cookie into the chocolate. If needed, melt the remaining chocolate. Let harden before serving. Store in an airtight container (if chocolate starts to melt, store in the refrigerator).
Notes
*Spritz cookie dough needs to be really soft and slightly sticky in order to work. If you feel that your dough is too soft, chill in the refrigerator for 5-10 minutes.
More Cookie Recipes To Bake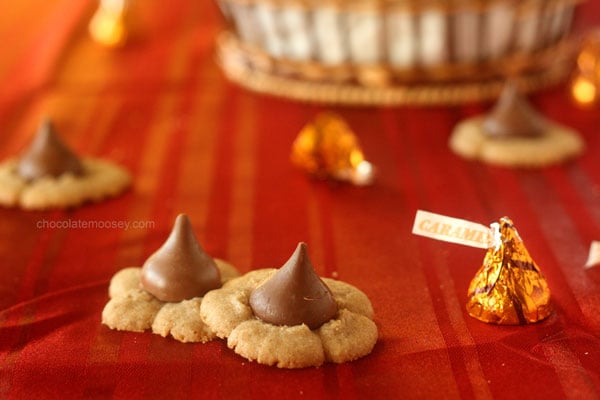 Caramel Kiss Cinnamon Spritz Cookies
Disclosure: I received a spritz cookie set from OXO in exchange for this post. I did not receive further compensation; instead, OXO donated $100 to Cookies For Kids' Cancer on my behalf. As always, thank you for reading and supporting brands I work with, which allows me to bring you more recipes. All opinions, text, and photographs are my own.
This post may contain affiliate links. As an Amazon Associate and member of other affiliate programs, I earn from qualifying purchase.