Portobello Mushroom Cheese Tortellini
When you're craving comfort food, you need this meatless Portobello Mushroom Cheese Tortellini recipe with carrots, garlic, basil, and a creamy Alfredo sauce.
Sometimes I get so caught in developing new recipes for my job, I forget about older ones that never made it to the blog.
Take this Portobello Mushroom Cheese Tortellini recipe for example. I first made this recipe several years ago back when I was working in an office full-time.
I'd get home from work at 5 PM and struggle to figure out what to make for dinner, especially if I was on my feet for 8 hours shooting video.
Usually I keep a bag of cheese tortellini in the freezer and toss it with a jar of salsa. Other days when I wasn't shooting, I'd have more energy to actually cook.
I remember feeling excited to make this recipe after seeing it in a magazine because it had portobello mushrooms in it.
Mushrooms is one of my favorite ingredients to eat. When I order out and see mushrooms on the menu, there's a high chance I will contemplate getting that item.
When I'm at a sandwich shop, I will order breaded mushrooms.
When I'm cooking at home, any chance I can throw in mushrooms, I will. I almost always have a container of mushrooms in the fridge. If I don't, it's on my grocery list to pick up more.
It wasn't until last week I rediscovered this mushroom tortellini recipe and realized I never shared it with you.
I don't make it often as it's not the healthiest dinner with its creamy Alfredo sauce, but it is absolute comfort food when all you want to do is eat carbs and catch up on episodes of your favorite tv show.
Of course you can balance it out with green onion salad and a walk at the park, but sometimes when your craving for comfort food is strong, you can't ignore it.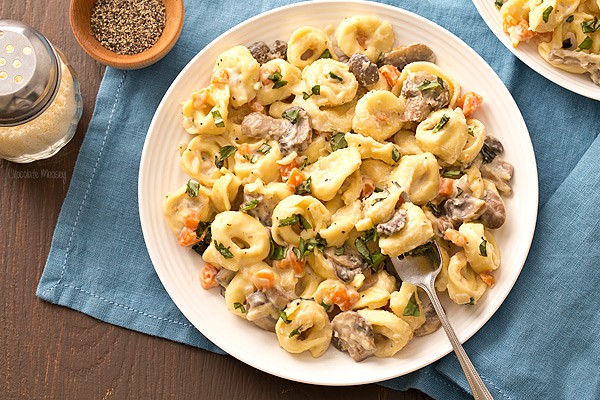 This recipe is originally from Taste Of Home, but I adapted it to make the sauce a little lighter by cutting back on the amount of butter used plus substituted milk for half of the cream.
This dish is still a far cry from being healthy, so I threw in some carrots. When in doubt, add more vegetables right?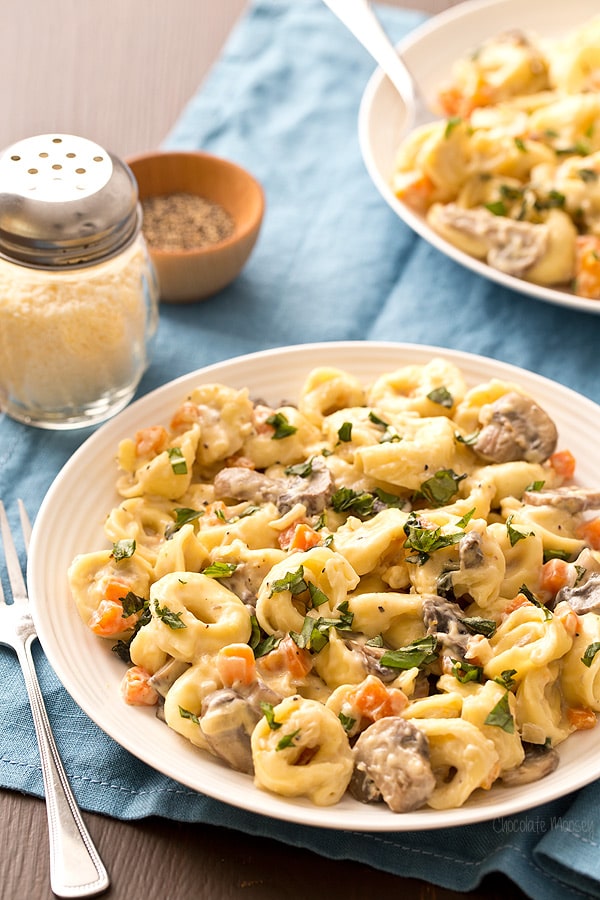 I personally love using cheese tortellini as it makes a more filling dinner, but you can use any pasta you'd like – gnocchi, fettuccine, penne, whatever you have laying around in your pantry.
Portobello Mushroom Cheese Tortellini
Yield: 4 servings
Prep Time: 20 minutes
Cook Time: 30 minutes
Total Time: 50 minutes
When you're craving comfort food, you need this meatless Portobello Mushroom Cheese Tortellini recipe with carrots, garlic, basil, and a creamy Alfredo sauce.
Ingredients
19 ounce package frozen cheese tortellini
2 tablespoons butter (add 1/8 teaspoon salt if unsalted)
1/2 cup chopped white or yellow onion
4 ounces baby portobello or cremini mushrooms, sliced
1 large carrot, diced
1 clove garlic, minced
1 cup vegetable or chicken broth
1/2 cup heavy whipping cream
1/2 cup whole milk
1/2 teaspoon salt
1/4 teaspoon black pepper
1/2 cup freshly grated Parmesan cheese
2 tablespoons fresh chopped basil
1 tablespoon lemon juice
Instructions
Bring a large pot of water to a boil. Once boiling, add a big handful of salt then add tortellini. Cook as directed on the package until al dente. Drain into a colander.
While the water is boiling, make the sauce: in a large skillet over medium heat, melt the butter. Once hot, add the onion, mushrooms, and carrots. Cook until softened, about 5 minutes. Add garlic and cook 30 seconds.
Slowly stir in the broth and bring to a boil. Reduce the heat to simmer and cook uncovered for 12-15 minutes or until the liquid is reduced by half.
Add the cream, milk, salt, and pepper. Cook an additional 5 minutes or until slightly thickened. Stir in the cheese, basil, and lemon juice.
Once the tortellini is cooked, mix together the tortellini and sauce. Serve immediately.
Source: Adapted from
Taste Of Home
More Mushroom Recipes
This post may contain affiliate links. As an Amazon Associate and member of other affiliate programs, I earn from qualifying purchase.