Peanut Butter Rice Crispy Treat Truffles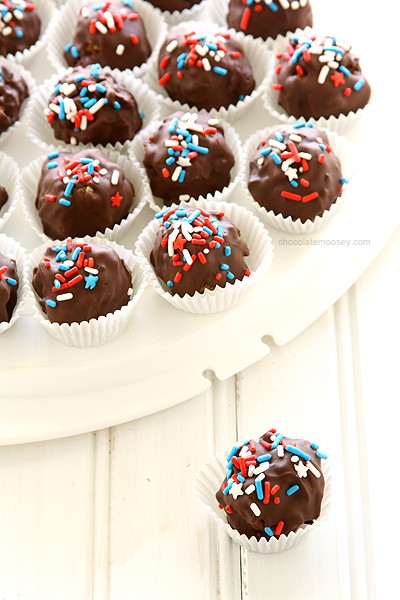 What do you usually bring on a picnic? I'm almost always in charge of dessert.
Cupcakes
,
cookies
,
brownies
, usually dessert that can hold up without refrigeration or needing two hands to serve.
After all, you don't grab dessert until your plate is already piled of hot dogs, Amish macaroni salad, Amish potato salad, and other picnic classics (I'm not very good at balancing my plate).
These Peanut Butter Rice Crispy Treat Truffles are the perfect size to squeeze dessert onto your plate for your summer picnic.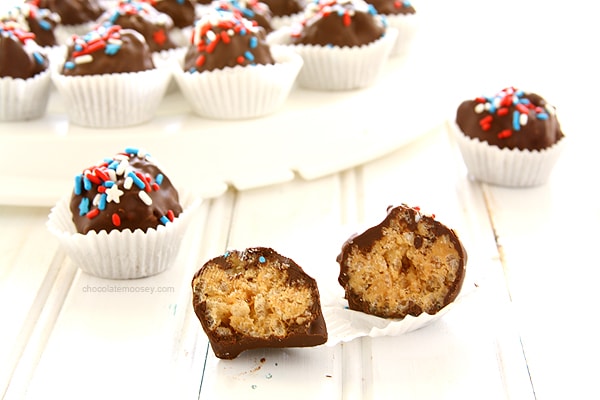 I'm pretty much obsessed with rice krisipie treats. It was only natural for me to make them into little bites.
I strongly believe you can't have a picnic without something chocolate and peanut butter; however, if you are worried about peanut allergies, they are still addictive without the peanut butter.
You can also make 4th of July Oreo Truffles from The Baking ChocolaTess.
Since tomorrow is Memorial Day in the US, I decorated with patriotic sprinkles.
You can dress up these truffles for any occasion – red and green for Christmas, blue or pink for a baby shower, rainbow for a birthday party, or your favorite color just because.
You can even decorate with chopped peanuts or simply leave them plain.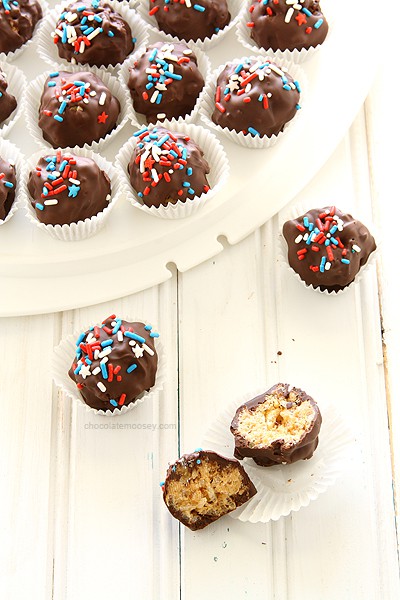 Of course the one downfall to these peanut butter truffles is the chocolate may melt if left out in the sun too long.
Keep them in the shade, in a cooler, or keep them in the refrigerator right before serving to ensure minimal melting.
Oh I almost forgot to mention these are no bake truffles, so no need to turn on the oven when it's a million degrees outside.
There is some heat from the stovetop, but it's only long enough to melt the marshmallows then later to melt the chocolate. And they can be made ahead of time so you aren't stressed on picnic day.
Looking for a more traditional recipe? Check out my Small Batch Rice Krispie Treats made in a loaf pan.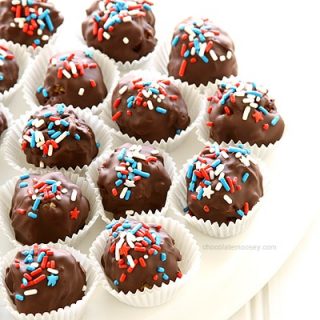 Peanut Butter Rice Crispy Treat Truffles
Peanut Butter Truffles made with rice krispie treats
Ingredients
3 tablespoons unsalted butter
10 ounce bag of regular-sized marshmallows (roughly 40 marshmallows)
6 cups rice crispy cereal
1 1/2 cups creamy peanut butter
16 ounces semisweet chocolate, chopped
Sprinkles
Instructions
In a large pot, melt the butter. Add the marshmallows and stir until melted and smooth. Add 1/2 cup peanut butter and stir until smooth. Turn off the heat and add the cereal. Mix until everything is coated. Roll the cereal into 1-inch balls and place on parchment paper (be very careful - the cereal mixture may be hot). Let cool completely.
Bring a pot of water to a boil then turn down to simmer. Add chocolate and remaining 1 cup peanut butter to a heat-proof bowl. Place the bowl over the water, being careful not to let the bottom of the bowl touch the water. Stir until the chocolate and peanut butter is melted and smooth. Remove from the heat.
Using a fork and a spoon, take one treat and roll it into the chocolate until completely covered. Pick it up with the fork, let the excess chocolate drip off, then place it on parchment paper. Repeat with the remaining treats (if the chocolate starts to harden, you may need to reheat it). Decorate with sprinkles then cool until the chocolate hardens.
Notes
© Chocolate Moosey. All images and content are copyright protected. Please do not use my images without prior permission. If you want to republish a recipe, please rewrite it in your own words or link back to the post for the recipe.
If you liked these Peanut Butter Rice Crispy Treat Truffles, you may also like these recipes:
This post may contain affiliate links. As an Amazon Associate and member of other affiliate programs, I earn from qualifying purchase.