Peanut Butter Fruit Dip Phyllo Cups
Make snack time more exciting with no bake mini Peanut Butter Fruit Dip Phyllo Cups made with marshmallow creme and Greek yogurt.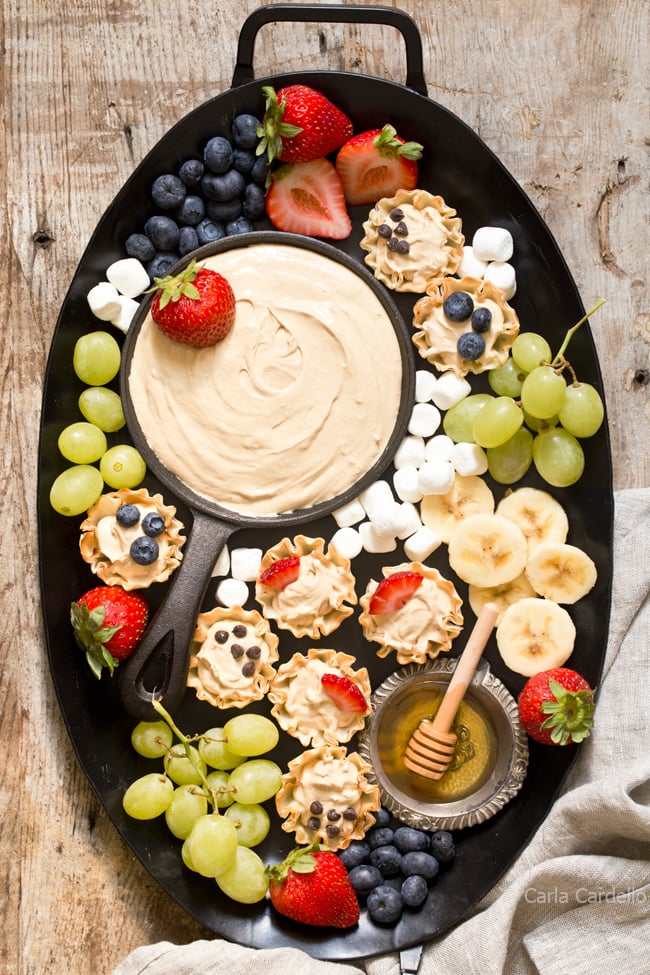 Raise your hand if you have an obsession with
peanut butter
.
I love peanut butter. I eat it in the morning on toast or in oatmeal.
I eat it for lunch on crackers or sandwiches.
I eat it for dinner with Sesame Shrimp Peanut Noodles.
And of course, I eat it for dessert. I started buying the giant jars of peanut butter because I go through it so much.
It shouldn't be a surprise I have yet another peanut butter recipe with these Peanut Butter Fruit Dip Phyllo Cups.
I should be a good little blogger and make a joke about how this snack dip is the perfect way to get your daily serving of fruit in.
Or life is about balance and moderation, so the fruit cancels out the marshmallow fluff.
But I won't. Who am I kidding? I did cut down on the sweetness by adding Greek yogurt and turned it into a fun fruit tray. Bonus points for trying, right?
Right now I'm prepping for moving into my new apartment, so I'm eating as much food as possible. I had phyllo cups in the freezer, 1 and 1/2 jars of marshmallow fluff (I have no idea where the other half went?), leftover strawberries from my strawberry s'mores cobbler, leftover blueberries from…something (let's pretend blueberry yogurt pops), and an almost empty giant jar of peanut butter.
Really this recipe was made out of necessity. The more I eat, the less I have to pack. You're welcome.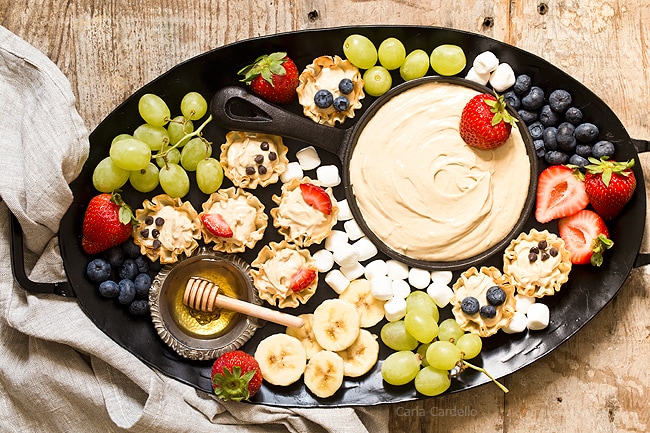 I also can't help but think how perfect this recipe would be as an after school snack. I don't have kids, but I think back to all the after school snacks I ate. Mainly pizza rolls or chips. I think fruit dip would've been a better choice.
I originally made this with all marshmallow fluff, then I realized how cloyingly sweet it was.
Probably not the best idea when you're using it as a fruit dip. I cut down some of the sugar by replacing half of it with plain Greek yogurt. Much better.
Serving the dip in mini fillo cups adds crunch. It adds a crisp, flaky texture, which is needed when you have something soft like fruit dip. The key to elevating any recipe is having different textures in one bite.
You can also serve strawberry cheesecake dip in phyllo cups.
I used
Athens Mini Fillo Shells
, which are ready-to-use mini cups made of phyllo. They're ideal for when you're super busy but still need to make something because they're ready to use right out of the package. No baking, no cooking, no prepping. Just fill and serve.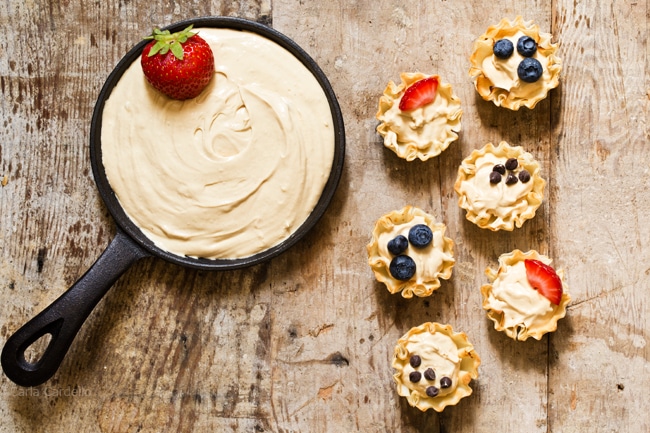 They also only take about 10 minutes to thaw straight from the freezer. This means you can keep a few boxes on hand and be prepared for almost anything. By the time you make the dip, your fillo shells will be ready to fill.
Peanut Butter Fruit Dip Phyllo Cups
Yield: 15 mini phyllo cups
Prep Time: 1 hour 15 minutes
Total Time: 1 hour 15 minutes
Ingredients
1 cup marshmallow creme
3/4 cup plain Greek yogurt
1/3 cup smooth peanut butter
1/2 teaspoon vanilla extract
1 package (15 count) Athens® Mini Fillo Shells
Blueberries, sliced strawberries, and mini chocolate chips for garnish
Instructions
In a large bowl, mix together the marshmallow creme, yogurt, peanut butter, and vanilla. Refrigerate for at least 1 hour.
Spoon dip into fillo shells then garnish with blueberries, strawberries, and mini chocolate chips. Serve immediately.
Disclosure: This post is sponsored by Athens Foods. As always, thank you for reading and supporting brands I work with, which helps keep this website running.
This post may contain affiliate links. As an Amazon Associate and member of other affiliate programs, I earn from qualifying purchase.