Peach Galette
When it comes to baking homemade pies, Peach Galette is one of the easiest pies you can make from scratch with homemade pie crust and fresh peaches.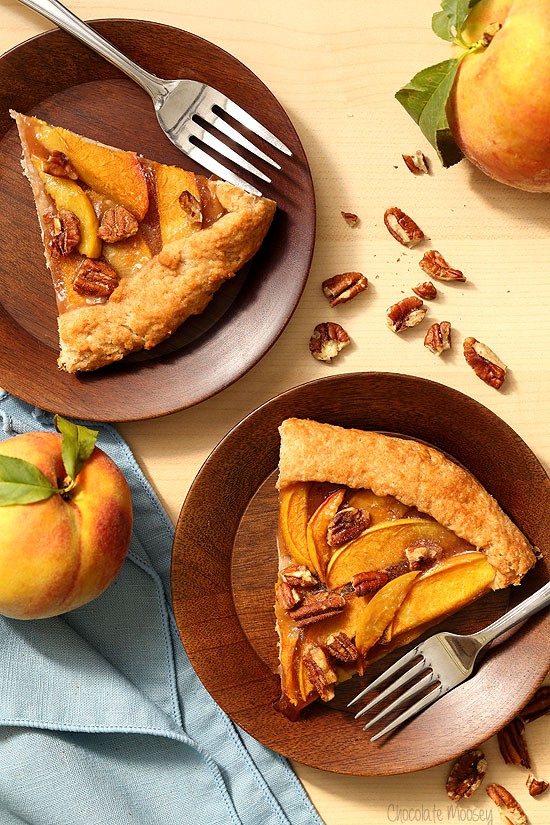 Yesterday I mentioned how I went peach picking and made
peach pie yogurt pops
. I have to be totally honest – even though I picked 10 pounds of peaches, I was at a loss on what to make. I have tons of
peach recipes
on Chocolate Moosey already, so I feel like everything has been done – cheesecake bars, cupcakes, turnovers, ice cream, peach curd. Then I realized even though I have peach pie filling, I don't have an actual peach pie recipe. Have you heard of a galette? It's a lazy person's pie where you roll out pie dough, top it with fresh fruit, fold the edges in a little, then bake. Some call it an open-faced pie. I like to call it a lazy dessert pizza because that's what the slices look like when served. You don't need to cook the filling or spend time making a double crust. It doesn't need to look perfect because it's meant to be imperfect (aka rustic in the culinary world). You don't even need a lot of fruit if all you have is 1-2 peaches. It's the pie you want to bake when you don't want to bake a traditional pie.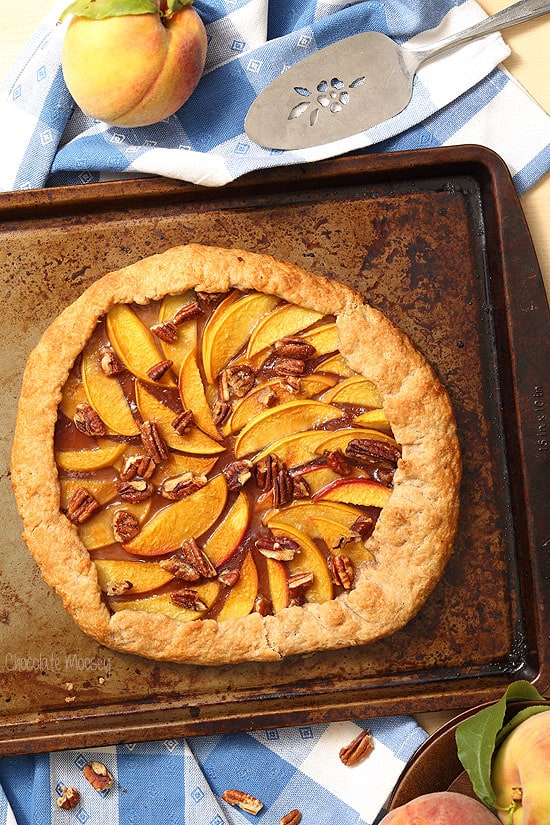 Homemade pie crust is really simple to throw together, especially if you have a food processor. Throw everything in a food processor, and 5 minutes later you have pie dough. If you don't have a processor, you can still make it by hand in a bowl with a pastry blender. It still doesn't take that much more time; just a little extra elbow grease. You don't even have to worry about rolling it out perfectly. My counter space is so small, I had trouble rolling it out. The best part about making a galette (besides eating it) is that it's supposed to look rustic anyway; no perfect pie crusts here.
A little trick I learned from my favorite cookbook author Dorie Greenspan – spread a little bit of jam, any flavor you want, on the dough before adding fruit so the dough doesn't get soggy from the juices. I had raspberry jam in my pantry, which complements peaches really well, but I also recommend peach jam for a double peach flavor. I wanted a little bit of crunch, so I opted for pecans. However, you can use your favorite nut or leave them off if you want it nut free.
Peach Galette
Yield: 8 servings
Prep Time: 20 minutes
Cook Time: 25 minutes
Total Time: 45 minutes
When it comes to baking homemade pies, Peach Galette is one of the easiest pies you can make from scratch with homemade pie crust and fresh peaches.
Ingredients
1 1/2 cups all-purpose flour
2 tablespoons + 2 teaspoons granulated sugar
1 teaspoon + 1/2 teaspoon ground cinnamon
1/2 teaspoon salt
1/2 cup (4 ounces or 8 tablespoons) unsalted butter, cold and cut into 8 pieces
3 tablespoons shortening, cold and cut into 3 pieces
1/4 cup cold water
2 tablespoons jam, any flavor
1/2 pound peaches, thinly sliced (roughly 1-2 peaches)
1 tablespoon lemon juice
1/4 cup chopped pecans
Instructions
In the bowl of a food processor, add the flour, 2 tablespoons sugar, 1 teaspoon cinnamon, and salt.
Add the cold butter and shortening then pulse until they are cut into the flour, looking like large pebbles.

Alternatively, you can cut in the butter and shortening by hand in a large bowl with a pastry blender.
Add the cold water then pulse until the dough comes together.
Flatten the dough into an evenly round disk and wrap in plastic wrap. Refrigerate at least 1 hour or until cold.
Once cold, roll out the dough into an 11-inch circle. Place dough on a baking sheet or round pizza pan. Spread the jam on top of the dough, leaving a 1-2 inch border around.
Toss the peaches with the lemon juice then arrange the peaches in a single layer on top of the jam. Top with pecans. Fold the edges of the pie crust over, touching the filling.
In a small bowl, mix together the remaining 2 teaspoons sugar and 1/2 teaspoon cinnamon. Sprinkle on top of the galette.
Refrigerate galette for 15 minutes. While it's chilling, preheat the oven to 425F.
Bake for 25 minutes or until the crust is golden brown and the juices are bubbly (the juices will thicken once the jam cools a bit). Cool for at least 15 minutes before serving warm or at room temperature.
Source: Adapted from
Baking: From My Home To Yours
More Peach Recipes

Peach Pie Filling

Peach Dumplings with Raspberry Sauce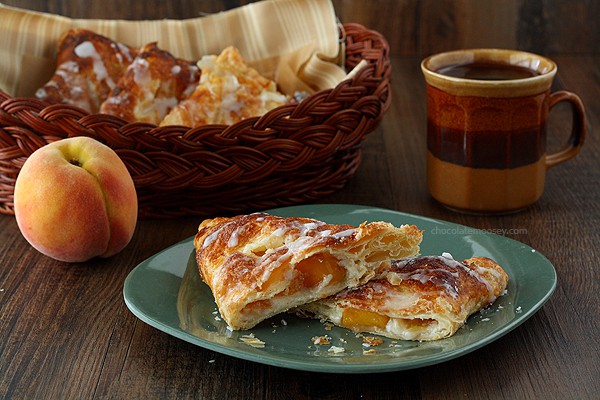 Peach Pie Cheesecake Turnovers
This post may contain affiliate links. As an Amazon Associate and member of other affiliate programs, I earn from qualifying purchase.