Peach Dumplings with Raspberry Sauce
Peach Dumplings are warm peach halves wrapped in a flaky pie crust then topped with creamy vanilla ice cream and fresh raspberry sauce.

I have a cookbook addiction. Like, more than 300 cookbooks. In fact, it could be even more since the last time I counted was shortly after I moved three years ago. In my apartment I have a bookcase built into the wall, which has three shelves dedicated to cookbooks. However, over the years I ended up with books everywhere but the shelf – on the kitchen table, on the coffee table, on the living room floor, on the bedroom floor. Finally I decided to weed through the piles and put them back onto the bookcase. While organizing, I got rid of a big chunk (funny how your taste changes when you grow up). My system was simple – if it had less than five recipes I would make, I didn't keep it. For the few recipes I did like, I either wrote down the idea or saved it digitally into my phone. The one book had a recipe for Peach Dumplings with Raspberry Sauce that intrigued me. I jotted down the idea into the August section of my recipe planner then put the cookbook into my donation pile. Now that it's peach season, I was eager to try out the dumplings. I love apple dumplings, so I know using peaches paired with raspberry would be a winner.
I love pairing warm desserts with cold ice cream; that contrast just dances on your tongue. I think it's a culinary sin if you don't. Flaky pie crust. Partially melted ice cream. Warm raspberry sauce. Now that's how you eat dessert.
I had some pretty big peaches for the dumplings, so I actually cut them into quarters. Use your judgment when filling the dumplings, and don't stretch the dough too much or it'll tear and leak during baking. Peeling the peaches is optional. I usually don't bother peeling, but if you don't like peach skins, I wrote
how to peel peaches here
.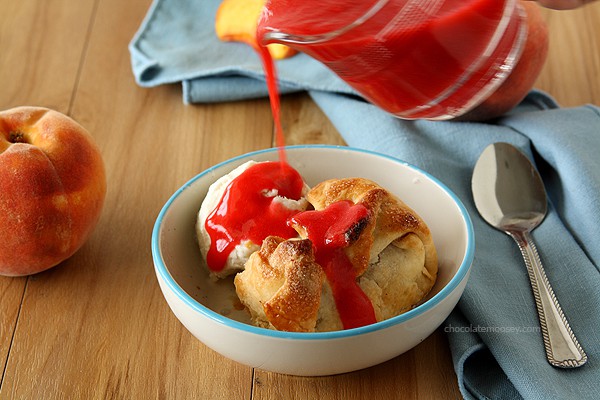 For the raspberry sauce, I knew I wanted something simple. Fresh berries, little bit of sugar, lemon juice. Put into a blender and strain – boom, done. Raspberries and peaches go so well together. If you're not a raspberry fan, you could always make
caramel syrup
.
Peach Dumplings with Raspberry Sauce
Yield: 4 servings
Prep Time: 30 minutes
Cook Time: 25 minutes
Total Time: 55 minutes
Peach Dumplings are warm peach halves wrapped in a flaky pie crust then topped with creamy vanilla ice cream and fresh raspberry sauce.
Ingredients
1/4 cup + 2 teaspoons granulated sugar
1 teaspoon ground cinnamon
2 tablespoons unsalted butter, melted
One 9 inch pie crust dough (homemade or store bought)
2 medium peaches, cut in half and pits removed (peeling optional)
1 egg white
Raspberry Sauce
6 ounces raspberries
1 1/2 tablespoons water
2 tablespoons granulated sugar
1 teaspoon lemon juice
Instructions
Preheat the oven to 400F degrees. Line an 8x8 pan with foil and lightly grease the foil with cooking spray.
In a small bowl, whisk together the 1/4 cup sugar, cinnamon, and melted butter.
Roll out the pie dough into a 13 inch circle. Cut into quarters. Place one peach half,* cut side up, on top of one quarter. Spoon 1/4 of the cinnamon mixture on top. Brush the edge of the crust with egg white then bring the sides up over the peach. Press edges to seal and place in the pan. Repeat with the remaining peaches.
Sprinkle 2 teaspoons sugar on top of the dumplings then cut a slit into the top of each to allow steam to escape. Bake 25 minutes or until golden brown. Cool 15 minutes before serving with raspberry sauce.
For the raspberry sauce
In a blender, blend together the raspberries, water, sugar, and lemon juice. Strain into a bowl, pressing on the solids to extract as much liquid as possible. Pour on top of warm dumplings.
Notes
*If the peach halves are too big, cut into quarters.
Source: Adapted from
Pillsbury
More Peach Recipes

Peach Galette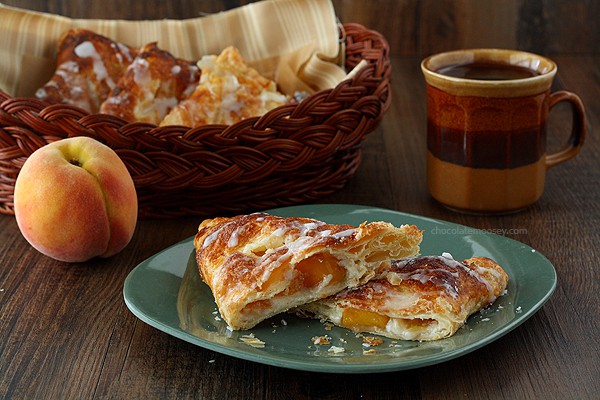 Peach Pie Cheesecake Turnovers
This post may contain affiliate links. As an Amazon Associate and member of other affiliate programs, I earn from qualifying purchase.