Raspberry Swirl Cheesecake Tart
A creamy cheesecake tart with an Oreo crust and a raspberry curd swirled on top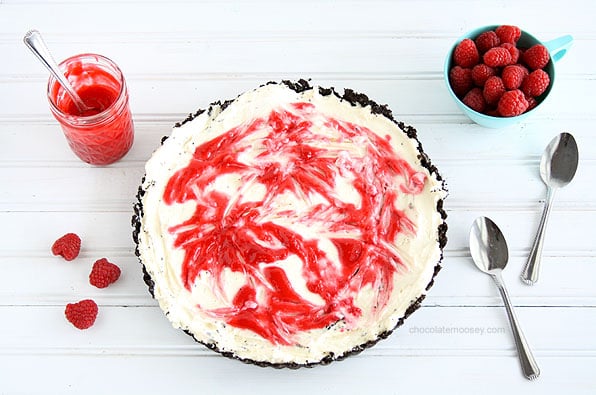 One of my favorite things to do is pick fresh produce. Every summer, my dad and I go to the local farm and pick whatever fruit is in season. I remember the first time we picked raspberries. The month before, we picked strawberries for the first time, reaching down without much effort to grab those plump, juicy berries. However, we made the mistake that raspberry picking would be the same; nobody warned us that raspberry plants had thorns. By the time we filled up our containers, our arms were all scratched up and stained with berry juice. My dad even stained the back of his shirt. We still laugh about that and now bring long-sleeved shirts to cover our arms as we reach in for those sweet spots. People think we are crazy wearing sleeves when it is 90 degrees outside, but by the time they finish picking, they envy us. While we are picking, we visualize all of the treats we could make – pies, jam, cookies, muffins, even cheesecake. That's where the idea of this Raspberry Swirl Cheesecake Tart comes in.
I make cheesecake. A lot. Round, square, baked, no bake, water bath, no water bath, swirled, plain, turnovers, cupcakes, ice cream. I even stuffed peaches once. If it's cheesecake, it's for me. My friends and coworkers tend to call me the cheesecake queen. Can't blame them though. I should really keep track on how much cream cheese I can use in a year.
The swirl on top is raspberry curd made without eggs. I've made similar curds using
strawberry
and
peach
, so you can easily use your favorite summer fruit for this tart. Or if you are feeling really ambitious, you can make blueberry, raspberry, and strawberry curds then swirl for a mixed berry tart.
This Raspberry Swirl Cheesecake Tart is the perfect dessert for those hot summer nights because it captures the flavor of summer while requiring very little oven time. Serve it at your next picnic, potluck, or cookout and pretend you slaved all day in the hot kitchen. Your secret is safe with me.
Raspberry Swirl Cheesecake Tart
A creamy cheesecake tart with an Oreo crust and a raspberry curd swirled on top
Ingredients
Raspberry Curd
6 ounces raspberries
2-4 tablespoons granulated sugar (depends on how sweet your raspberries are)
2 tablespoons lemon juice
2 1/2 teaspoons cornstarch
Cheesecake
2 1/2 cups chocolate sandwich cookie crumbs
4 tablespoons unsalted butter, melted
1/2 cup heavy whipping cream
2 teaspoons powdered sugar
16 ounces cream cheese, softened
1/2 cup granulated sugar
1 teaspoon vanilla
Instructions
For the curd: Combine the raspberries and sugar into a blender and puree until smooth. In a small bowl, whisk together the lemon juice and cornstarch until smooth. Add the cornstarch mixture to the berry puree. Puree until smooth.
Strain the mixture into a medium saucepan and discard the seeds. Cook over medium heat until the mixture starts to boil. Boil for a few minutes or until it thickens, stirring frequently. Pour into a heatproof container. Let cool to room temperature.
For the cheesecake: Preheat oven to 350F. In a small bowl, combine the cookie crumbs and butter. Press into the bottom and up the sides of an 11-inch tart pan. Bake for 15 minutes. Let cool completely.
Meanwhile, in a medium bowl, beat the heavy cream until it thickens. Gradually add the powdered sugar. Whip until stiff peaks form (when you pull the beaters straight up, the peaks will not fall over). Set aside.
In a large bowl, beat together the cream cheese, granulated sugar, and vanilla until smooth. Fold in the whipped cream.
Spread the cream cheese mixture evenly into the cooled tart pan. Drop several spoonfuls of raspberry curd on top in different spots then swirl around with a knife (refrigerate leftover raspberry curd). Refrigerate the tart for at least four hours or overnight before serving.
—-
If you liked this Raspberry Swirl Cheesecake Tart, then you may like these recipes:
From me:
From other bloggers:
This post may contain affiliate links. As an Amazon Associate and member of other affiliate programs, I earn from qualifying purchase.