Tomato Pesto
Fresh, vibrant tomato pesto with basil and mozzarella cheese gives pasta a healthy and flavorful sauce.
How many of you are committed to a healthy lifestyle? If you're anything like me, you have the desire but then time gets the best of you.
Some of you might be parents. Some of you might be working full time.
I am a full time videographer, part time blogger, and working on a side project. My time is very limited and as a result, I don't always make the healthiest choices, including what I eat.
After a long day of work, I'm exhausted and don't want to spend more than an hour on dinner.
The one meal I make (too) often is pasta. Boil water, cook pasta, toss with sauce, done. Did you know whole grain pasta contains three times the fiber of regular pasta?
Today I'm showing you that living a healthier lifestyle can be as simple as switching your pasta and pairing it with vitamin-packed Tomato Pesto.
Now let's talk about tomato pesto.
What is caprese? Caprese is a traditional Italian salad of fresh mozzarella, tomatoes, and basil.
I decided to make a tomato pesto then add basil and fresh mozzarella chunks into the mix. It's similar to my homemade basil pesto.
The best part is you throw it all into a food processor (or blender) and have sauce ready in less than five minutes!
One shortcut I did take is using canned tomatoes instead of peeling, seeding, and chopping fresh, which also means that you can make this pesto all year long.
Can you imagine the brightness this would bring in the middle of winter?
Tomato Pesto also makes a great spread for bruschetta, which are small pieces of bread brushed with olive oil and toasted for about five minutes.
I purposely made a double batch of pesto just to have some leftover. Yes, it was that good.
You can also stir it into some pesto dip and serve with fresh veggies or slather it on top of some pesto burgers.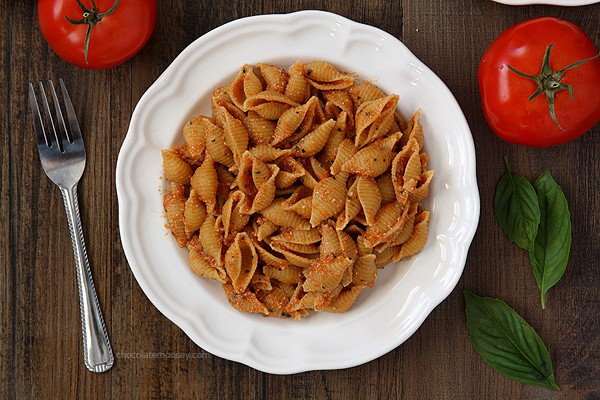 As you can see, making healthier choices is more than just exercising; it's about what we eat.
Incorporating fresh produce. Making sauce from scratch. Eating whole grain pasta instead of regular.
No need to spend hours in a kitchen; sometimes choosing healthier ingredients is all you need. Next time you buy pasta, reach for whole grain instead.
Tomato Pesto
Yield: 4 servings
Prep Time: 15 minutes
Cook Time: 10 minutes
Total Time: 25 minutes
Fresh, vibrant tomato pesto with basil and mozzarella cheese gives pasta a healthy and flavorful sauce.
Ingredients
3 cups whole grain pasta, any shape
2 cups chopped tomatoes, fresh or canned
2 garlic cloves, peeled
15-20 basil leaves
1/2 cup fresh mozzarella, chopped into pieces
1/4 cup olive oil
2 teaspoons balsamic vinegar
1/4 - 1/2 teaspoon sea salt
Instructions
Bring a large pot of water to a boil. Cook pasta as directed on the box.
Meanwhile, in a food processor or blender, combine the tomatoes, garlic, basil, mozzarella, olive oil, vinegar, and salt (to taste). Puree for a good 2-3 minutes or until completely smooth.
Toss with pasta when ready.
Source: Adapted from
Michael Chiarello
—-
If you liked my Caprese Pesto, you may also like these recipes: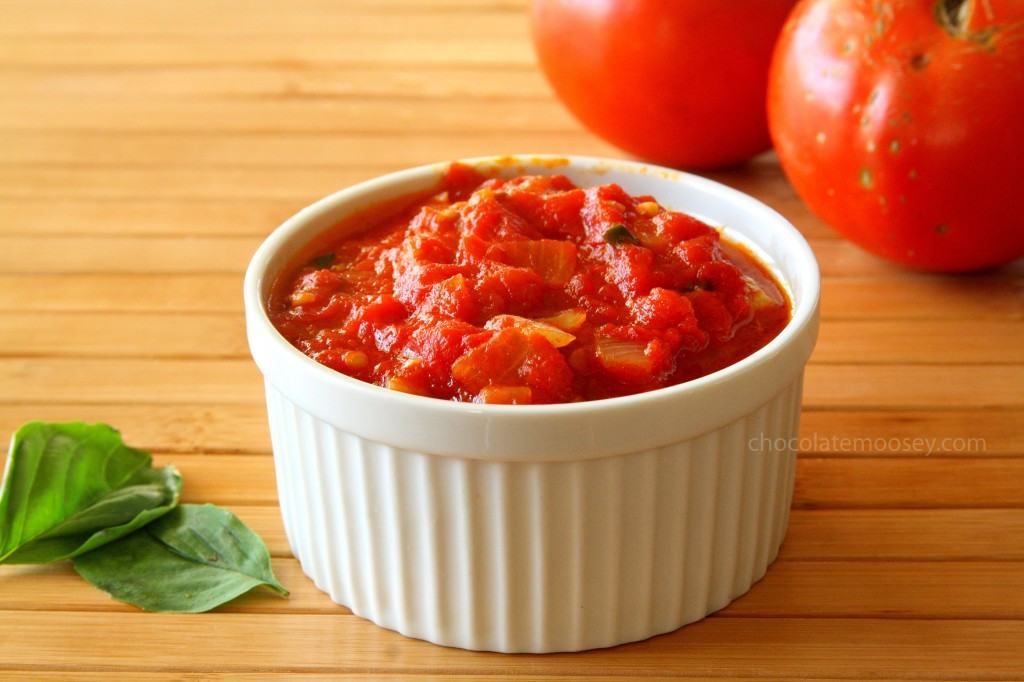 This post may contain affiliate links. As an Amazon Associate and member of other affiliate programs, I earn from qualifying purchase.