One Serving Cherry Pie Filling
Craving dessert that makes only one serving? Learn how to make homemade One Serving Cherry Pie Filling from scratch for one person!
Remember the
homemade cherry pie filling
I posted? Well I have a secret – I figured out how to scale it down for one serving.
ONE serving. No leftovers. No sharing. Just you, a ramekin, some ice cream, and a spoon. How awesome is that?!
Sure, you could eat it straight from the pan with a spoon, but I'll do you one better. Top it with a scoop of vanilla bean ice cream and turn the recipe into a One Serving Cherry Pie Ice Cream Sundae.
The best part? It takes no more than 30 minutes to make, from pitting to eating.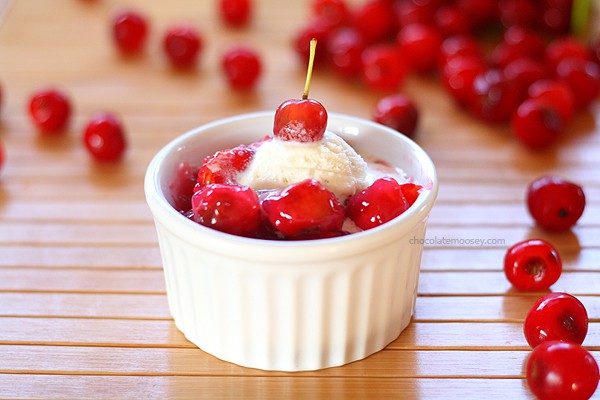 Because I'm single, most of the time I'm only cooking for myself. When I want dessert, I don't want a whole cake or six cupcakes. Well, I mean I WANT a whole cake or six cupcakes, but I *shouldn't*. I want a single serving dessert all to myself, enough to satisfy my sweet tooth without going overboard.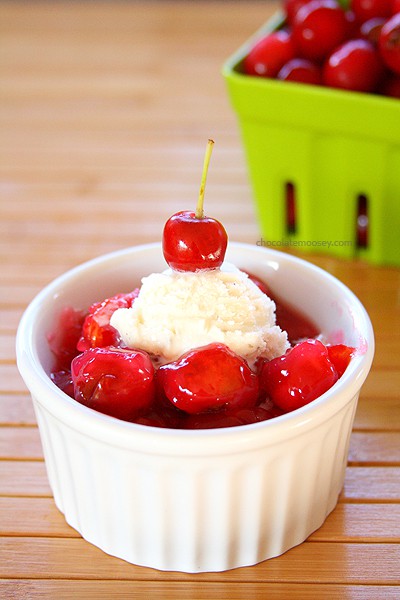 The best tool for making single serving desserts is a ramekin. Ramekins are fun. Sometimes I'll throw some chocolate chips into one, top with mini marshmallows, and broil until toasted. Lazy s'mores.
However, last year I had some beautiful tart cherries to use up. I honestly don't remember how or why, but I thought it would be a great idea to scale down cherry pie filling for one person. Good thing I took notes.
After you make the pie filling, you can scoop it into a ramekin and eat it right away. Or if you're making it ahead of time, you can refrigerate it for a few days then later throw it in the oven until the juices start to bubble.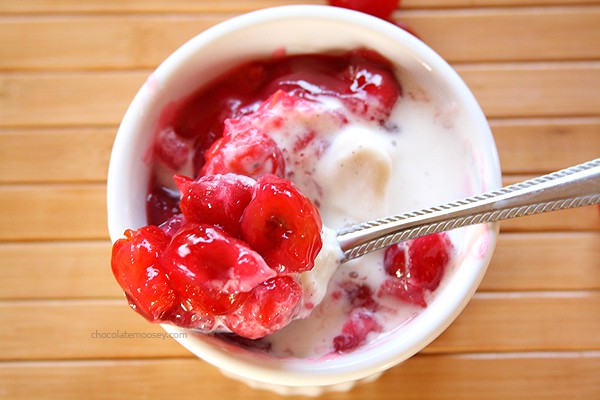 If you notice, there is no pie crust. I wanted a one person eat-it-now dessert and didn't want to take the extra time to make pie dough. However, if you're in the mood for a double crusted pie, check out my
Cherry Pie For Two
recipe.
In the mood for cherry crisp? Check out my Raspberry Almond Crisp For Two, swapping out the raspberries for cherries. Leave out the lemon juice since the sour cherries are tart.
Items You May Need (affiliate links):
Cherry Pie Ice Cream Sundae
Yield: 1 serving
Prep Time: 10 minutes
Cook Time: 5 minutes
Total Time: 15 minutes
Craving dessert that makes only one serving? Learn how to make homemade One Serving Cherry Pie Filling from scratch for one person!
Ingredients
1 1/2 tablespoons granulated sugar
1 1/2 tablespoons water
1 teaspoon cornstarch
1/4 teaspoon almond extract
Few drops red food coloring
1/2 cup pitted sour cherries
Vanilla ice cream, for serving
Instructions
In a small saucepan, whisk together the sugar, water, and cornstarch. Bring to a boil.
Once boiling, cook 2-3 minutes or until thickened and bubbly. Remove from the heat.
Stir in the almond extract, food coloring, and cherries. Serve in a ramekin with a scoop of ice cream.
Source: Adapted from
Cherry Marketing Institute
This post may contain affiliate links. As an Amazon Associate and member of other affiliate programs, I earn from qualifying purchase.