Bacon Dried Cherry Chocolate Chip Cookies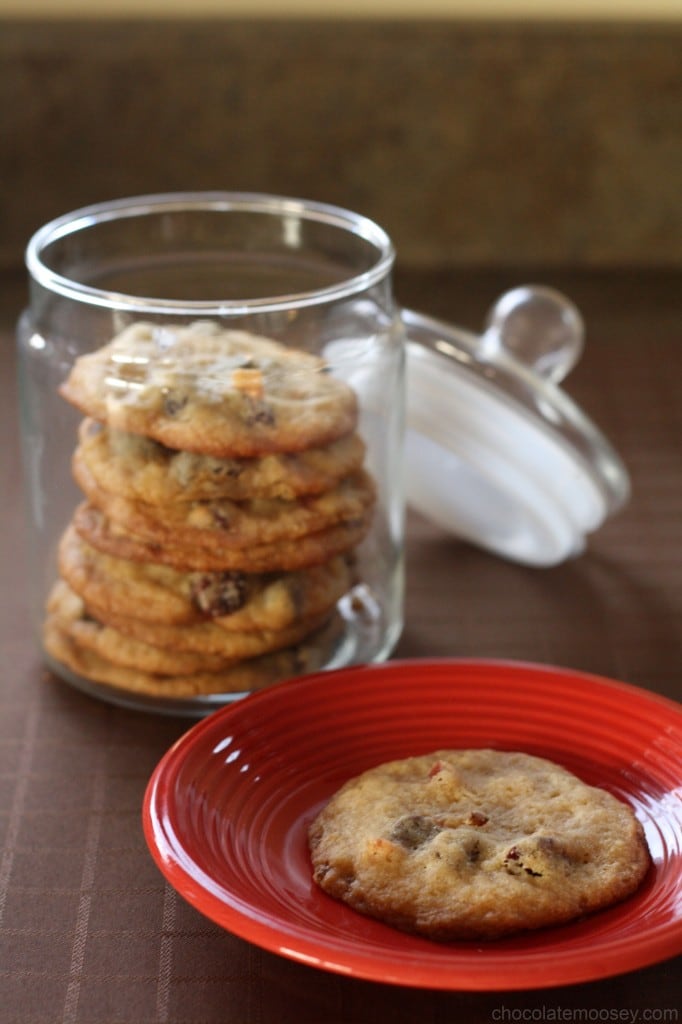 Happy #SundaySupper! This week, we are excited to team up with Katie Workman, the author of the book
The Mom 100
. Her cookbook is "filled with delicious, no-fuss, easily adaptable recipes, plus tips, attitude and wisdom for surviving and staying happy in the kitchen while proudly keeping it homemade." Today we are celebrating potluck style. Of course dessert is the most important part, so I made one of my favorite cookies – Bacon and Dried Cherry Chocolate Chip Cookies.
Wait, what?
Yes, I said it – bacon in my cookie. Surprisingly, bacon and chocolate pair up nicely with the sweet and salty. The dried cherries add a bit of tartness. On Katie's blog,
she explained how to bake bacon
. I almost always make bacon in the microwave because I'm the type of who likes the chewy, greasy pieces rather than the crispy ones. Since I needed crispy, I followed her directions. Line a baking sheet with foil, place a baking rack on top, put the strips on the rack, then bake at 350F for 15-20 minutes. During those 15-20 minutes, you can multi-task or take care of the kids.
I know, I know – I'm not a mom. Why am I still participating in The Mom 100 #SundaySupper? I may not have extra mouths to feed, but I still have a busy schedule. I work full time during the week and come home tired like everyone else. These cookies take little time to make and bake. Kids love bacon and chocolate chip cookies, so why not combine both?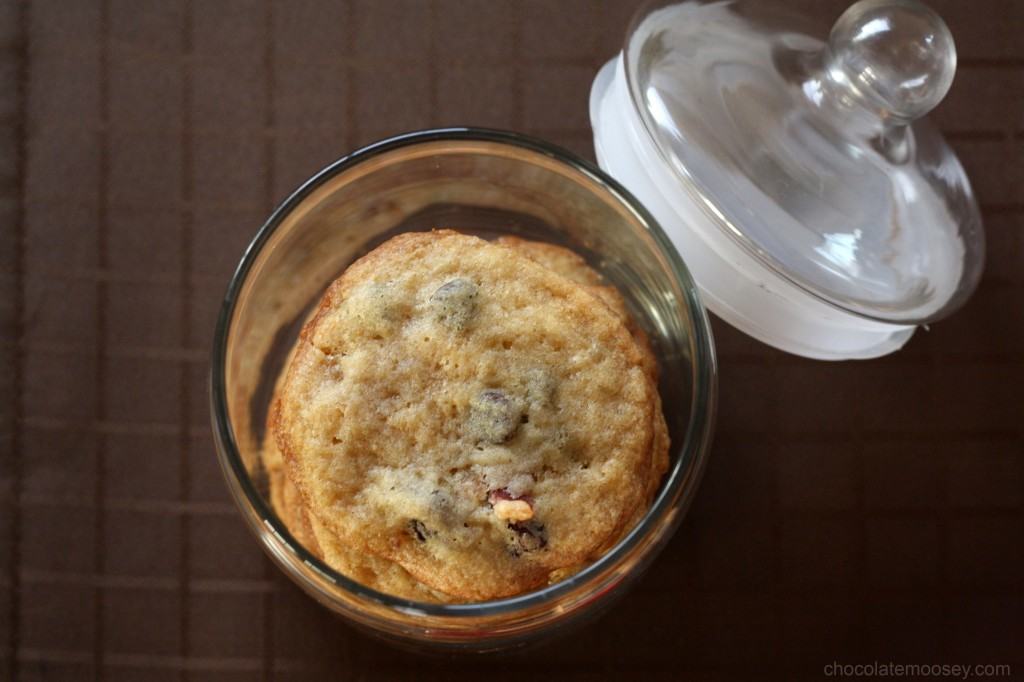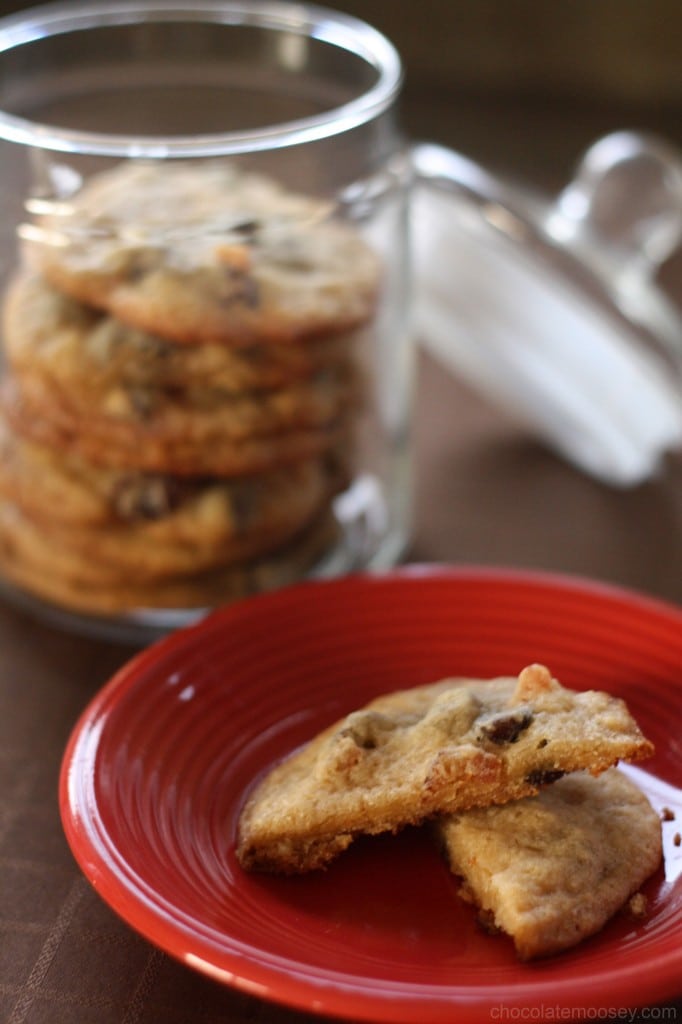 The idea for this cookie came when last year I visited Lancaster, famous for being Amish country. The bakery was set up in a building with other vendors, and I can't even remember the name. Right before we left, I spied this cookie on the counter, half-off because it was late in the afternoon. I didn't even eat it until we were on the road again. Big mistake because I wanted to go back.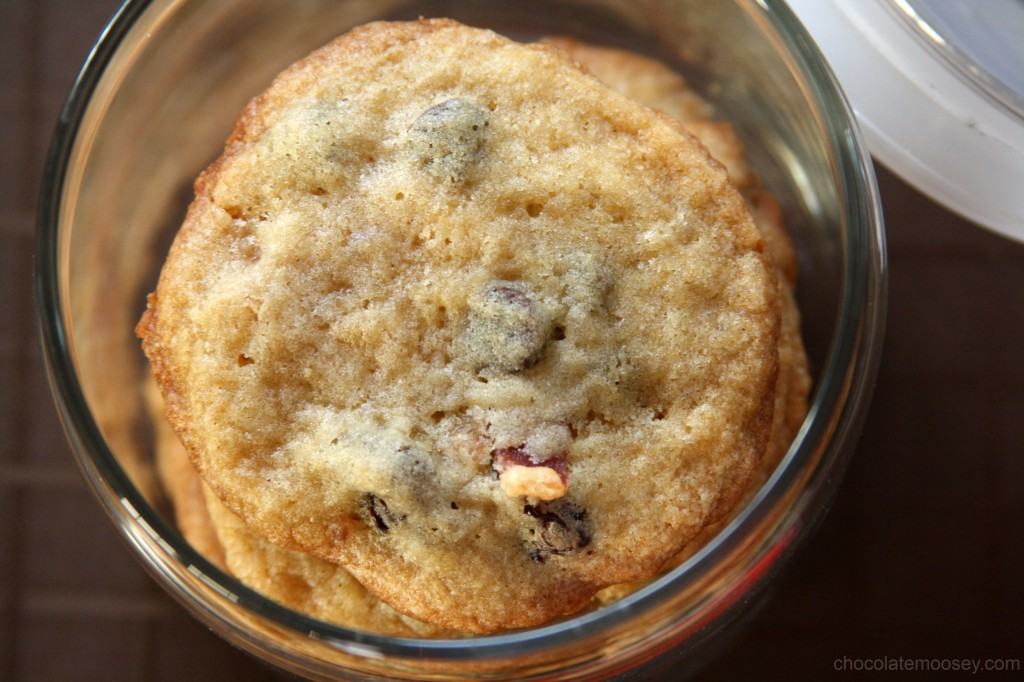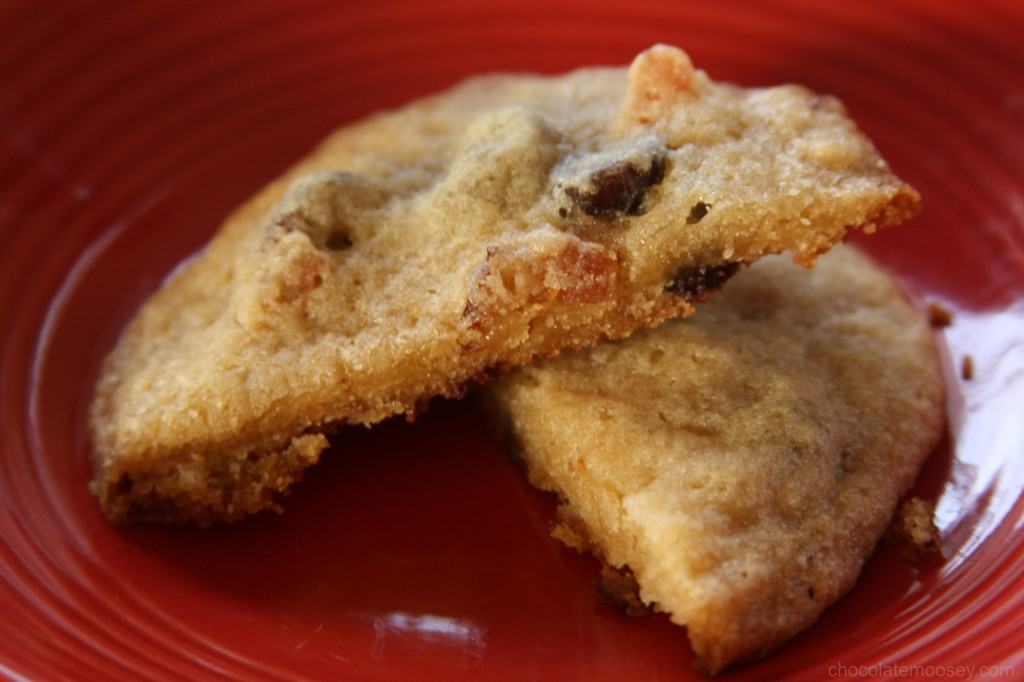 Now I crave this cookie all the time. The sweet chocolate. The salty bacon. The tart cherries. The perfect cookie. The ones I recreated don't do this bakery any justice. First, the bakery cookies were bigger. Second, I couldn't get the texture quite right. Mine are a bit thinner and not as chewy as I'd like. Don't get me wrong – the flavor is definitely there and I ate more than my fair share. I think this calls for me to make a few more dozen for research, right?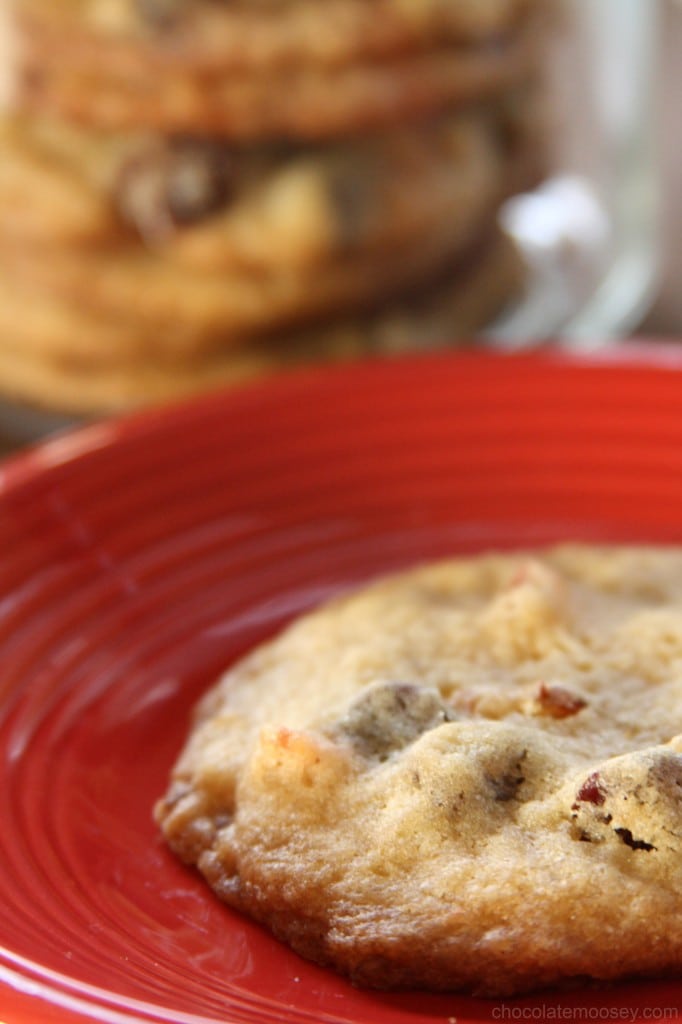 Bacon and Dried Cherry Chocolate Chip Cookies
Chocolate chip cookies with bacon and dried cherries
Ingredients
1 1/4 cups flour
1/4 tsp baking soda
1/4 tsp sea salt
1/2 cup brown sugar, packed
1/4 cup sugar
1/2 cup butter, softened
2 tsp vanilla extract
1 egg
1 cup semisweet chocolate chips
1/2 cup dried tart cherries
1/2 cup finely chopped bacon, cooked and well drained
Instructions
Preheat oven to 325F. Line two cookie sheets with parchment paper and set aside.
In a small bowl, sift flour, baking soda and salt. Set aside.
In a large bowl, beat both sugars and butter until light and fluffy. Add vanilla then the egg. Mix until thoroughly incorporated. Stir in the flour. Add the chocolate chips, cherries and bacon.
Place heaping tablespoons of the cookie dough onto the cookie sheets, leaving 2 inches between each cookie. Bake 12-15 minutes or until golden brown. Remove from oven and allow to cool 10 minutes before transferring to cooling racks. Store in an airtight container.
Source:
AZ Central
This post may contain affiliate links. As an Amazon Associate and member of other affiliate programs, I earn from qualifying purchase.