Red, White, and Blue Firecracker Cupcakes
Red, White, and Blue Firecracker Cupcakes are vanilla cupcakes dyed for Fourth of July & topped with color-swirled buttercream & pop rocks.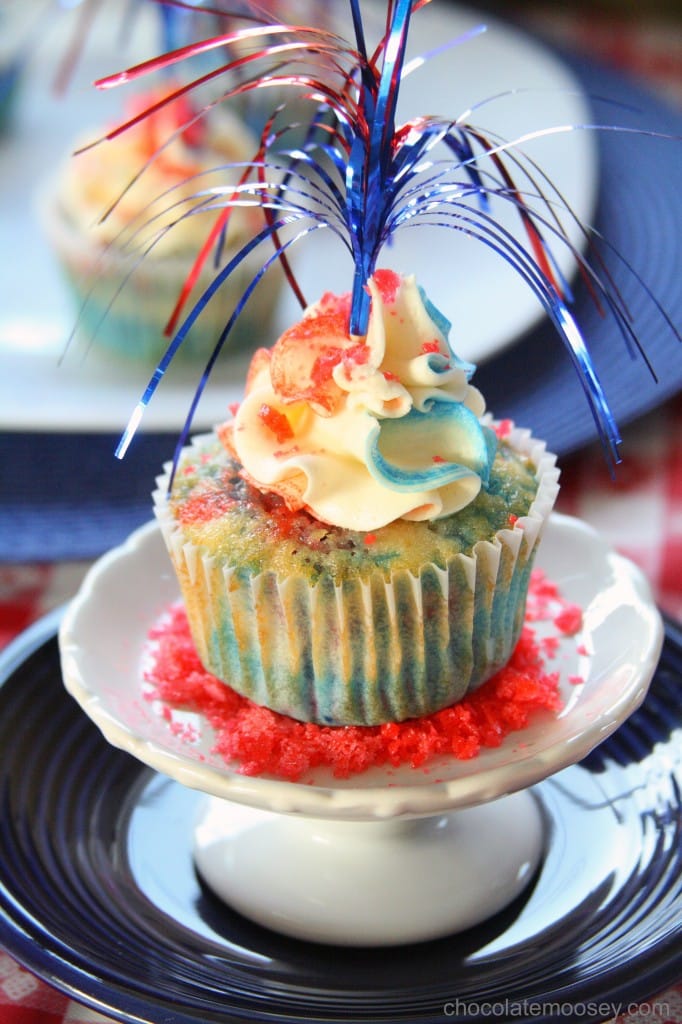 With Fourth of July being this Wednesday, I wanted to kick off the celebration with a fun Fourth of July recipe. If you're still looking for menu ideas, I made some Red, White, and Blue Firecracker Cupcakes, which are festive vanilla cupcakes topped with pop rocks and striped vanilla buttercream frosting.

The original plan was to have a striped cupcake: red on top, white in the middle, and blue on bottom. As you can see, they didn't come out that way. What baffles me is I did this technique before with my Halloween Candy Corn Cupcakes. Same recipe, same technique, different results. The only theory I have is I didn't use real buttermilk, just the milk + vinegar substitution. I wonder if this is a case where using buttermilk is a must so the batter doesn't run together.
I was actually debating on even posting these Red, White, and Blue Firecracker Cupcakes. I found the coloring to be too muddled. Well if anything, you can see how cool my frosting is. I got the idea from
Heather of Farmgirl Gourmet
when she posted her Red, White, and Blue Meringues. What you do is you take the red and streak one side of your piping bag. Take the blue and streak the opposite side of your piping bag. Fill it with the white buttercream, and the frosting comes out striped when you pipe it. Pretty cool, huh? Imagine all of the color possibilities!
Speaking about color, it is very critical you use food coloring gels instead of liquid food coloring most people use. In order to get the right shades of red and blue, you would need to add a good bit of the liquid coloring. This unfortunately changes the consistency and makes the batter runny. By using the gels, you can get the color you want with minimal coloring added plus the consistency stays the same.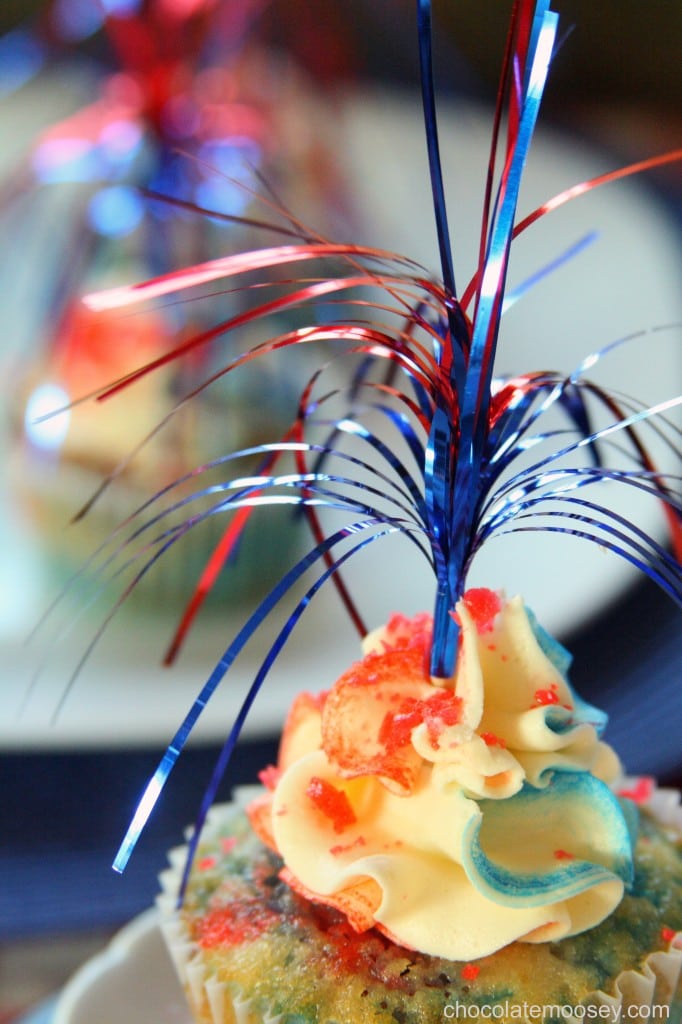 So why are they called Firecracker Cupcakes? Because I added pop rocks for a bit of pop! Except pop rocks scare me. If you've never had them before, they are tiny bits of candy that have some kind of reaction when they are in your mouth and start crackling and popping in your mouth. They are harmless and supposed to be fun but they still scare me. I think I even dropped some on the floor because I felt popping when I was walking haha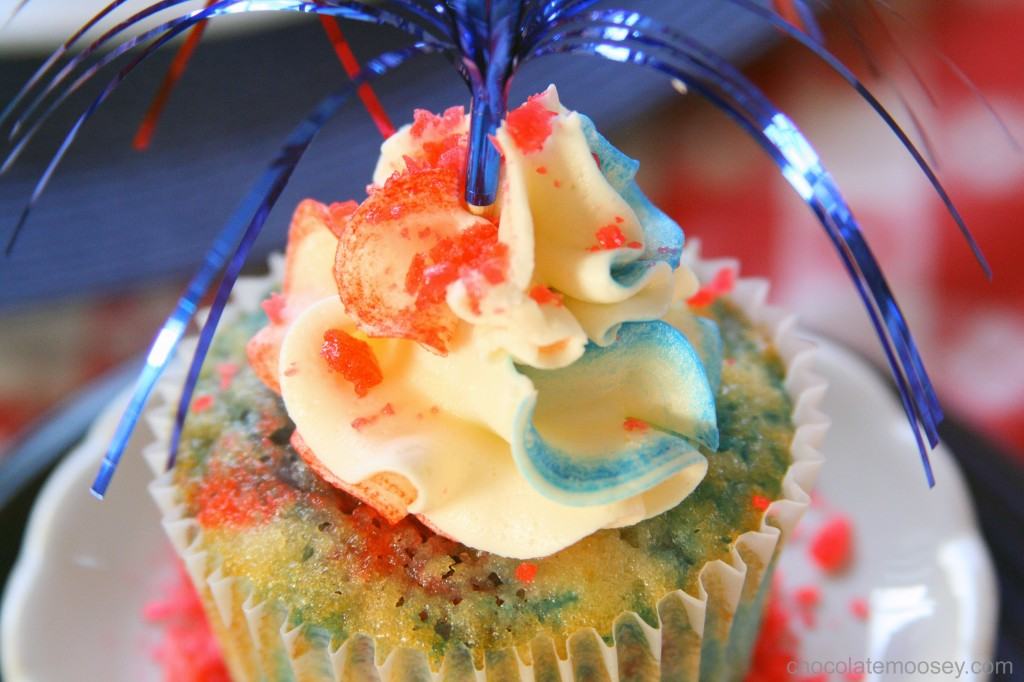 I did some research on baking with pop rocks. A lot of people said if you baked the candy in the actual batter, they lose their popping-ness. Originally, I was going to cut a hole in the baked cupcakes and drop some in, but the cake was too sticky to cut. What I ended up doing was sprinkle of bunch on top in the middle then piped the buttercream on top. For final touches, I sprinkled on more pop rocks on top. If you're like me and don't enjoy the candy, leave them off.
Red, White, and Blue Firecracker Cupcakes
Red, White, and Blue Firecracker Cupcakes with pop rocks candy
Ingredients
1 cup flour
1/2 tsp baking powder
1/4 tsp baking soda
Pinch salt
3/4 cup sugar
1/4 cup unsalted butter, at room temperature
2 egg whites
1 tsp almond extract
2/3 cup buttermilk
Red and blue food gels
1 package (0.66 ounce) Pop Rocks
Frosting:
1 1/2 cups powdered sugar
1/2 cup unsalted butter, room temperature
Pinch of salt
1/2 tsp vanilla
Red and blue food gels
Instructions
Preheat oven to 350F and line cupcake pan with paper liners.
In a small bowl, whisk together flour, baking powder, baking soda, and salt.
In a large bowl, beat butter and sugar together until well combined. Add egg whites, one at a time, beating well after each addition. Mix in almond extract. Alternately beat in flour mixture and buttermilk, making three additions of flour and two of buttermilk, beating until smooth.
Divide the batter into 3 parts, roughly 2/3 cup each part. Leave one untouched. For the second bowl, mix in red coloring. For the third bowl, mix in blue coloring. Layer the batter into each cup, starting with the blue, then white, then red.
Bake for 20-25 minutes or until a toothpick inserted in the middle comes out clean. Let cool in the pan for 10 minutes then remove from the pan to cool completely.
For the frosting: In a medium bowl, beat together sugar, butter and salt until creamy. Increase the speed to high and beat until creamy, 3-5 minutes. Add vanilla and beat for another minute.
To assemble: On one side on the inside of your piping bag, brush a streak of red coloring. On the other side on the inside of your bag, brush a streak of blue coloring. Scoop in all of the buttercream. Sprinkle pop rocks on top of each cupcake then pipe buttercream on top. Garnish with remaining pop rocks.
Source: Adapted from
125 Best Cupcake Recipes by Julie Hasson
This post may contain affiliate links. As an Amazon Associate and member of other affiliate programs, I earn from qualifying purchase.