Roasted Jalapeno Soup
Roasted Jalapeno Soup for two may sound crazy, but it's crazy good. Spice dinner up a notch with this creamy vegetarian soup.
Ever have somebody suggest a recipe to you, find the name not so appetizing, but once you see a picture and decide to make it, it's one of the best recipes ever?
I harvested tons and tons of jalapenos from my garden this year. So many that I need to freeze most of them.
As I was asking for recipe ideas, a friend suggested Roasted Jalapeno Soup. The first thing that came to mind was green soup that sets your mouth on fire. She sent me her picture of it, and it looked nothing like I had envisioned.
It was this beautiful orange color from the carrots. In fact, not a hint of green was found.
If this Roasted Jalapeno Soup for two isn't the definition of soul warming (literally), I don't know what is.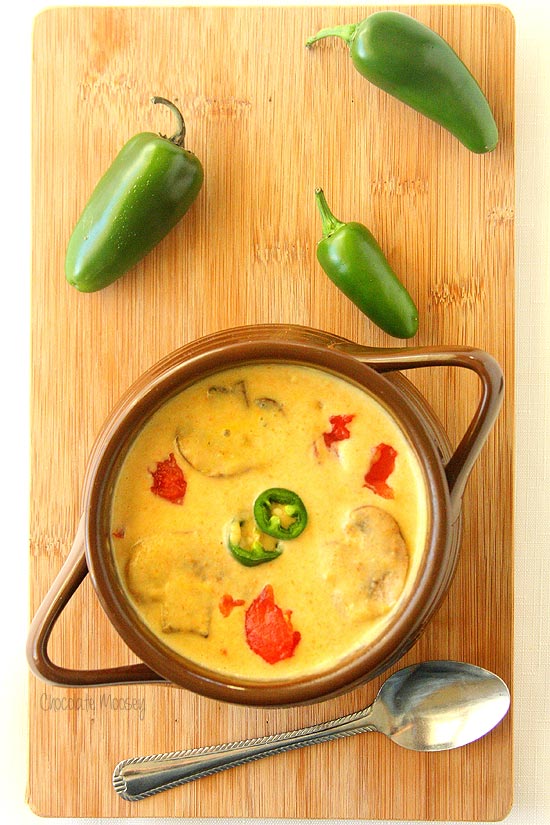 Roasting vegetables, peppers included, is a great way to bring out their flavor as you cook them.
My biggest concern was the heat factor. My friend said the seeds and membrane are removed (where most of the spiciness is), but if I was still concerned, I could cut back on how many I used.
I chose two large green jalapenos, cut them in half lengthwise, scooped out the middles, and placed them cut-side down on a cookie sheet then roasted them until darkened.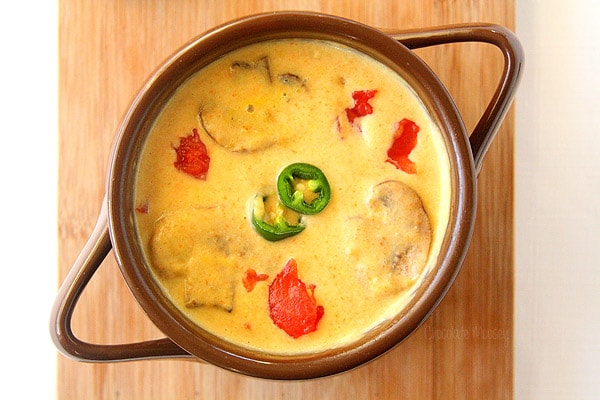 I was so shocked at how delicious this soup was. So delicious in fact that I had no plans of sharing until I took a bite.
This soup is such a crazy idea, yet it worked. Even my coworkers were scared that I made Roasted Jalapeno Soup, but after one bite, they wanted more.
Despite the color and texture, there is no cheese. Can you believe that? Jalapenos with no cheese?
The color comes from the carrots. I did adjust the original recipe because I am not a fan of straight-forward pureed soups. I need to have some substance, something to chew, for it to be satisfying.
After pureeing the soup, I added in chopped tomatoes and raw mushrooms.
I learned a trick from watching Chopped. The one contestant made a creamy soup and added raw mushrooms at the very end to soak up the flavors. I love the texture of the raw mushrooms (which become slightly softer after soaking up the soup).
The first time I made this soup, I added already cooked shrimp. This time around, however, I had no shrimp to add, so there is none in the photos.
You can also add in shredded chicken if you have some leftover from another meal.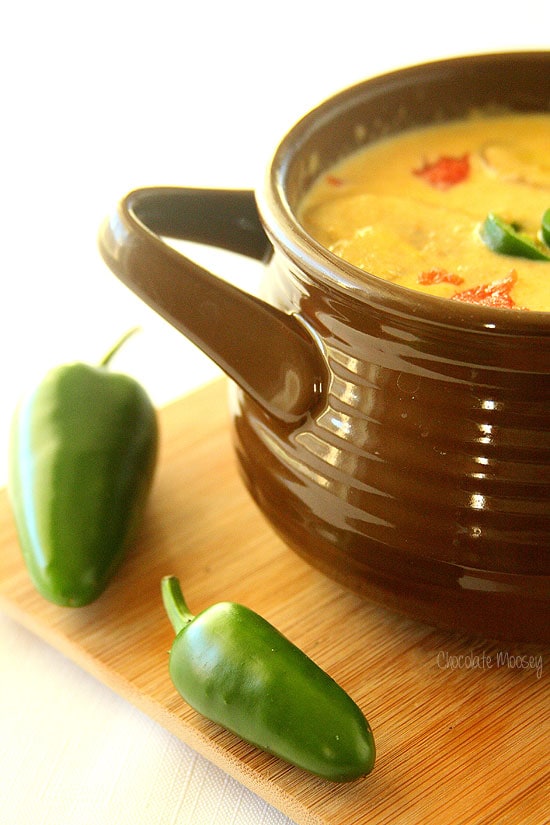 Now to answer the biggest question going through your mind right now – just how spicy is this soup?
When you first take a bite, you taste the melody of flavors from the carrots, onions, and peppers. After a few seconds, you feel a little kick in the back of your throat.
Not enough to make you cry or set your face on fire, but enough that you'd want a nice glass of water nearby. You don't even need milk
However, if it does end up being too spicy, add some milk or heavy cream into the broth to cool it down. Dairy helps cut back on the heat.
I will admit I am a wimp and can't eat a big bowl of this at one time, but it makes a nice starter to a Mexican-inspired meal.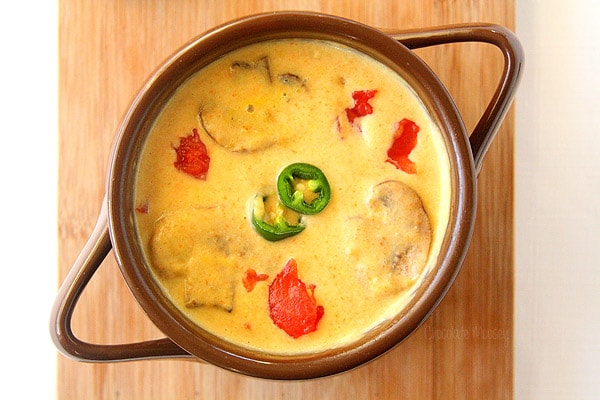 Roasted Jalapeno Soup
Yield: 4 servings
Prep Time: 15 minutes
Cook Time: 30 minutes
Total Time: 45 minutes
Spice dinner up a notch with this creamy Roasted Jalapeno Soup.
Ingredients
2 large green jalapeno peppers, cut in half lengthwise and seeds removed
1/2 cup chopped onion
1 large carrot, peeled and chopped
1 garlic clove, minced
1 tablespoon olive oil
1 tablespoon butter, softened
2 tablespoons all-purpose flour
1/4 teaspoon salt
2 1/2 cups chicken or vegetable broth
1/4 cup whole milk
1 small tomato, seeded and chopped
4 large button mushrooms, sliced
Instructions
Preheat oven to 400F. Have a baking sheet ready. Place the jalapenos cut side down on the baking sheet. Roast for 15 minutes or until slightly darkened. When cool enough to handle, chop.
In a Dutch oven or other large pot, heat the olive oil. When hot, add the onion and carrot. Cook until softened, about 5 minutes.
Add the garlic and chopped jalapeno. Cook for 1 minute.
Add the butter. Once melted, whisk in the flour and salt until everything is coated. Slowly whisk in the broth.
Bring to a boil. Once boiling, cook until the soup has slightly thickened, about 5 minutes.
Remove from the heat. Add the soup to a blender then puree until smooth (be careful as hot liquid expands when blended).
Pour the soup back into the pot. Stir in the milk, tomatoes, and mushrooms.
Notes
Don't have time to roast the jalapenos? Chop the jalapenos instead then cook them with the carrots. It won't have as much flavor as oven-roasted, but the soup will still be pretty tasty.
More Soup Recipes
This post may contain affiliate links. As an Amazon Associate and member of other affiliate programs, I earn from qualifying purchase.