Chocolate Cherry Tartlets (No Bake)
No Bake Chocolate Cherry Tartlets with Oreo cookie crusts are mini sinful desserts that celebrate cherry season while satisfying your chocolate-loving sweet tooth.

Why does July always seem the busiest month for me?
Four years ago, I moved and started my first big-girl job as a videographer.
Last year, I spent most of the month traveling on a mini vacation and to two blogging conferences (where I spoke about photography).
This July, I'm moving back to Pittsburgh. July must be the month of change in this moosey's life.
The one thing I really hate about being busy in July is missing cherry season. Again. And again. Sour cherries have such a short window that only one out of the past four years I was able to bake with them.
You don't often find them at grocery stores; just certain farm stands.
However, you can find plenty of sweet cherries. And come hell or high water (er high piles of boxes?), I was determined to bake with cherries this summer.
Except I didn't because these are No Bake Chocolate Cherry Tartlets. Close enough, but how can you resist not turning your oven on in the hot summer when cherries are at their peak?
There is a little stovetop cooking involved, but only for a few minutes, and I promise you won't even mind after taking one chocolatey bite.
Confession – I actually made these chocolate cherry tartlets about a month ago before I started the moving process, so I'm not that crazy (although I do have to bake one last item while most of my stuff is packed away – I must be a glutton for punishment).
But I knew I wanted to move back closer to home, so last month I started cleaning out my pantry.
After spying an unopened (!) package of Oreo cookies, I knew a no bake chocolate cookie crust is what these tartlets needed.

The irresistible chocolate filling is
ganache
with cooked cherry puree mixed in.
Ganache is pretty much chocolate and heavy cream melted together, forming a rich and sinful chocolate filling.
The ratio of chocolate to cream determines the texture of the ganache. In this case, it is soft and silky at room temperature and a bit firmer when cold.

If you find yourself craving these tartlets but don't have fresh (or even frozen) cherries to work with, you can substitute a few tablespoons of
sour cherry jam
.
That way, you can make these mini desserts all year round. Individual tartlets can make great gifts if you find the right-sized treat boxes.

Equipment you will need (Amazon affiliate links):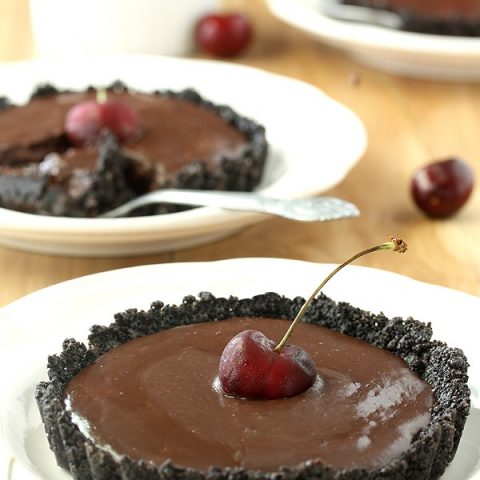 No Bake Chocolate Cherry Tartlets
If you do not have fresh or frozen cherries, substitute 1/2 cup cherry jam and stir into the chocolate in Step 4.
Ingredients
1 1/2 cup sweet cherries, chopped and pitted
2 tablespoons sugar
1 tablespoon water
1 3/4 cup chocolate sandwich cookie crumbs
3 tablespoons melted butter
4 ounces semisweet chocolate, chopped
1/2 cup heavy whipping cream
1 tablespoon butter, softened
3 whole cherries, for garnish.
Instructions
Lightly grease three 4-inch tartlet pans.
In a medium saucepan, stir together the cherries, sugar, and water. Bring to a boil, stirring occasionally. Boil for 5 minutes or until the cherries cook down and start to thicken. Remove from the heat and let cool 15 minutes. Optional: If you want the filling to be completely smooth without cherry bits, puree in a blender after cooling.
In a large bowl, mix together the cookie crumbs and melted butter. Pat into each pan to form a crust. Refrigerate while you prepare the filling.
In another large bowl, add the chopped chocolate. Warm up the cream in a medium saucepan until hot (not boiling) then immediately pour over the chocolate. Let sit 5 minutes then stir until smooth. Stir in the cherry mixture and butter.
Fill each tartlet pan with the chocolate filling, smoothing out the top to fill each pan crevice. Top with a whole cherry. Refrigerate until firm before serving.
Want more irresistible desserts? Check out these favorite recipes:

Golden Oreo Cherry Curd Tartlets

Blood Orange Tartlets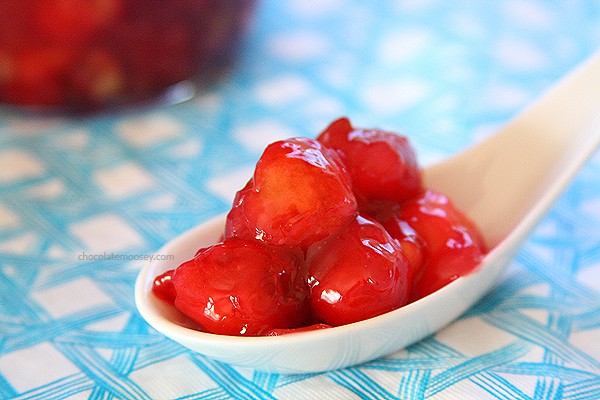 Homemade Cherry Pie Filling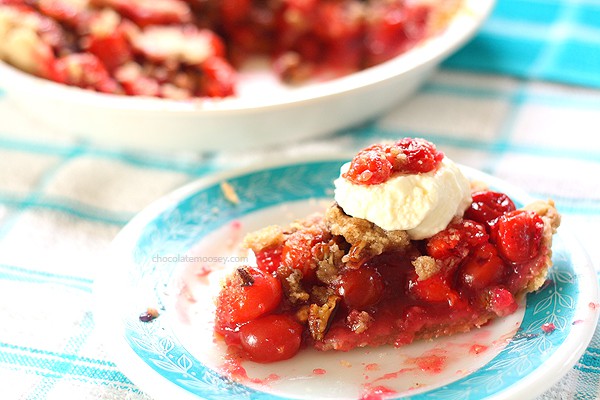 Cinnamon Pecan Cherry Pie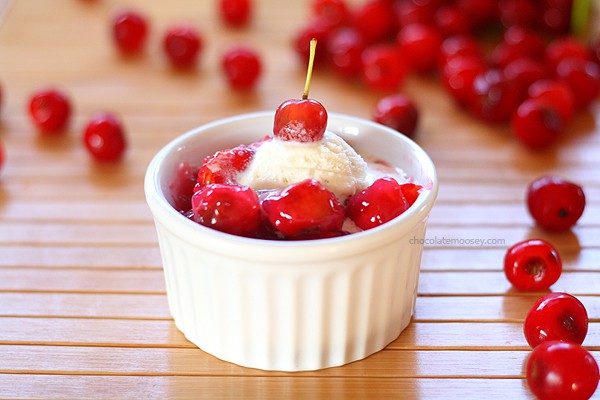 One Serving Cherry Pie Ice Cream Sundae

Baked Cherry Cheesecake Wontons
This post may contain affiliate links. As an Amazon Associate and member of other affiliate programs, I earn from qualifying purchase.