Cherry Almond Coconut Ice Cream (Dairy Free)
Cherry Almond Coconut Ice Cream is a dairy free ice cream made healthier with almond coconut milk and fresh sweet cherries.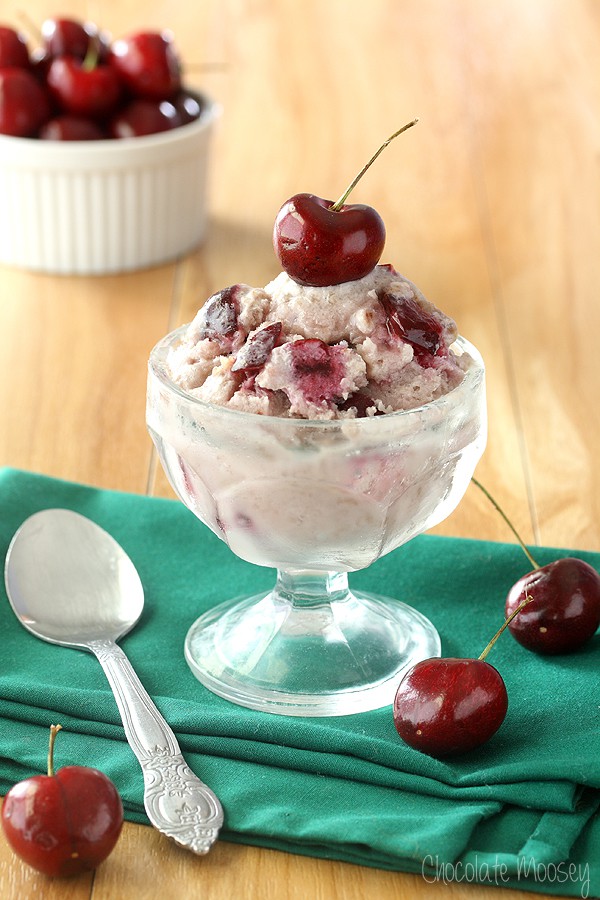 It's no secret that I love ice cream. Right now, I have about five different flavors of ice cream in my freezer. When it's hot out, I eat ice cream. When it's cold out, I still eat ice cream. I buy ice cream. I make ice cream. When I'm on vacation, I eat ice cream. I even tore out a magazine article on the top twelve ice cream places in Pennsylvania (I've eaten at two of them). Since life is about balance, I also need to watch what I eat. I've been incorporating more fruits and vegetables into my meals and walk when I can during the afternoon. So how can I continue my love of ice cream while making changes for a healthier lifestyle? By using Silk Almond Coconut Blend. Today I'm teaming up with Silk to show you how to make ice cream healthier without sacrificing flavor with my Cherry Almond Coconut Ice Cream.
I've been wanting to try almond milk ever since I made my
Toasted Coconut Hot Chocolate
because almond milk would have been perfect to pair with the coconut and chocolate, much like that famous candy bar you see in stores. I tend to have the TV on in the background while I'm working in the kitchen, and lately I keep hearing the Silk commercials. When I heard that they were coming out with the Almond Coconut Blend, I was very excited to try it. If you know me, I have an obsession with
coconut milk
. And of course ice cream was the first thing to pop into my mind.
Most ice cream recipes use whole milk and heavy cream. I used the almond coconut milk instead of whole milk and canned coconut milk instead of cream. Since Silk is low in saturated fat, I added two egg yolks. Otherwise, the ice cream will be too icy (like my first batch). The ice cream overall still has less fat than regular ice cream, but you still want it to have that creamy texture.
I chose cherries to pair with the almond coconut milk because they are in season and because almond and cherries pair so well together. Ever notice that almond extract smells like maraschino cherries? Because I used sweet Washington cherries, the ice cream came out with a purple hue, not bright and pink when you think of cherries. Any variety of cherry will work (but color and sweetness may vary). My favorite part of this ice cream were the bits of cherries throughout.
Silk is a great alternative to dairy milk if you are lactose intolerant; however, you don't need to have a dietary restriction to enjoy it. I'm fortunate to have no restrictions and enjoyed the almond coconut blend because it adds extra flavor to recipes (plus I love coconut milk). There are also health benefits to drinking Silk.
According to Silk
, their Almond Coconut Blend is 50 calories per serving and 50 percent more calcium than dairy milk. Want to give Silk a try?
Visit their Facebook page for a $1 off coupon
.
Cherry Almond Coconut Ice Cream
Cherry Almond Coconut Ice Cream is a dairy free ice cream made healthier with almond coconut milk and fresh sweet cherries.
Ingredients
1 1/4 cup sweet cherries, pitted and chopped
2 egg yolks
1 tablespoon cornstarch
1 cup almond coconut milk*
1 cup canned coconut milk
1/3 cup granulated sugar
1/4 teaspoon almond extract
Instructions
In a blender, puree 3/4 cup chopped cherries. Set aside.
In one small bowl, lightly beat together the egg yolks. In another small bowl, add the cornstarch.
In a large saucepan, whisk together both milks and sugar. Bring to a simmer. When hot, whisk a little milk into the egg yolks then whisk a little milk into the cornstarch to form a smooth liquid. Add both the cornstarch and egg yolk mixtures into the saucepan.
Cook for another 3-5 minutes or until it thickens slightly. Remove from the heat and whisk in the almond extract and pureed cherries. Pour through a mesh strainer into a bowl sitting inside an ice bath. Cool until room temperature then chill in the refrigerator until cold.
Once cold, freeze the ice cream according to your ice cream maker's directions. During the last few minutes of churning, add the remaining 1/2 cup chopped cherries.
Notes
*If you can't find the almond coconut blend, you can use regular almond milk.
Want more cherry recipes to cool you down?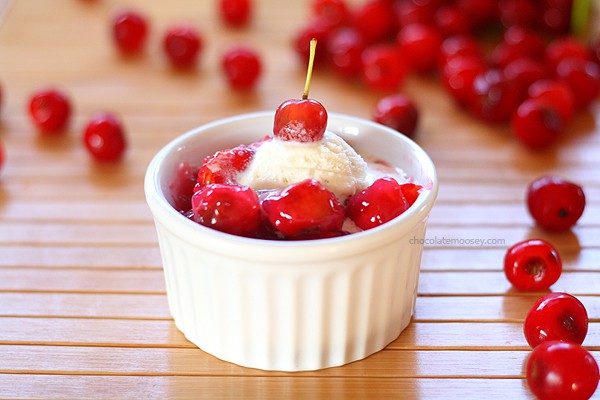 One Serving Cherry Pie Ice Cream Sundae
Leave a comment below and tell me – what steps are you taking to live a healthier lifestyle? Please note that this is TapInfluence's comment form I am required to use, not my personal comment form. If you're having trouble leaving a comment, please
contact me
.
Disclosure: This is a sponsored conversation written by me on behalf of Silk. As always, thank you for reading and supporting brands I work with, which allows me to bring you more recipes. All opinions, text, and photographs are my own.
This post may contain affiliate links. As an Amazon Associate and member of other affiliate programs, I earn from qualifying purchase.