Chocolate Guinness Mousse Cups For Two are a fun yet luscious no bake dessert for two to serve on St. Patrick's Day. If there's one thing that makes stout beer even better, it's chocolate.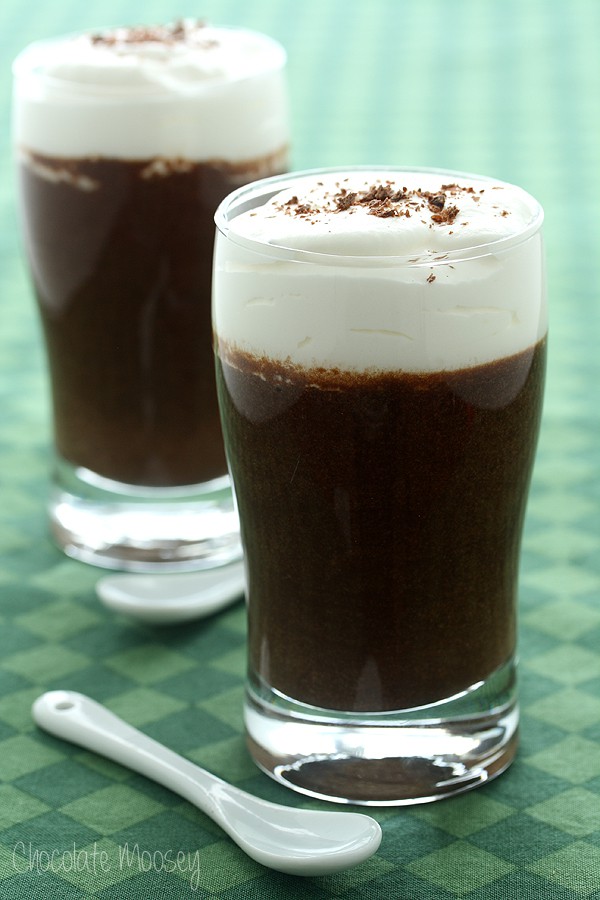 As I'm sitting here thinking about my favorite flavor combinations, there seems to be a common theme.
Chocolate and peanut butter, chocolate and mint, chocolate and caramel, chocolate and Guinness.
Chocolate really does make the world a better place.
Even if you don't like drinking stout beer, I bet these Chocolate Guinness Mousse Cups For Two will change your mind. Sinful, luscious, decadent.
That's what went through my mind the first time I licked the spoon. In fact, I ate both chocolate mousse cups because I loved it that much. Oops.
I was torn between making a mousse or pudding, but because I didn't want egg whites leftover, I opted for mousse.
You still need to separate the eggs into yolks and whites, but at least you won't have to deal with leftover egg.
Serve them for dessert after you make Guinness Shepherd's Pie for dinner.
To make this Guinness dessert extra festive for St. Patrick's Day, I served them in mini pint glasses to mimic mini pints of Guinness.
Of course, you don't have to be that fancy. Serve them in regular bowls or ramekins any day of the year.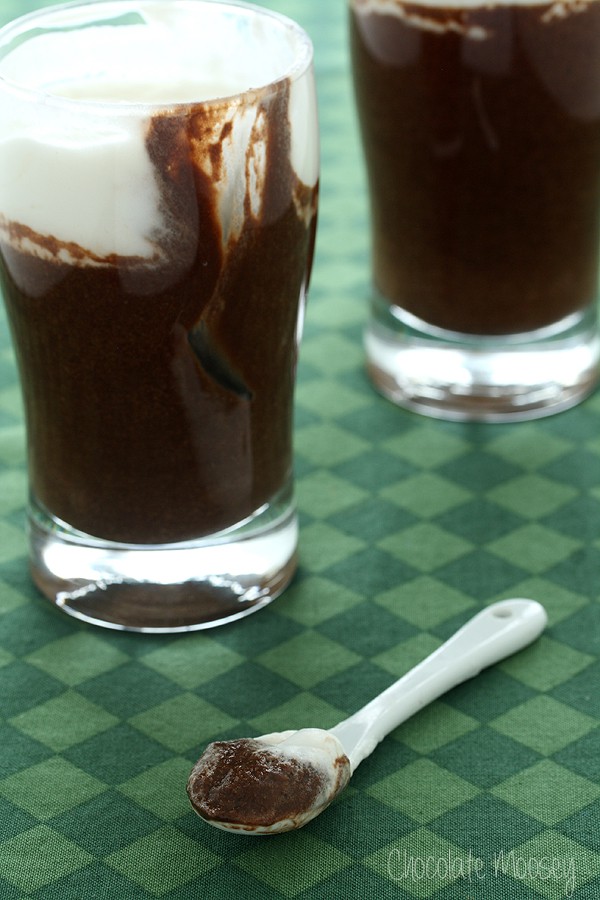 The first time I had a Guinness was in Ireland after the first day of orientation. I studied abroad at the University of Limerick and met tons of other study abroad students.
As we got to know each other during orientation, we moved our socializing afterwards to the pub on campus.
A group of us wanted to experience a real Irish beer in an Irish pub, so we split a Guinness. I do regret not visiting the Guinness factory in Dublin, but that'll happen next trip back.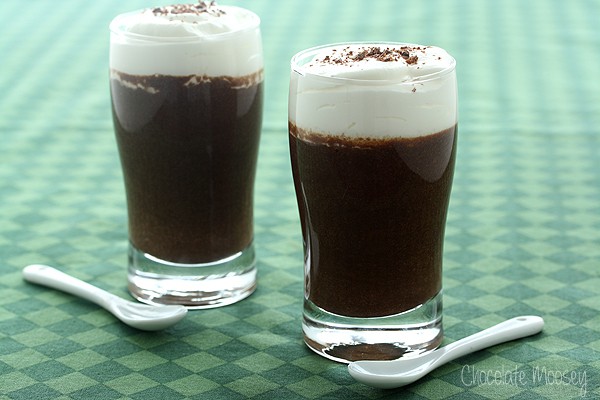 What is Guinness mousse made of?
The ingredients for Chocolate Guinness Mousse are beer, heavy cream, chocolate, eggs, and sugar.
The eggs are separated into whites and yolks. The yolks are used in the chocolate base while the whites are whipped then folded into the chocolate, giving the mousse its fluffy texture.
Useful tip: Eggs are easiest to separate when cold but whip best at room temperature. Separate them straight from the fridge then let sit at room temperature before using.
What kind of chocolate is used for mousse?
In this recipe, I used semisweet chocolate which is roughly 55% cacao.
Cacao refers to how much of the chocolate is made from pure cacao beans and how much is added sugar.
The higher the percentage, the higher the cacao bean, which means it'll be on the bitter side. On the flip side, the lower the percentage, the more sugar is added, which means it'll be on the sweeter side.
For example, semisweet chocolate is 55% cacao and 45% added sugar.
For a more intense chocolate dessert, you can use bittersweet chocolate, which ranges from 70%-85% cacao.
How do you make Guinness mousse for two from scratch?
To make Guinness chocolate mousse, first you make the chocolate mousse base. This involves melting together the beer, cream, and chocolate then whisking in the egg yolks, sugar, and vanilla.
While the chocolate mixture cools, whip the egg whites. It's important both the bowl and beater are clean from fat residue so the whites whip properly.
Once the whites are whipped to the stiff peak stage (which is when you pull the beaters straight up and peaks form without falling over), gently fold them into the cooled chocolate mixture.
It's going to take some time to fully incorporate them into the chocolate, but you don't want to rush this part. If you do use a heavy hand and try stirring them in, the egg whites will deflate.
Transfer the mousse to your serving vessels then chill until firm, about an hour. If you try to add the whipped cream now, it'll sink into the mousse.
When your mousse is set, whip the heavy cream into stiff peaks then pipe or spoon on top of the mousse.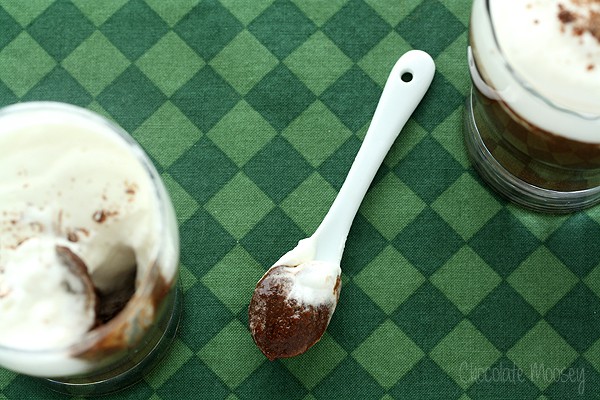 How do you set mousse?
Traditionally, mousse is set using gelatin. However, that's not the case for homemade chocolate mousse.
Because chocolate naturally thickens when melted and cooled, it's enough to set the mousse without adding gelatin.
What consistency should mousse be?
Chocolate Guinness mousse should be both decadent and fluffy, thanks to both the chocolate and air from the whipped egg whites.
How long can chocolate mousse last?
Guinness chocolate mousse needs time to set, which makes it the ideal make-ahead dessert for two.
Wrapped in plastic wrap, mousse will last about 3-4 days in the refrigerator without whipped cream and about 1-2 days with whipped cream (the cream will start to deflate the longer it sits).
How To Serve Chocolate Guinness Mousse Cups For Two for St. Patrick's Day
For presentation, I used two mini pint glasses (Amazon affiliate link) to mimic real pints of beer, which makes them more fun to eat for St. Patrick's Day.
I can't take all the credit though. As I was browsing one of my cookbooks, I saw a recipe for chocolate mousse topped with whipped cream in shot glasses, just like mini beers.
The original recipe didn't have beer, so I adapted that part. Why not make the mini beers taste like beer too?
Of course since they are a novelty item, feel free to serve the mousse in two regular glasses, bowls, coffee mugs, or even ramekins.
If you do put it all into one big glass, it now becomes a single serving dessert. Or so I tell myself.
If you do use the pint glasses, I used a piping bag with a round tip to neatly add the whipped cream.
What can you substitute for Guinness?
Don't want beer in your chocolate mousse? Substitute the Guinness with an equal amount of heavy whipping cream. You can still make the Guinness mousse look like a Guinness without the alcohol.
What To Do With Leftover Guinness

Because this recipe won't use a full bottle of beer, here are more desserts using Guinness beer: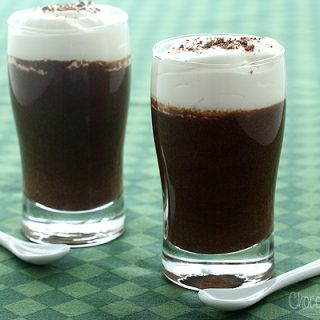 Chocolate Guinness Mousse Cups For Two
Total Time:
1 hour
35 minutes
Chocolate Guinness Mousse Cups For Two are a fun and luscious no bake dessert for two to serve on St. Patrick's Day.
Ingredients
1/4 cup (60 mL) stout beer, such as Guinness (or substitute additional heavy cream for a non-alcoholic recipe)
1/2 cup (120 mL) heavy whipping cream, cold
4 ounces (115 grams) semisweet chocolate, chopped
2 egg yolks*, room temperature
1 tablespoon + 1 teaspoon granulated sugar
1 1/4 teaspoons vanilla extract
2 egg whites*, room temperature
Grated chocolate, for garnish
Instructions
In a medium saucepan, heat the beer and 1/4 cup (60 mL) cream until bubbles start the form. Remove from the heat and whisk in the chocolate until melted.
In a small bowl, whisk together egg yolks, 1 tablespoon sugar, and 1 teaspoon vanilla. Whisk in a little bit of the chocolate mixture to temper the eggs then pour back into the saucepan and stir. Cool 15 minutes.
In a large mixing bowl (using the whisk attachment if using a stand mixer), beat the egg whites on medium speed until they start to foam, about 1 minute.
Increase the speed to high and beat until stiff peaks form (when you pull the beaters straight up, the peaks will not fall over), about 3-4 minutes.
Using a rubber spatula, fold the whites into the chocolate until smooth. Transfer the mixture to two mini pint glasses or ramekins. Chill at least 1 hour or until set.
In a large cold mixing bowl on medium-high speed (with whisk attachment if using a 5 quart stand mixer), beat the remaining 1/4 cup (60 mL) cold heavy cream until it starts to
thicken, about 1 minute.
Gradually beat in the remaining 1 teaspoon sugar and 1/4 teaspoon vanilla then continue beating until stiff peaks form (when you pull the beater up, peaks will form and not fall over), about 3-4 minutes.
Pipe whipped cream on top of mousse and garnish with grated chocolate.
Notes
*Eggs are easiest to separate when cold but whip best when at room temperature. Separate the eggs into whites and yolks then let sit until room temperature before using.
Use your leftover beer in Guinness Shepherd's Pie For Two for dinner.
Recommended Products
As an Amazon Associate and member of other affiliate programs, I earn from qualifying purchases.
Source: Adapted from
Clodagh's Kitchen Diaries
(Amazon affiliate link)