5 Recipes For St. Patrick's Day
Ready for March 17? Here is a list of 5 Irish-inspired recipes to celebrate St. Patrick's Day.

In just a few short weeks, St. Patrick's Day will be here and gone before you know it. I had the privilege of celebrating St. Patrick's Day in the heart of Dublin back in 2007, and yes they do party hard all weekend. Hotels have been booked for months, but fortunately one of my best friends lives in Dublin. I remember when my bus arrived in the city. Sidewalks outside of pubs were packed with people celebrating. The parade route had tons and tons (and tons!) of people lined up. Even at the Irish festival you couldn't escape the crowd (and was whisked away for a bit when a train of people dancing grabbed me). I don't think there was a time where I wasn't bumping into people. Hey if you told me St. Patrick was responsible for no snakes in Ireland, I'd be celebrating hard too (or so the legend says).
In honor of the holiday, here are 5 recipes, both sweet and savory, you can make to celebrate St. Patrick's Day:
1. Guinness Beef Stew – It certainly wouldn't be an Irish celebration without Guinness. Manufactured in Dublin, Ireland, it is one of the most successful beers in the world. In this beef stew recipe, most of the alcohol is cooked out, leaving you with the robust taste of Guinness without worrying about getting drunk. Considering it is still cold around here, it's a hearty dinner to enjoy in March.
2. Irish Soda Bread – Probably one of the most popular and easiest Irish recipes to make. Traditionally, it is made by mixing together flour, buttermilk, and baking soda to form a dough. However it is becoming more common to add raisins. An X is formed in the top of the dough before baking to release evil spirits. Bonus –
make it in muffin form
.
3. Irish Cheese and Bacon Popcorn – St. Patrick's Day isn't always about tradition. Shake things up by serving a savory, irresistible snack involving two of the best ingredients – cheese and bacon.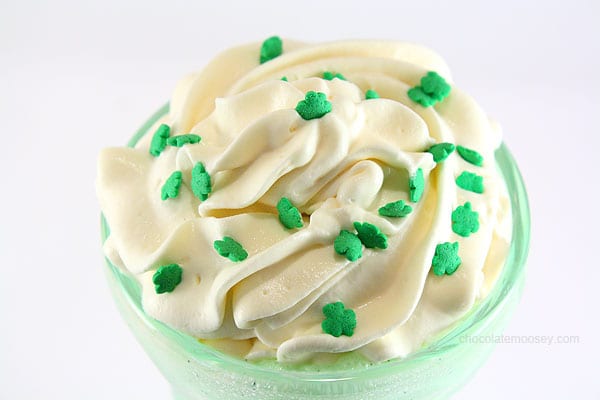 4. Copycat McDonald's Shamrock Shake with Bailey's Whipped Cream – It isn't St. Patrick's Day without breaking down and consuming several of those famous green shakes. Nothing more than just vanilla ice cream mixed with milk and peppermint extract, it's ridiculously easy to make them at home. For the adults, top it with some Bailey's Whipped Cream (don't worry – you can still make it with regular whipped cream to keep it alcohol free).
5. Mini Guinness Cake with Irish Cream Ganache Frosting – I'd be lying if I said this wasn't one of my favorite cakes to consume. For a small household like me, I wanted a fancy cake without a whole lot leftover (well taste-wise I did but my waist begs to differ). Plus my decorating skills needed some work. The silky smooth Irish cream ganache frosting? Worthy enough to eat with just a spoon.
5 Bonus Recipes From Other Bloggers
This post may contain affiliate links. As an Amazon Associate and member of other affiliate programs, I earn from qualifying purchase.