Chocolate Covered Pretzel Caramel Brownies
Rich and fudgy Chocolate Covered Pretzel Caramel Brownies with caramel glaze – the perfect combination of sweet, salty, and crunchy.
Brownies – so simple to make yet I don't make them often enough.
They are one of the few desserts where you don't need to beat the batter with a mixer or use a double boiler to melt the chocolate.
Just melt everything in one pan, whisk in the rest of the ingredients, scrape into a baking pan, and bake for 25 minutes.
Stir in nuts or chocolate chips. Make them fudgy or cakey. Eat them plain as is or dress them up with a frosting or glaze on top.
I've been in a chocolate covered pretzel kind of mood ever since I made my chocolate stout pretzel ice cream.
Then I saw a photo on Instagram that inspired these brownies and knew I had to make them ASAP.
These Chocolate Covered Pretzel Caramel Brownies with a caramel glaze are rich and fudgy with the right combination of sweet, salty, and crunchy.
They were so good, I had to give most of them away before I ate the entire pan myself.
One bite will make you crave a glass of milk, but since I don't drink milk straight up like that, they also pair well with a cup of coffee.
I wanted to incorporate
homemade caramel sauce
into the brownies, but my attempt at a caramel swirl on top failed because the caramel disappeared into the batter while baking.
I adjusted the recipe so all you have to do is stir it in.
However, I still wanted you to see the caramel so time for Plan B – drizzling a caramel glaze on top.
Not only does this give a contrast in color and flavor, it also helps keep the pretzels "glued" on top.
The glaze does harden, making it easier to store and transport vs. drizzling messy caramel sauce on top.
Once done baking, immediately top the brownies with chocolate covered pretzels because the heat will melt the pretzels slightly, acting like a glue to stick to the top.
More Brownie Recipes
Chocolate Covered Pretzel Caramel Brownies
Yield: 12-16 squares
Prep Time: 25 minutes
Cook Time: 25 minutes
Total Time: 50 minutes
Ingredients
1/2 cup (4 ounces) unsalted butter, cut into 8 tablespoons
2 ounces unsweetened chocolate, chopped
1/4 cup caramel sauce (homemade or store bought)
1/2 cup unsweetened cocoa powder
1 cup granulated sugar
1/4 teaspoon salt
1 teaspoon vanilla extract
1 egg
3/4 cup all-purpose flour
25 mini chocolate covered pretzels
Caramel Glaze
2 tablespoons butter (add pinch of salt if unsalted)
1/4 cup brown sugar
1 tablespoon milk
1/4 teaspoon vanilla extract
1/4 cup powdered sugar, sifted
Instructions
Preheat oven to 350F. Line an 8x8 pan with parchment paper.
In a large saucepan, melt together the butter and unsweetened chocolate. Whisk in the caramel sauce.
Remove from the heat and whisk in cocoa powder, sugar, salt, vanilla, egg, and flour (batter will be thick and somewhat grainy).
Spread into the pan. Bake 20-25 minutes or until the edges pull away from the sides and a toothpick inserted in the center comes out almost clean (you still want a tad bit of chocolate on the toothpick). Immediately top with chocolate covered pretzels in a single layer. Cool completely.
For the glaze: In a medium saucepan, melt the butter. Stir in the brown sugar and milk until smooth. Boil for 1 minute then remove from the heat.
Whisk in the vanilla and powdered sugar until smooth and thick. It should be thick enough to pipe. If it's too thin, add more sugar. If it's too thick, add more milk.
Transfer icing to a sandwich bag and cut off one of the corners. Drizzle over brownies. Let sit until glaze hardens.
Source: Brownie base adapted from
The Mom 100
More Brownie Recipes

Caramel Chocolate Chip Cookie Dough Brownies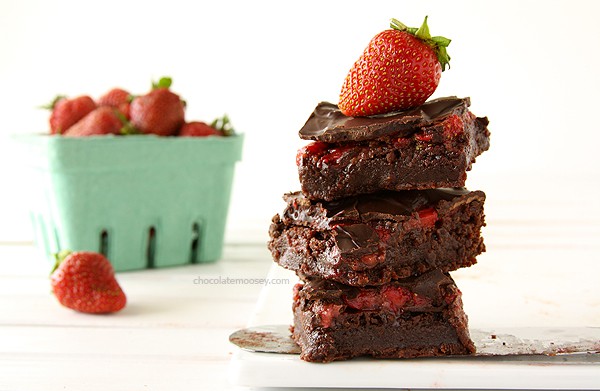 Chocolate Covered Strawberry Brownies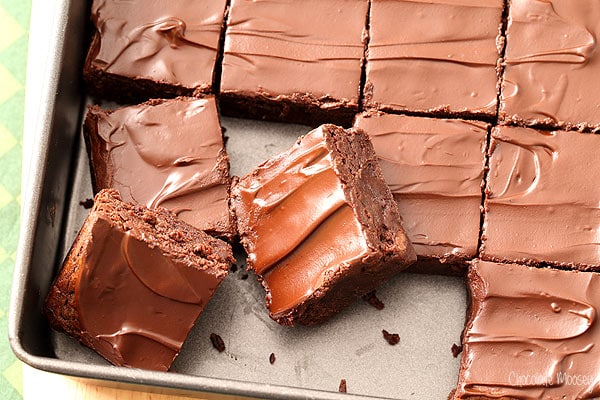 Chocolate Stout Brownies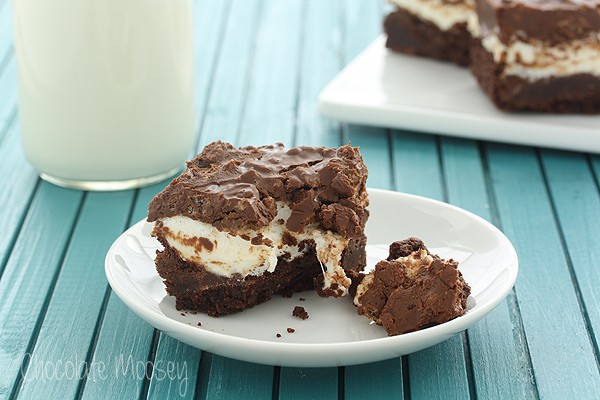 Crispy Peanut Butter Marshmallow Brownies

Fluffernutter Swirl Brownies
This post may contain affiliate links. As an Amazon Associate and member of other affiliate programs, I earn from qualifying purchase.