Chicken Fajita Dip
Spicy chicken fajita dip with bell peppers that can also be turned into quesadillas.
It's here! Football season is here!
I'm not one to watch sports on tv, but I do watch Pittsburgh Steelers football. And you can't watch football without proper tailgating snacks – dips, chips, sandwiches, wings, more dips.
Sometimes I find the dips are more exciting than the game, including this Chicken Fajita Dip.
Chicken, cream cheese, sour cream, homemade fajita seasoning, and bell peppers come together to form a dip that is both spicy and irresistible.
The best part? You can easily turn it into quesadillas for dinner (or more snacking).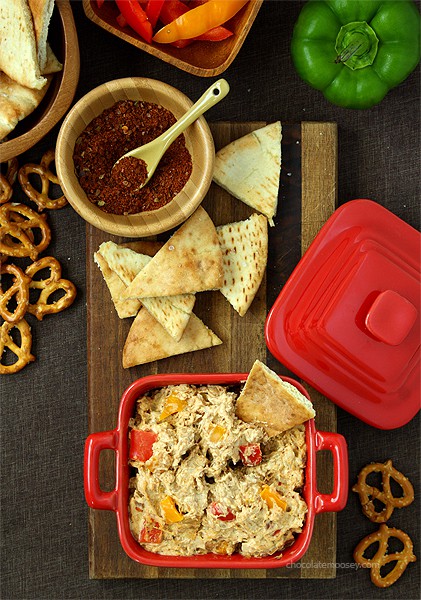 If you are a
buffalo chicken dip
lover, then you will definitely be a chicken fajita dip lover.
The idea came to me accidentally when I couldn't remember if the recipe I wanted to use in my binder was chicken enchilada dip or chicken fajita dip.
Turned out it was chicken enchilada dip, but fajita dip sounded much more exciting because I eat steak fajitas several time a month.
I took the base of my favorite buffalo chicken dip then subbed sour cream for the ranch and fajita seasoning for the hot sauce.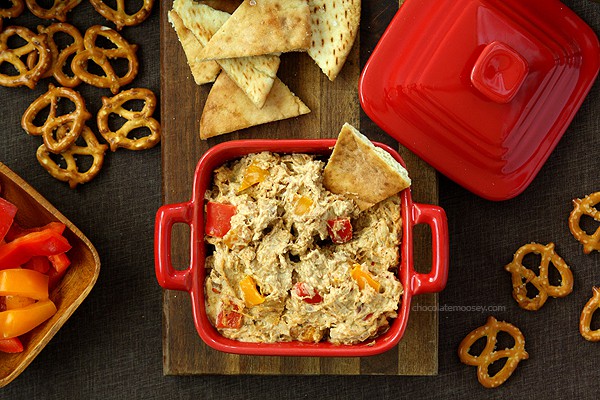 Now time to dip! I recommend using nachos, pretzels, bell pepper strips, and even
homemade pita chips
that I posted last week.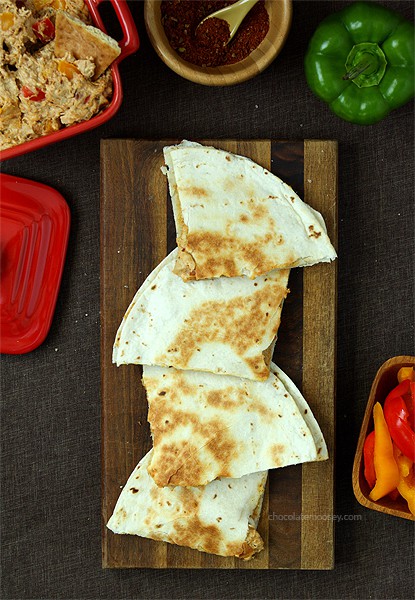 And thanks to a friend's idea on Twitter, I now use leftover dip (
what's that?
you ask) as a filling for quesadillas. I eat quesadillas quite often for dinner, but you can also serve them as finger food for your tailgating party by cutting the quesadillas into quarters.
Football season is going to be especially rough this year, mainly because Murray was a huge sports cat who watched ESPN all the time with Dad. Seriously, if you put NCIS or Criminal Minds on, he either left the room or took a nap. He had a collar for each season – baseball, hockey, and football. I know Murray is watching his Steelers from the big couch in the sky. Maybe he's even sitting next to
Myron Cope
.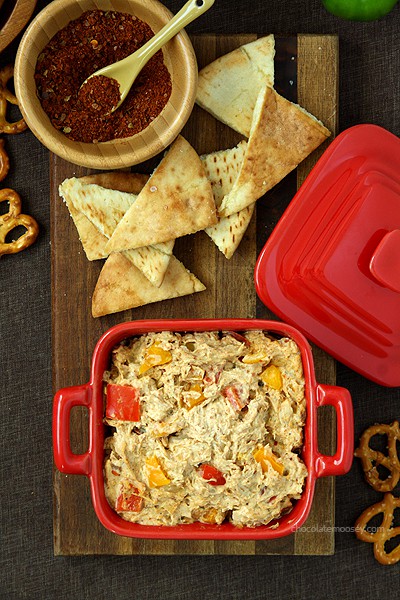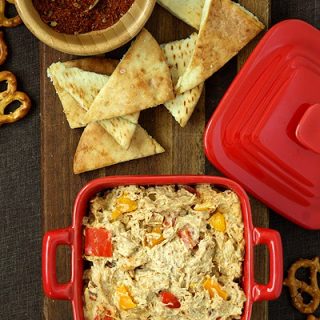 Chicken Fajita Dip and Quesadillas
Yield: 6-8 servings
Prep Time: 15 minutes
Cook Time: 15 minutes
Total Time: 30 minutes
Spicy chicken fajita dip with bell peppers that can also be turned into quesadillas.
Ingredients
2 tablespoons butter or vegetable oil
1/4 cup onion, chopped
1/2 cup bell peppers, chopped (any color)
2 cups shredded or chopped cooked chicken (fresh or canned)
1/2 cup sour cream
8 ounces cream cheese, softened and cut into pieces
2 tablespoons fajita seasoning (homemade or store bought)
Nachos, pita chips, bell pepper strips, etc. for dipping
8-10 flour tortillas (if making quesadillas)
Instructions
In a large skillet, melt butter or heat up the oil. Add onion and bell peppers. Cook for 5 minutes.
Add the chicken and sour cream. Cook for another 5 minutes. Add in cream cheese, a few pieces at a time, and stir until melted and smooth.
Stir in the fajita seasoning. Remove from the heat and serve warm.
To make quesadillas, place one tortilla in a large skillet. Spread some of the dip on top then top with another tortilla (alternatively, you can place one tortilla down, spread some of the dip on only half of the tortilla, then fold the remaining half over it). Cook until the bottom is brown. Flip the tortilla and cook until the other side is brown. Remove and cut. Repeat with the remaining tortillas.
This post may contain affiliate links. As an Amazon Associate and member of other affiliate programs, I earn from qualifying purchase.