Zucchini Baked Fries
Crispy baked zucchini and eggplant fries with spicy tomato dipping sauce.
What is your favorite food-related movie? Mine is a toss up between Julie and Julia and Ratatouille. Let's be honest – how many of you even knew what ratatouille was before that? I didn't. Not until the end where the dish won over the evil food critic. Those perfect round little circles, layered neatly inside a casserole dish. Today's recipe is not even close in style (but definitely equal in flavor). I love zucchini fries, more so than traditional potato fries. I got the idea to pair them up with eggplant then tie it all together with spicy tomato dipping sauce. And the best part is they are baked.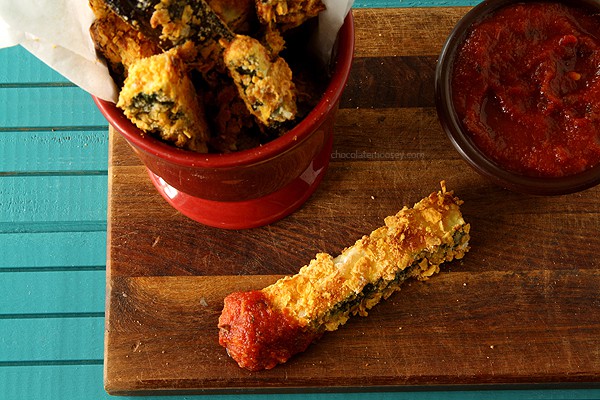 I had the idea for these Ratatouille Fries back in April when #SundaySupper did a dinner and a movie theme. Although I had my recipe picked out, I didn't make them in time (not to mention summer is a better time to make them when zucchini and eggplant are more abundant).
Zucchini and eggplant are pretty healthy on their own; after all, most vegetables are. I opted to keep them healthy by baking instead of frying. Don't worry – they are still pretty crispy. The secret is in the breading – cornflakes. Or panko, but I didn't have any so cornflakes it is.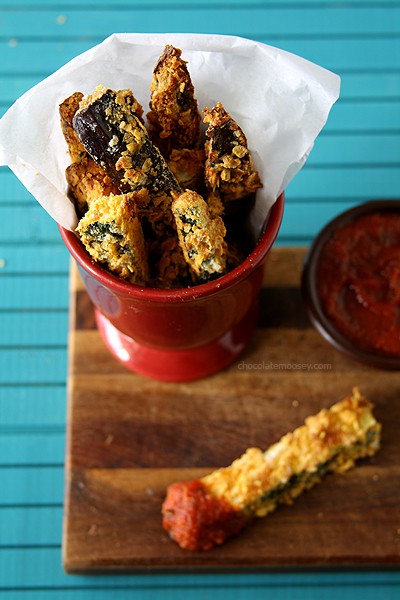 The dipping sauce is my go-to pizza sauce, mainly because there is little prep involved. Throw everything in a saucepan, boil and simmer 20 minutes, then dip away. I added a bit of cayenne pepper for the heat, but feel free to leave it out.
Crispy Baked Ratatouille (Zucchini and Eggplant) Fries With Spicy Tomato Dipping Sauce
Crispy baked zucchini and eggplant fries with spicy tomato dipping sauce.
Ingredients
2 tablespoons flour
1 egg
1 cup crushed cornflakes or panko breadcrumbs
1/4 cup grated parmesan cheese
1/4 teaspoon sea salt
1/4 teaspoon garlic powder
1/2 pound total of zucchini and eggplant, cut into roughly 3 inch strips
Spicy Tomato Dipping Sauce
6 ounces tomato paste
2 teaspoons garlic powder
2 teaspoons onion powder
1 1/2 tablespoons dried parsley
1/2 teaspoon dried oregano
1/2 teaspoon dried basil
1 cup water
1 teaspoon sugar
1/8 teaspoon cayenne pepper
Instructions
Preheat oven to 425F degrees. Line a baking sheet with foil.
In one shallow bowl, add the flour. In another shallow bowl, beat the egg lightly with a fork. In a third shallow bowl, combine the cornflakes, cheese, salt, and garlic powder.
Taking one fry, coat it with flour and shake off the excess. Dip it into the egg then coat it in the cornflake mixture. Place it on the baking sheet. Repeat with the remaining fries.
Bake 20 minutes or until golden and crisp. While the fries are baking, make the sauce.
For the sauce:
In a medium saucepan, combine the tomato paste, garlic powder, onion powder, parsley, oregano, basil, water, sugar, and cayenne. Bring to a boil then turn it down to a simmer. Cover and cook for 20 minutes, stirring occasionally. Let cool 5 minutes then serve. Refrigerate any leftovers.
If you liked these Ratatouille Fries with Spicy Tomato Dipping Sauce, you may also like these recipes:
From me:

This post may contain affiliate links. As an Amazon Associate and member of other affiliate programs, I earn from qualifying purchase.