Kick up your favorite chocolate ice cream a notch with this silky smooth Mexican Chocolate Ice Cream with cinnamon and a hint of chili powder.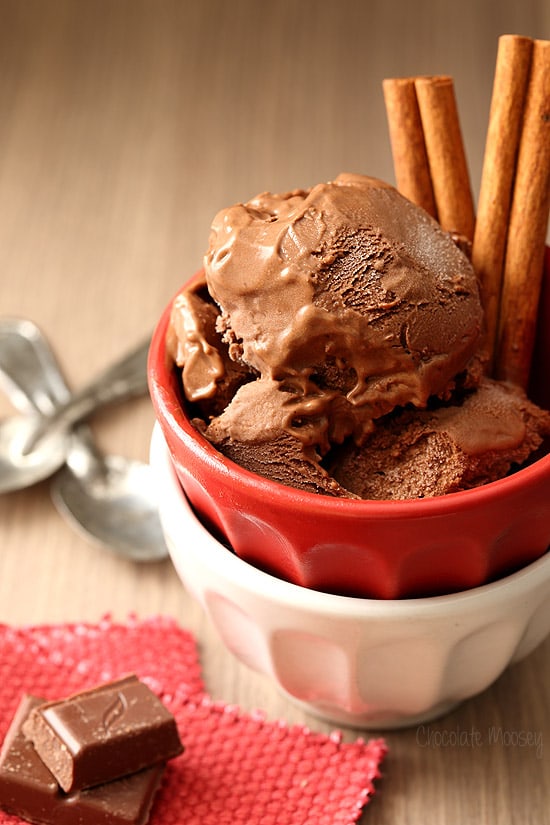 Here we are, the first week in September and it's been…hot. Almost in the 90s all week hot. I'm not ready to wear pants yet hot.
When I visited the farmer's market this past weekend, I saw both an abundance of fresh tomatoes, peaches, apples, and pumpkins.
Pumpkins! If the farmer's market has pumpkins, then I guess it's officially pumpkin season.
However, it certainly doesn't feel like it, so I'm not opening a can just yet. Instead I'm whipping up yet another batch of homemade ice cream – Mexican Chocolate Ice Cream, to be exact.
Mexican chocolate means two dominant flavors – chocolate and cinnamon. If you've never paired chocolate with cinnamon before, you're missing out; it's a match made in heaven.
Sometimes chili powder is also added, but before you freak out, it's more of a hint of spice than eating something spicy like tacos; your mouth won't be on fire (and if it is, dairy aka ice cream is the best way to cool it down!).
It's your favorite chocolate ice cream kicked up a notch with spice.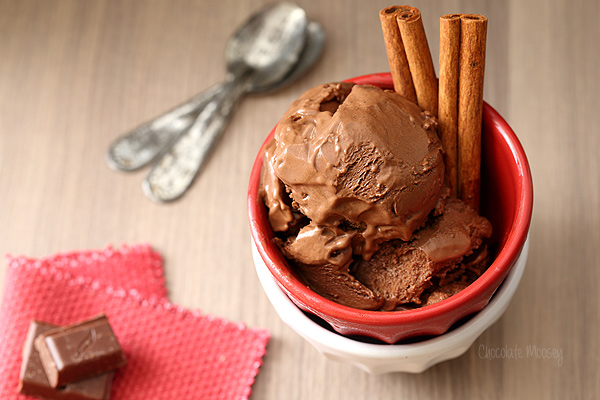 The inspiration for this ice cream came to me last month when I stopped at a small
local ice cream stand
on my way back from Saturday shopping.
It has been rated one of the top places for homemade ice cream in the city, so it's been on my to-eat bucket list for awhile. When I read they had Mexican chocolate ice cream, I knew I had to stop by.
It's no surprise that I love Mexican spice with my Mexican spiced mochas and Mexican fudge.
It was definitely one of the best ice creams I bought all summer as you could taste the balance between chocolate and cinnamon, but I did wish it had a hint of chili powder (if they did use chili powder, I certainly couldn't tell).
Immediately I put Mexican chocolate ice cream on my recipe idea list to recreate myself.
My go-to chocolate ice cream base is very chocolatey.
In fact, when you cool the mixture in the fridge (mine was longer than an hour because I was making dinner), it thickens up into a pudding-like consistency.
Imagine luscious, silky chocolate pudding being churned into ice cream. It's the best kind of texture for ice cream.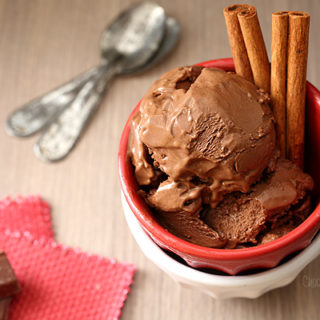 Mexican Chocolate Ice Cream
Total Time:
5 hours
30 minutes
Kick up your favorite chocolate ice cream a notch with this silky smooth Mexican Chocolate Ice Cream with cinnamon and a hint of chili powder.
Ingredients
1 cup heavy whipping cream
1 tablespoon cocoa powder
1 teaspoon ground cinnamon
1/2 teaspoon espresso powder (optional)
1/4 teaspoon mild chili powder
4 ounces semisweet chocolate, chopped
1/2 cup whole milk
1/3 cup granulated sugar
1/8 teaspoon salt
2 egg yolks, room temperature
1/4 teaspoon vanilla
Instructions
In a large saucepan over medium heat, bring 1/2 cup cream, cocoa powder, cinnamon, espresso powder, and chili powder to a boil, whisking often to blend. Reduce the heat and simmer for another 30 seconds, whisking constantly.
Remove from the heat and stir in the chocolate until smooth. Stir in the remaining 1/2 cup cream.
Pour the mixture into a large bowl, scraping the pan as much as possible. Place a mesh strainer on top of the bowl.
In the same saucepan over medium heat (no need to clean it), warm the milk, sugar, and salt.
In a separate small bowl, add the egg yolk. Slowly pour some of the warm milk into the yolk, whisking constantly, then scrape it all back into the saucepan.
Continue cooking over medium heat, stirring often, until the mixture thickens and coats the back of a spatula or spoon (170F on a thermometer).
Remove from the heat and pour through the mesh strainer into the chocolate mixture. Stir in the vanilla. Place the bowl in an ice bath and cool until room temperature. When cool, refrigerate for at least 1 hour or until cold.
Once the ice cream mixture is cold (it will be thick like pudding), freeze it in your ice cream maker according to the manufacturer's instructions. Freeze in an airtight container until firm, roughly 4 hours or overnight.
Recommended Products
As an Amazon Associate and member of other affiliate programs, I earn from qualifying purchases.
Source: Adapted from
The Perfect Scoop
More Mexican Spice Recipes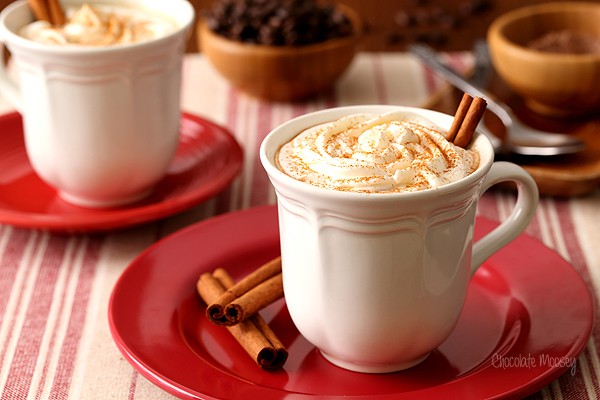 Mexican Spiced Mochas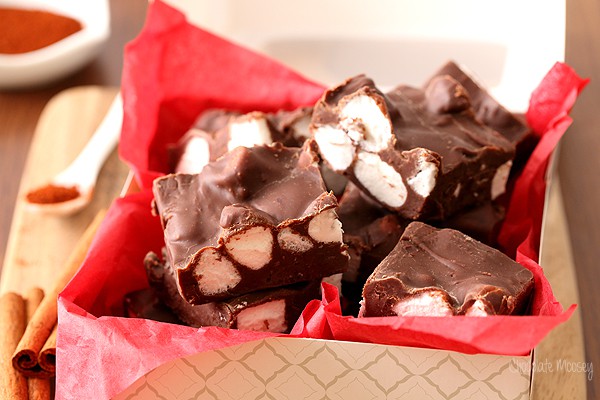 Mexican Hot Chocolate Fudge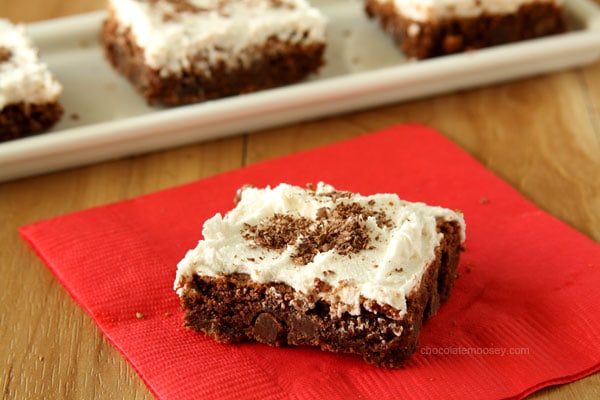 Mexican Hot Chocolate Brownie Cookie Bars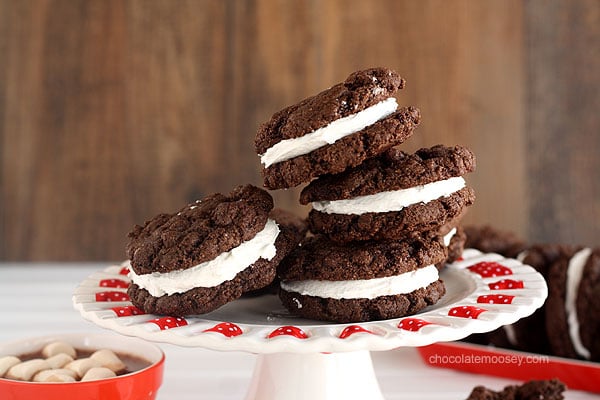 Mexican Hot Cocoa Sandwich Cookies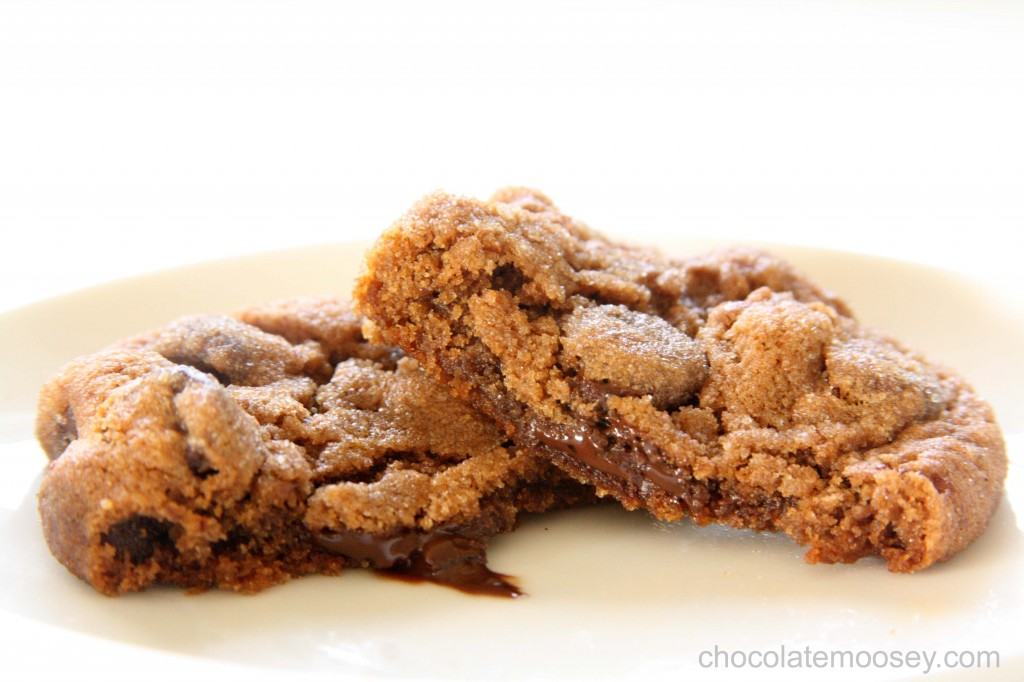 Chocolate Chili Spice Cookies