Apple Butter Galette
Easier than pie! Apple Butter Galette is an open-faced pie made with homemade pie crust, apple butter, fresh apple slices, and walnuts. Recipe video included to demonstrate how easy it to make a galette plus a recipe e-book with more apple butter recipes.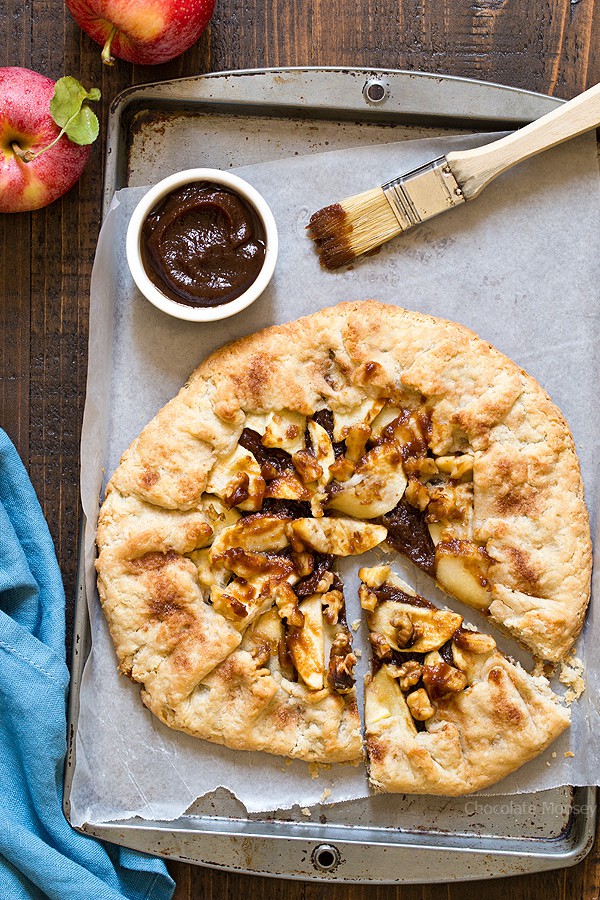 Happy Halloween! And Happy Last Day Of October. This month was a busy one for me, especially since last week I bought a new-to-me car.
I've never bought a car before (the one I was driving was in the family a long time), so not only did I have to learn how to negotiate a car, I also had to learn about cars in general, something I don't care about at all.
I want a car that gets me from Point A to Point B without breaking down in between. I don't care about XM radio, a rear back up camera, or driving keyless. I got the car below my budgeted price, so I consider that a big win for me.
Since I spent a lot of time the past two weeks adulting, it's time to take a break and focus on what I love – baking! Since November starts tomorrow, that means we have 3 weeks until Thanksgiving.
As I was talking with some friends about their menus, I found one common theme – everyone sticks with traditional dishes for dinner but are more open to new recipes for dessert. Of course there needs to be at least one pumpkin pie, but apple desserts are pretty common for Thanksgiving dessert as well.
There's your typical apple pie, but I'm going to share with you a dessert that's even easier than pie – Apple Butter Galette.
A galette is a fancy French word for a flat, round pie. I like to consider it an open-faced pie.
Roll out your pie crust, fill the middle, then fold in the edges. No need to worry about presentation because the rusticness IS the presentation.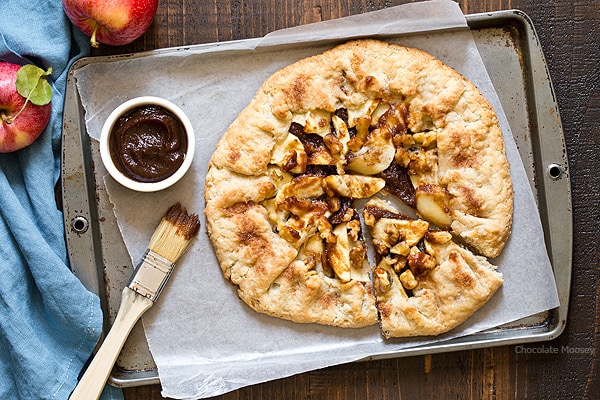 When it comes to making homemade pie dough, I make it in my
food processor
. It takes about 5 minutes for it to come together.
However, if you don't own one, you can make it by hand using a pastry blender. And if you really, really don't want to make dough or you find yourself waking up Thanksgiving morning with a dessert emergency, you can use refrigerated pie dough. I do highly encourage making it by hand before you head to the store.
One trick I learned from making my
peach galette
– putting a layer of apple butter (a fruit puree made by slow cooking American-grown apples until the sugar in the apples caramelize) on top of the pie dough before you add the apples helps keep the crust from getting soggy.
When fruit is baked, they release juices. The apple butter acts like a barrier and will absorb those juices, keeping your crust nice and flaky. After it's done baking, brush additional apple butter on top to keep the apples from drying out.
You can either buy a jar or make small batch apple butter.
For more apple butter recipes, check out my guide on what to do with apple butter.
And now onto the apple butter galette recipe video demonstrating how easy it is!
Apple Butter Galette
Yield: 8 servings
Prep Time: 20 minutes
Cook Time: 25 minutes
Total Time: 45 minutes
Easier than pie! Apple Butter Galette is an open-faced pie made with homemade pie crust, apple butter, fresh apple slices, and walnuts.
Ingredients
1 1/2 cups all-purpose flour
2 tablespoons + 2 teaspoons granulated sugar
1 teaspoon + 1/2 teaspoon ground cinnamon
1/2 teaspoon salt
1/2 cup (4 ounces or 8 tablespoons) unsalted butter, cold and cut into 8 pieces
3 tablespoons shortening, cold and cut into 3 pieces
1/4 cup cold water
1/2 cup Musselman's Apple Butter + more for brushing
1 large apple, cored, peeled, and sliced
1 tablespoon lemon juice
1/4 cup chopped walnuts
Instructions
In the bowl of a food processor, add the flour, 2 tablespoons sugar, 1 teaspoon cinnamon, and salt. Add the cold butter and shortening then pulse until they are cut into the flour, looking like large pebbles. Add the cold water then pulse until the dough comes together. Alternatively, you can cut in the butter and shortening by hand in a large bowl with a pastry blender.
Flatten the dough into an evenly round disk and wrap in plastic wrap. Refrigerate at least 1 hour or until cold.
Once cold, roll out the dough into a 10-inch circle. Place dough on a greased baking sheet or round pizza pan. Spread the apple butter on top of the dough, leaving a 1 inch border around.
Toss the apple slices with the lemon juice then arrange them in a single layer on top of the apple butter. Top with walnuts. Fold the edges of the pie crust over, touching the filling.
In a small bowl, mix together the remaining 2 teaspoons sugar and 1/2 teaspoon cinnamon. Sprinkle on top of the galette.
Refrigerate galette for 15 minutes. While it's chilling, preheat the oven to 425F.
Bake for 25 minutes or until the crust is golden brown. Immediately brush with apple butter on top. Cool for at least 15 minutes before serving warm or at room temperature.
This post may contain affiliate links. As an Amazon Associate and member of other affiliate programs, I earn from qualifying purchase.