This one layer Small 6 Inch Pumpkin Cake with cream cheese frosting is made from scratch using canned pumpkin. Makes enough cake to have dessert for two.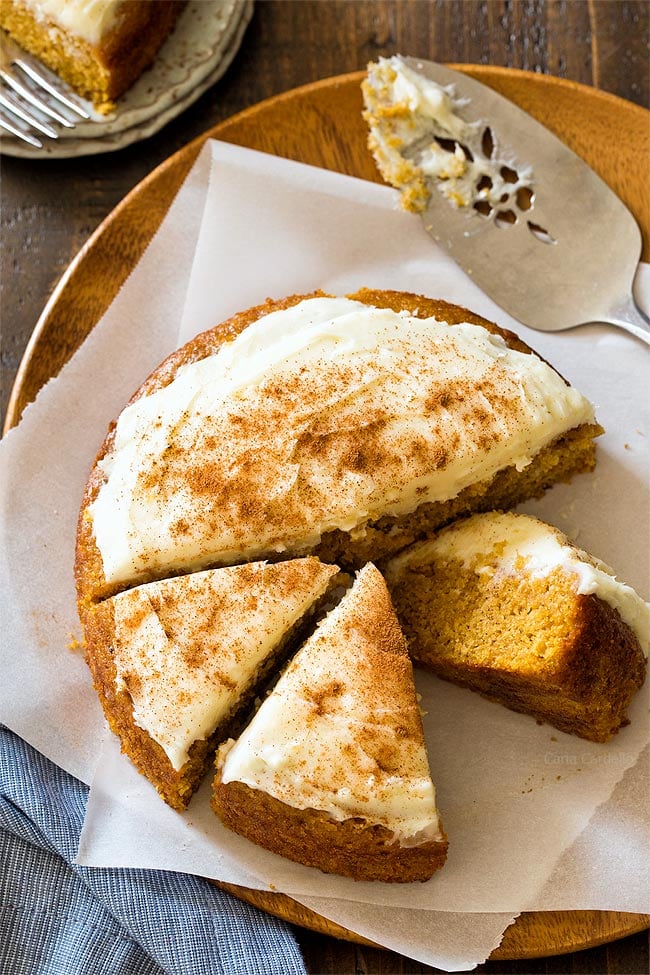 Thanksgiving. It's a tough food holiday for those who cook for 1-2 people. So much food. So many leftovers. Over the years I've learned most Thanksgiving recipes don't cater towards small serving sizes. Luckily for you, I'm solving that problem!
Not everyone has a giant family gathering for Thanksgiving. If that's you, then you need a small Thanksgiving dessert. Or maybe you want to make multiple desserts but don't want a ton of leftovers.
A few years ago I posted my Pumpkin Layer Cake. Although it's a holiday favorite, it makes too much cake for two people.
I decided it's time I scaled it down and turn it into a one layer Small 6 Inch Pumpkin Cake with cream cheese frosting. It's moist and pumpkin-y, perfect to get you in the mood for fall. Serve with a dusting of cinnamon on top.
The pumpkin cake batter is really easy to make because it uses vegetable oil instead of softened butter, meaning there are less steps to do. All you do is beat the wet ingredients together at once, add the dry ingredients, then transfer to a 6 inch cake pan.
If you don't have one already, you're going to need a 6 inch round cake pan. You can buy one either on Amazon (affiliate link) or you can buy one in the cake decorating section of your local craft store.
Cream cheese frosting is definitely a classic pairing for pumpkin. Because it's such a small cake, I made my
Small Batch Cream Cheese Frosting
. The best part is you won't have any leftover frosting!
As you can see in the photo above, you want to make sure your cake is flat on top before frosting. If it isn't, you'll need to trim off any doming that may have occurred.
Because you won't use a whole can of pumpkin, you'll have extra pumpkin. Check out my other easy
pumpkin recipes
to use up your leftover canned pumpkin.
Other Small 6 Inch Cake Recipes
Not sure how to plan the rest of your meal? Check out my Thanksgiving Dinner For Two menu for ideas!
Small 6 Inch Pumpkin Cake (Dessert For Two)
Ingredients
1/2 cup all-purpose flour, sifted
1/2 teaspoon baking powder
1/4 teaspoon baking soda
1/2 teaspoon ground cinnamon
1/4 teaspoon ground nutmeg
1/4 teaspoon ground ginger
1/4 teaspoon salt
1/2 cup canned pumpkin puree
1/4 cup vegetable oil
1/4 cup packed brown sugar
1/4 cup granulated sugar
1 egg
1/2 teaspoon vanilla
1 recipe Small Batch Cream Cheese Frosting (get the recipe here)
Instructions
Preheat oven to 350F. Lightly grease one 6-inch round cake pan then line the bottom with parchment paper.
In a large bowl, whisk together the flour, baking powder, baking soda, cinnamon, nutmeg, ginger, and salt.
In another large bowl, beat together the pumpkin, oil, brown sugar, sugar, egg, and vanilla.
Gradually add the flour mixture to the pumpkin mixture. Mix together until incorporated.
Transfer the batter to the cake pan. Bake for 22-25 minutes or until a toothpick inserted in the center comes out clean. Cool for 15 minutes then invert cake onto cooling rack. Cool completely.
Frost cake with Small Batch Cream Cheese Frosting (get the recipe here)