Make your party less boring with small batch Sparkling Pomegranate Punch using prosecco for the bubbly factor! Recipe for a non-alcoholic pomegranate punch also included.
My last blog post of 2016! It's hard to believe I squeezed out another year's worth of content, but thankfully there are endless recipe ideas with more to come in the future. What better way to end the year than with a sparkling cocktail? Especially since my New Year's Eve is always so boring. I stay overnight at my parents, eat
cheese ball
, and drink sparkling grape juice. On the plus side, Dad makes me a plate full of crackers with cheese ball and slices of beef stick on top. I have gone out a few times – one to a friend's house, which was pretty lame and uneventful, and another to a piano bar, which *was* fun but also pricey. Plus I'm always the one who gets stuck driving, so I can't even drink champagne at midnight. Last year I almost had cool plans, but then they changed at the last minute to something less fun, so I passed.
Want to know how to make your New Year's Eve less boring? Make this Sparkling Pomegranate Punch recipe to count down the clock until midnight! Don't worry if you're not doing a big NYE celebration as this punch only makes 4 drinks (hey if you're sharing with someone else, you want to make sure there's enough for a second glass!) It has prosecco for the bubbly factor, which is more affordable than champagne (you can certainly use champagne, but for someone who bought a car this year, prosecco it is). You can also make this pomegranate punch non-alcoholic If you're driving but don't want to miss out on drinks at midnight.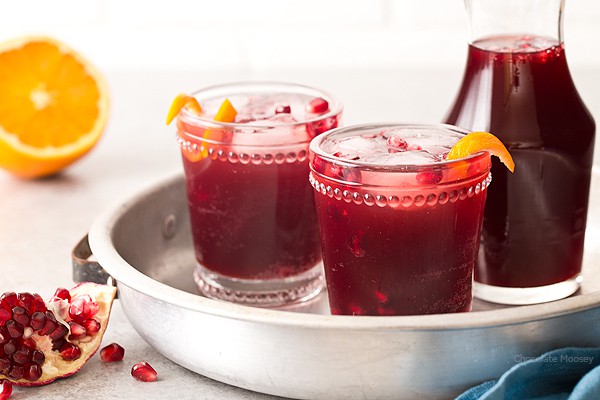 What's nice about this pomegranate punch is its versatility. You can use prosecco, champagne, or sparkling wine for the cocktail. I personally used prosecco because it's not as sweet. Because some sparkling wines are sweeter than others, you may need to adjust the sugar level. You may also need to adjust the sugar based on the type of orange juice you use. If you use freshly squeezed oranges, that will taste less sweet than bottled orange juice. For a non-alcoholic version, substitute regular sparkling water or lemon-lime pop. If you do use the pop, you may not need to add sugar at all.
Like my orange twist garnish? I learned how to make them from
Tori Avey's site
. You can also garnish with orange wedges since the twists lose their bounce after a bit.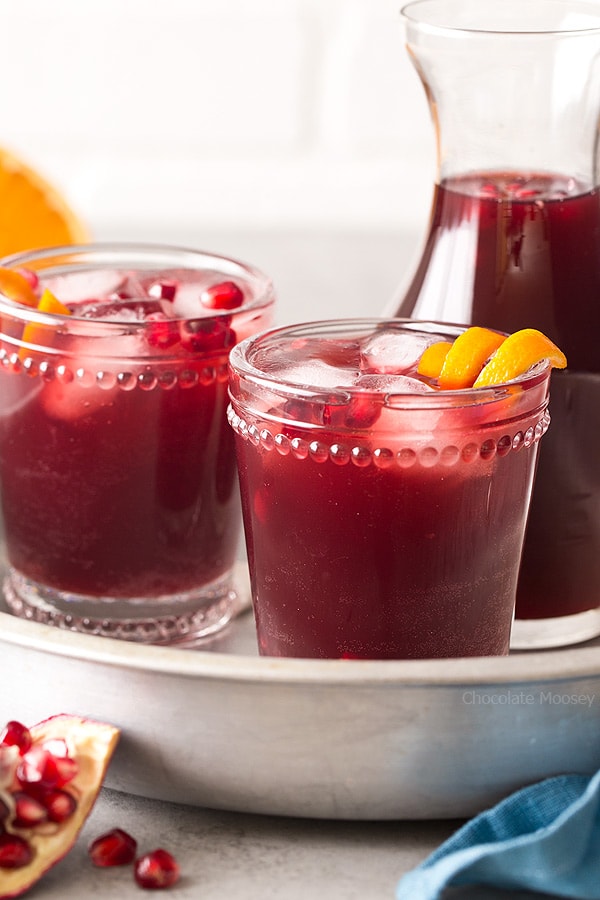 If you've been reading my blog for the past few years, then you know every year I do a Top 10 Recipes post to reflect on the recipes you loved the most in 2016. This year I'm doing it differently. Rather than writing a new blog post, I'm going to send out the list in my weekly newsletter.
Sign up
before next Friday morning (12/30) so you don't miss the it! My most popular post will surprise you (or at least it surprised me!)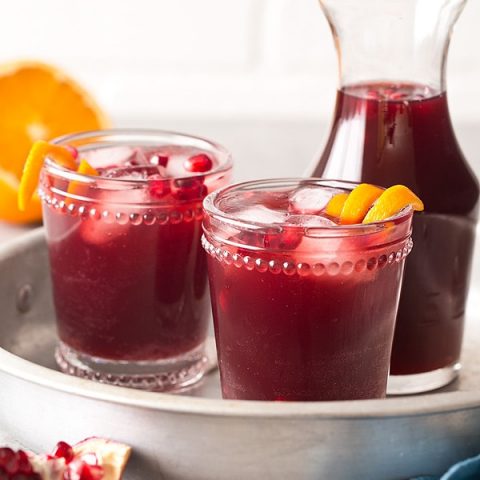 Sparkling Pomegranate Punch (Small Batch)
Ingredients
1/4 cup granulated sugar (*or to taste - see Note)
1/4 cup water
1 cup pomegranate juice
1/4 cup orange juice
3/4 cup Prosecco
Pomegranate arils, orange wedges, and ice cubes for serving
Instructions
In a small saucepan, whisk together the sugar and water. Bring to a boil then cook 3-5 minute or until the sugar is dissolved, making a simple syrup. Cool 15 minutes.
In a large pitcher, whisk together the syrup, pomegranate juice, and orange juice. Right before serving add the Prosecco then serve over ice cubes garnished with aril and orange wedges.
Notes
For a non-alcoholic version:
Note about sweetness:
Nutrition Information:
Amount Per Serving:
Calories:

5
Carbohydrates:

1g