Tired of buffalo chicken dip? Change up your Game Day eats with Chicken Enchilada Dip made with homemade enchilada sauce, black beans, and corn.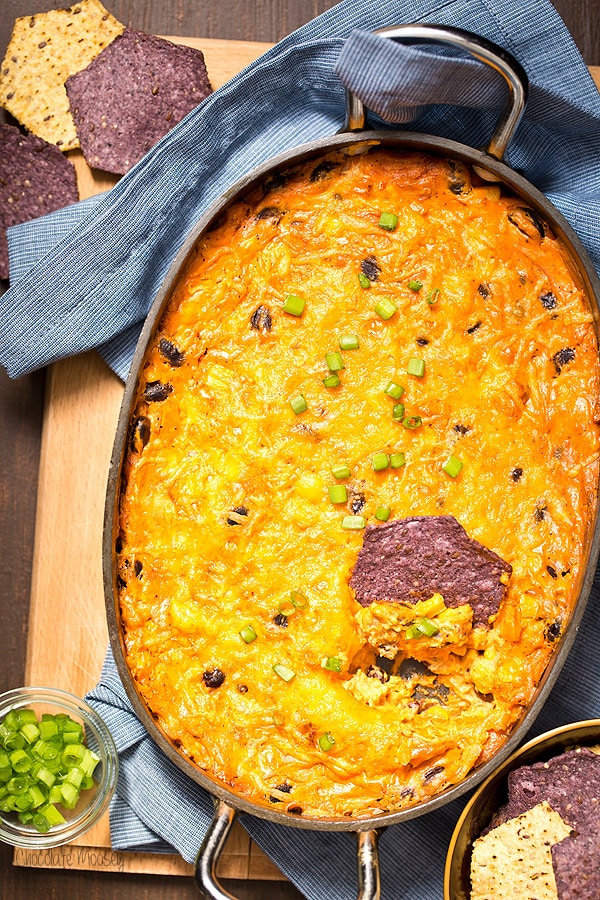 Two Sundays ago, I went to my first ever
Penguins hockey game
with my dad and brother at the new-to-me Consol Energy Center. I've been to the Civic Arena (later renamed to Mellon Arena) but have never been to Consol until now. I've never watched a hockey game before, so I'm not going to pretend to be a super fan. I did learn the rules (although I somehow already knew what offsides in hockey meant) and discovered a hockey game is quieter and much faster than a baseball game. Luckily we won with a shut out game, so it's safe to say I can go back. Since the Steelers were playing their playoff game almost at the same time as the hockey game, afterwards they were showing the football game on the big screen. We were going to stay, but they made us move from our seats plus it was snowing, so we went back to my apartment to finish watching the football game. Towards the end of the hockey game, I really wanted nachos with those stadium jalapenos. I learned that concession stands don't stay open, but we did find one still serving food as we were leaving. I bought nachos to go, which meant walking a few blocks to our car because we wanted to save money on parking. There I was, all bundled up in my gloves and coat trekking back to the car holding onto my nachos for dear life while it was snowing and the sidewalks were getting icy. I'm happy to report no nachos were spilled in the process.
Unfortunately, the Steelers lost the play offs, so at this point I don't care which team wins the Super Bowl. What I do care about though is eating during the Big Game. It's the perfect opportunity to make past favorite recipes (like buffalo chicken wings) while trying out new ones, like Chicken Enchilada Dip. It's cousins with buffalo chicken dip as it's made in a similar fashion – sautéing on the stovetop then baked in the oven – but with homemade enchilada sauce, black beans, and corn instead of hot sauce, ranch, and bell pepper. Be different this year and forgo the buffalo chicken dip. Bring Chicken Enchilada Dip instead.
Of course no dip is complete without chips to scoop it up. I paired my dip with
Food Should Taste Good™
's multigrain and blue corn tortilla chips which are made with real and simple ingredients with sophisticated flavor. I could easily eat these chips straight from the bag, but then I'd have nothing left to use for my enchilada dip. Food Should Taste Good™ is also non-GMO, certified Kosher and certified gluten-free with many varieties being certified vegan.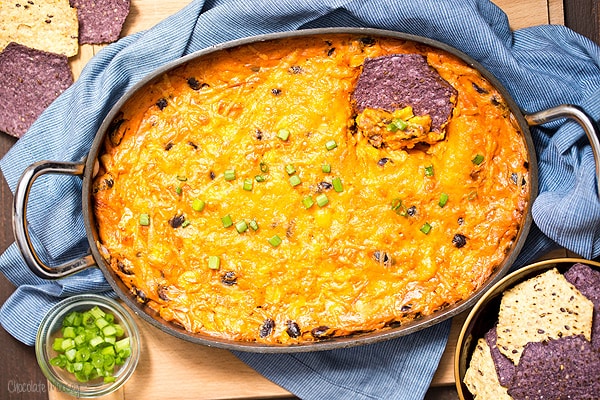 I fully expect this chicken dip to be devoured, but just in case you have leftovers, turn it into dinner the next day by stuffing the filling into tortillas to make quesadillas. Or you can make it extra cheesy and add it to your grilled cheese. Or you can grab another bag of chips and go to town while watching tv.
For more information, please check out Food Should Taste Good™'s
website
and say hello on
Facebook
,
Twitter
,
Instagram
, and
Pinterest
.
Ingredients
Enchilada Sauce*

1 tablespoon all-purpose flour
1 teaspoon ground chili powder
1/4 teaspoon ground cumin
1/4 teaspoon salt
1/8 teaspoon dried oregano
1/8 teaspoon garlic powder
1/8 teaspoon onion powder
1 tablespoon olive oil
1/3 cup chicken broth
1/3 cup tomato paste

Chicken Dip

1 tablespoon olive oil
1/2 cup chopped onion
1 large boneless skinless chicken breast, cut into 1/2-inch pieces and lightly salted
8 ounces cream cheese, room temperature and cut into 8 pieces
1 1/4 cup shredded cheddar cheese
1 cup canned black beans, drained and rinsed
1 cup corn kernels
1 green onion, chopped
Instructions
Preheat oven to 350F. Have a small casserole dish or 9-inch pie plate ready.
For the enchilada sauce: In a small bowl, whisk together the flour, chili powder, cumin, salt, oregano, garlic powder, and onion powder. In a medium saucepan over medium heat, heat the oil. Once hot, whisk in the flour mixture. Slowly whisk in the broth. Whisk in the tomato paste then bring to a boil. Cook until thickened, about 3-5 minutes. Remove from the heat.
For the dip: In a large skillet over medium heat, heat the oil. Add the onion and cook for 3 minutes. Add the chicken and cook for 3 minutes then flip and cook for another 3-5 minutes or until the chicken is fully cooked. Add the enchilada sauce and cream cheese, a few pieces at a time, and stir until melted and smooth. Stir in 1 cup shredded cheese, black beans, and corn, and cook until melted and smooth.
Transfer the dip to the casserole dish and top with remaining 1/4 cup cheese. Bake for 45 minutes or until bubbly and cheese has melted. Top with green onion and serve immediately.
Notes
*You can also substitute 1/2 cup of your favorite enchilada sauce
7.6.3
3495
https://www.chocolatemoosey.com/2016/01/28/chicken-enchilada-dip/
More Dip Recipes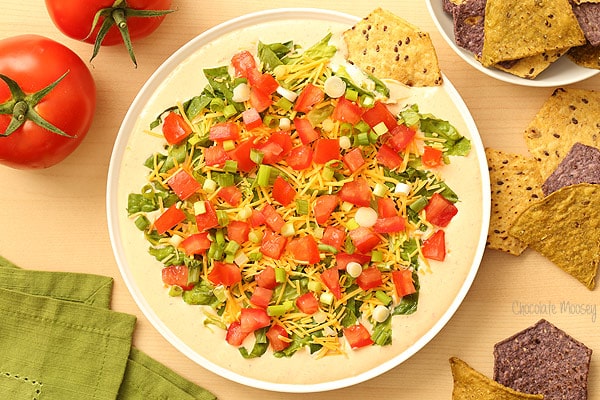 Chipotle Ranch Taco Dip
Disclosure: This post is sponsored by Food Should Taste Good. Thank you for supporting me and the companies I work with as sponsored posts help pay for the costs of running Chocolate Moosey, including website hosting and groceries for recipe development.