This watermelon sangria with white wine and blueberries (aka Red, White, and Blue Sangria) is very refreshing and very easy to serve a crowd during summer parties. Just mix everything together in a pitcher ahead of time and chill until serving.
It's hard to believe that June is almost over and that 4th of July is this Saturday. Secretly I'm glad June is over. Between my broken air conditioner (now fixed) and repairs on my car taking much longer than usual (leaving me without a car for 12 days instead of the 3-4 days they quoted me), June hasn't been my favorite month. Time to look forward to July and plan for the holiday weekend. Every 4th of July, I go to a local arts and crafts festival then over to my parent's house where their neighborhood hosts fireworks. And every year it's super hot outside and all I want to do is jump in the lake where the festival is hosted to cool down. Except I hate swimming so I'll just stick with something cold and refreshing. Usually it's ice cream or ice cold water (without the ice), but 4th of July is about spending time with family, grilling up delicious meats, serving up sides of potato salad and deviled eggs, and relaxing with drinks, usually of the boozy nature.
I've been wanting to change up my usual drink routine lately with sangria since I usually just reach for a bottle of beer. If you're not familiar with sangria, it's a wine-based drink with fresh fruit. Since 4th of July is coming up rather quickly, I wanted to be clever and do a red, white, and blue theme with this Watermelon Blueberry Sangria – watermelon for the red (ish), white wine for the white, and blueberries for the blue. What I love most about serving sangria is that you mix everything together in a pitcher and chill for 24 hours, meaning you can easily make this drink ahead of time and not stress yourself out for the holiday. After all, holidays are about relaxing, and who really wants to stress out over serving drinks?
The first time I had sangria was at a blogging potluck a few years ago. It was my first time ever meeting other bloggers in person and I'm not exactly a social butterfly eager to talk with strangers. When I arrived at the house, I was greeted by one of the hostesses who made me feel instantly welcomed. She then offered me some sangria, which I graciously accepted because the wine would help me relax and be more eager to socialize (not to mention the potluck was during July, so a nice, cold glass of fruity sangria tasted very refreshing).
Sangria is very versatile as you can use any type of wine and fruit that you want. With 4th of July coming up, I wanted my sangria to scream summer with fresh watermelon and blueberries (plus the added bonus of the red, white, and blue theme). For the wine, I used
Ménage à Trois California White Wine
, which brings together citrus and tropical fruit flavors with crisp acidity. The wine itself is very refreshing to drink on its own when you're looking for a fun social wine; sometimes I like to drink wine to enjoy wine and not necessarily pair with food. It also tastes even better when used in sangria.
For more information, please visit Menage a Trois
website
and say hello on
Facebook
,
Twitter
,
Pinterest
, and
Instagram
.
Watermelon Blueberry Sangria
Sangria can be made 24-48 hours ahead of time. If your watermelon is not sweet enough, you may need to add some simple syrup to sweeten the sangria. Just bring an equal amount (1:1 ratio) of sugar and water to a boil then cool to room temperature before using.
Ingredients
10 cups cubed seedless watermelon
1 bottle (750 ml) white wine, such as Menage a Trois California White Wine
1 cup blueberries
1 lemon, sliced
Instructions
Place 8 cups watermelon in a blender (you may need to do this in two batches). Blend until completely smooth. Pour through a fine mesh strainer, discarding any solids left behind. You should have roughly 4 cups watermelon juice.
Place the remaining 2 cups cubed watermelon in a single layer on a baking sheet and freeze for 30-60 minutes or until frozen. Transfer to an airtight container or freezer bag and continue freezing.
Add the wine and watermelon juice to a pitcher. Add the blueberries and lemon slices. Refrigerate for at least 4 hours before serving. Right before serving, add the frozen watermelon cubes.
More Watermelon Recipes

Watermelon Lemonade Margarita Popsicles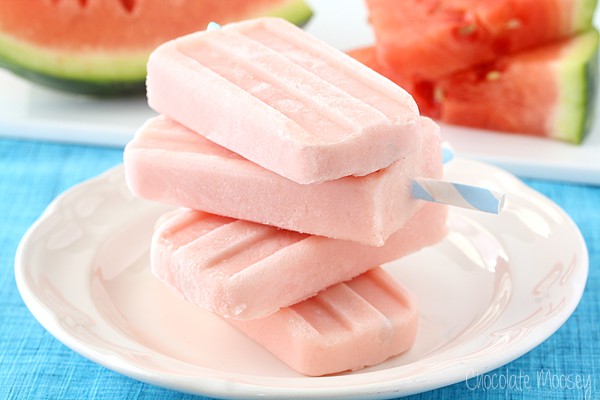 Watermelon Yogurt Pops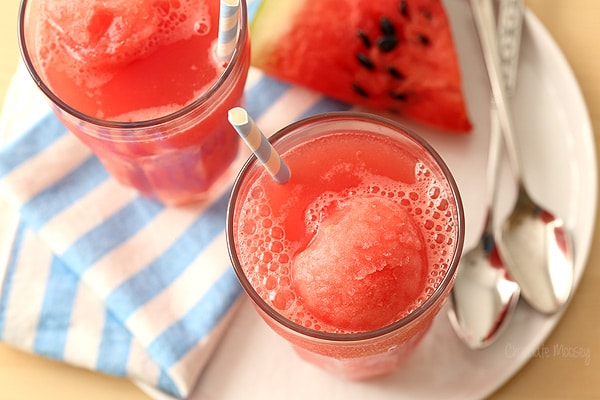 Watermelon Sorbet Floats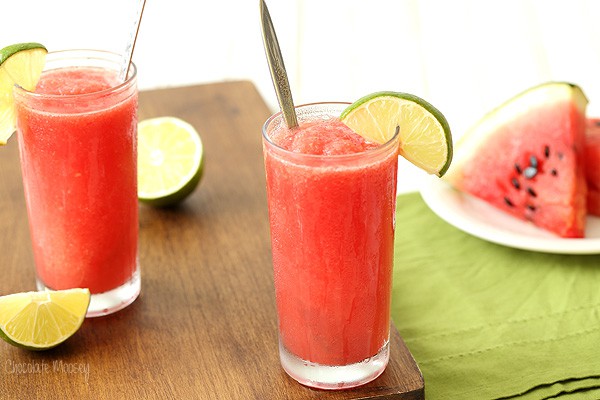 Watermelon Slushies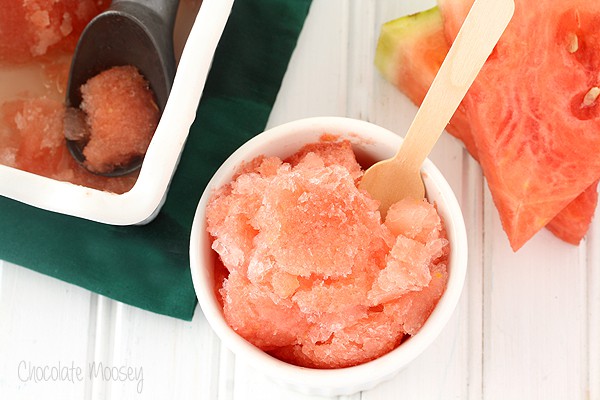 Watermelon Italian Ice

Spicy Shrimp Tacos with Watermelon Salsa
Disclosure: This post is sponsored by Menage a Trois. Thank you for supporting me and the companies I work with as sponsored posts help pay for the costs of running Chocolate Moosey, including website hosting and groceries for recipe development. Because this recipe involves alcohol, this recipe is for adults 21+. Please drink responsibly.