Vanilla Bean Cream Soda Floats
Beat the heat with these Vanilla Bean Cream Soda Floats made with homemade cream soda poured over vanilla ice cream.

Do you say pop or do you say soda? Pittsburgh definitely says pop, but when I lived in south central Pennsylvania, they all said soda. My previous employer had a fridge where you could buy pop because we didn't have a vending machine in our building. Except they called it soda, which felt so wrong for me to say. The only time I ever said soda was when I was talking to another coworker about the soda fridge. Other than that, it was pop for me. Another instance where I say soda is when I'm referring to cream soda because that's the name of it. If you're not familiar with cream soda, it's a vanilla-based soft drink. Growing up, cream soda was one of my favorite pops to drink, probably because it wasn't something I drank that often. When I think of cream soda, I can't help but also think of root beer; I look at them as cousins, probably because a certain soda company manufactures both. And when I think of root beer, I always think of root beer floats. I've been a little obsessed with ice cream floats this summer. First my
coffee floats
then my
watermelon sorbet floats
. There's something magical about pouring pop over ice cream as it fizzes up (or if you're using coffee, melts the ice cream). Probably because you don't need to decide between ice cream or a drink; you can have both!
The idea for these Vanilla Bean Cream Soda Floats came from my craving for root beer floats, but I wanted to make a vanilla bean version. It's no secret I love vanilla bean, from my doughnuts and fudge to my creamsicles and ice cream. Because cream soda is a vanilla-based soft drink, I knew making a homemade cream soda would be a great place to start, which is much easier to make than you think. Pretty much it's just sugar and vanilla boiled in some water then mixed with seltzer water to give it some fizz. I amped up the vanilla flavor with a whole vanilla bean in addition to vanilla extract. Vanilla bean cream soda poured over vanilla ice cream? There's no doubt that this may be the best vanilla drink you have ever tasted.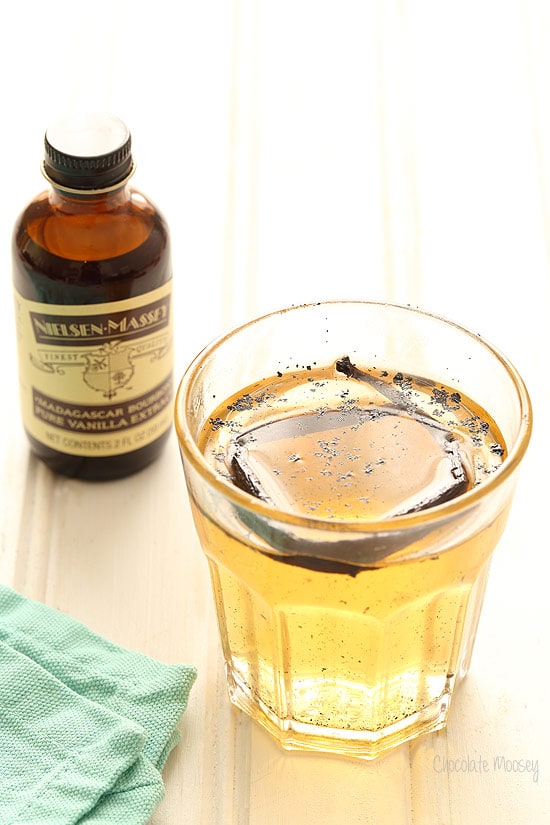 For some reason, I didn't think making cream soda at home was possible. I thought it was something that you could only buy because you would need all this fancy equipment. Not true! All you need is a saucepan, some heat, and a few ingredients. Pour some sugar and vanilla into some water, add some seltzer, and boom – homemade cream soda at your fingertips.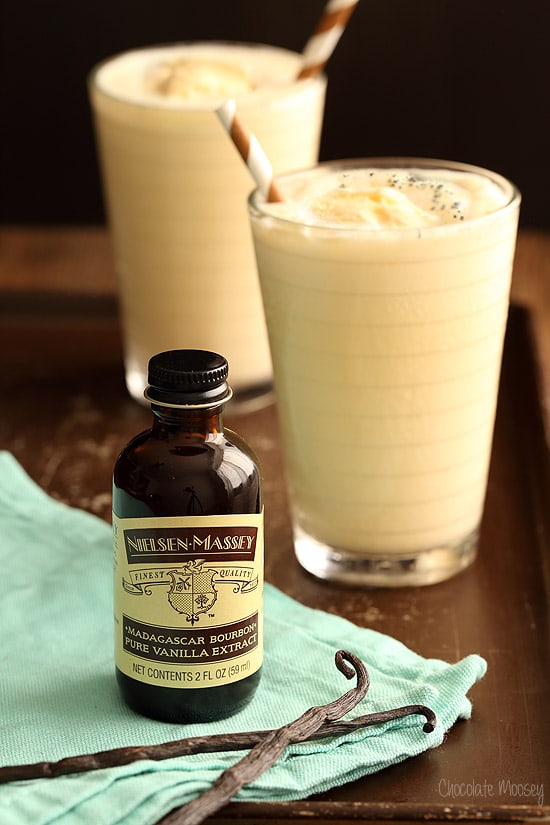 For the vanilla bean and vanilla extract in my recipe, I used
Nielsen-Massey
, a company that has been making vanilla since 1907. Not only do they produce high-quality products, the company is still family owned and operated. As you browse their site, you may notice they have several types of vanilla bean. I used
Madagascar Bourbon
, but really any bean you buy will work. You can even use their
vanilla sugar
for the base of your syrup, tripling the vanilla flavor.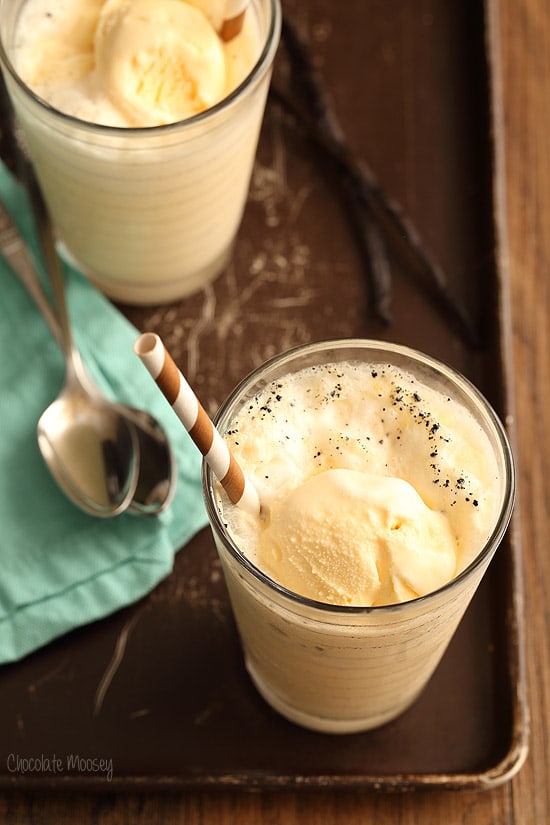 Even though ice cream floats are often associated with childhood, I couldn't help but add a little bit of booze to make this a special adult treat. I recommend adding a little bit of vodka or even bourbon.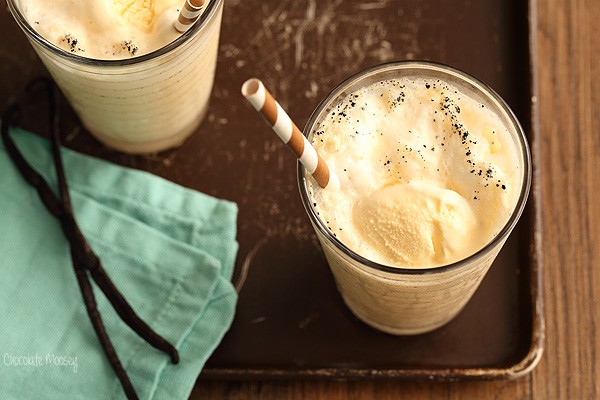 For more information, please visit Nielsen-Massey's
website
and say hello on
Facebook
,
Twitter
,
Pinterest
, and
YouTube
.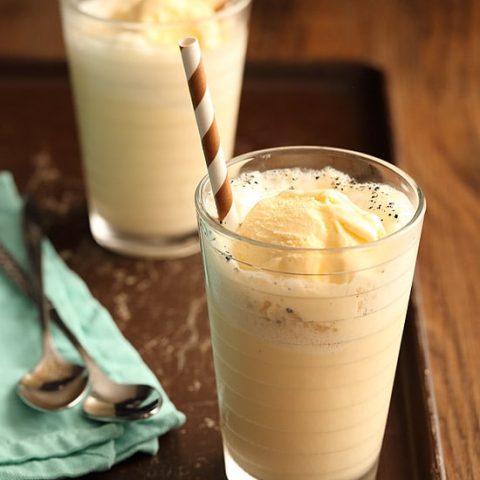 Vanilla Bean Cream Soda Floats
Yield: 2 servings
Prep Time: 15 minutes
Total Time: 15 minutes
Beat the heat with these Vanilla Bean Cream Soda Floats made with homemade cream soda poured over vanilla ice cream.
Ingredients
1/2 cup water
1/2 cup granulated sugar
1 Nielsen-Massey Madagascar Bourbon vanilla bean
1/2 teaspoon Nielsen-Massey vanilla extract
1 tablespoon vodka or bourbon (optional)
4 scoops vanilla ice cream (homemade or store-bought)
1 cup seltzer water
Instructions
In a large saucepan, whisk together the water and sugar. Make a slit to the vanilla bean lengthwise and scrape the seeds into the pan then add the whole vanilla bean. Bring to a boil over medium heat, whisking often.
Boil for another 1-2 minutes or until the sugar has fully dissolved. Remove from the heat and whisk in vanilla extract. Cool to room temperature.
Right before serving, remove the vanilla bean pod from the vanilla syrup then stir in seltzer and alcohol if using. Scoop ice cream into serving glasses then pour soda over top. Serve immediately.
More Vanilla Bean Recipes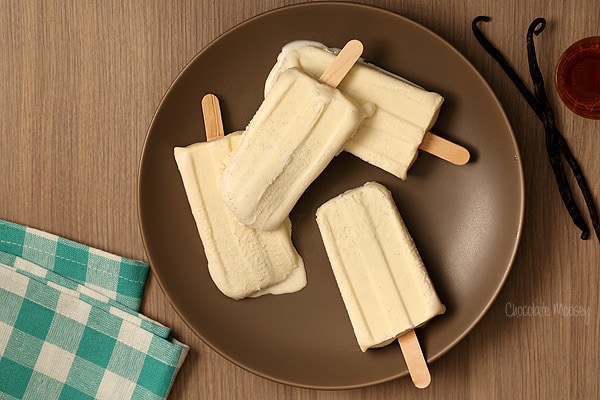 Vanilla Bean Creamsicles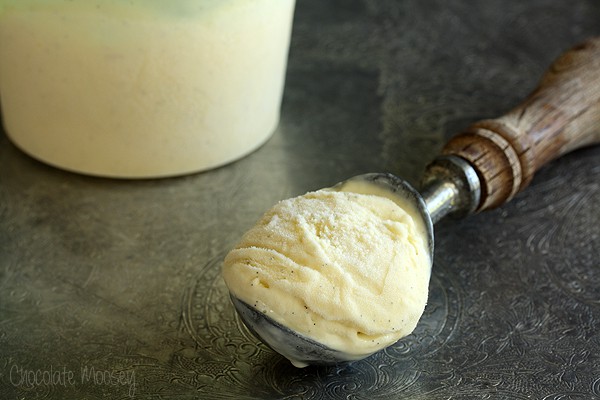 Vanilla Bean Ice Cream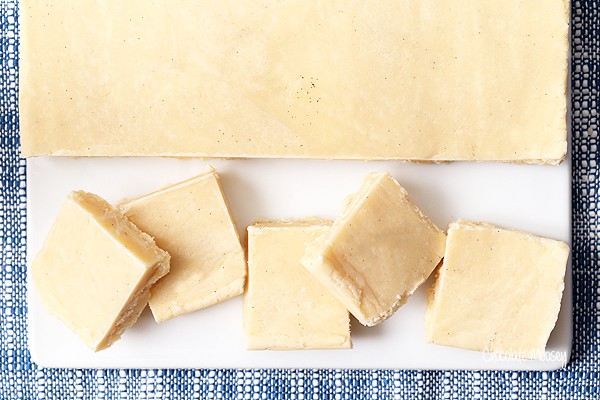 Vanilla Bean Fudge
Disclosure: This post is sponsored by Nielsen-Massey. Thank you for supporting me and the companies I work with as sponsored posts help pay for the costs of running Chocolate Moosey, including website hosting and groceries for recipe development.
This post may contain affiliate links. As an Amazon Associate and member of other affiliate programs, I earn from qualifying purchase.