If you love peanut butter, then you're going to love this no bake peanut butter pie stuffed full of peanut butter cups in an Oreo cookie crust. Recipe made with homemade whipped cream (no Cool Whip).

I'm not sure if you actually pay attention to my posting schedule, but you may be wondering why I'm posting on a Friday instead of my usual Thursday. That's because today is a special day – it's my birthday! Just another year with no milestone to celebrate, but another year nonetheless. What a year it has been as I feel like I did a total 360 since this time last year. I moved back to Pittsburgh where I belong, I'm in a new job doing what I love, and overall I'm happier. Still working on the friends part as most of them either stopped talking to me or cancel plans at the last minute, but hey you can't have it all. As I thought about which recipe to share today, I knew I didn't want to share a cake. I posted my
Funfetti Layer Cake
not too long ago, so I wasn't feeling another layer cake. I thought about one of those cookie cakes where it's a giant chocolate chip cookie with frosting piped on top. THEN I realized I never shared this No Bake Peanut Butter Cup Pie, nicknamed the birthday pie because that's when I usually make it – twice for coworkers at my previous job and once for my brother last year. Of course you can make this pie any day of the year, especially with summer quickly approaching as you don't need to turn on the oven when the craving for pie strikes. It's a creamy peanut butter pie packed full of peanut butter cups in an Oreo cookie crust. One bite and you'll never want a traditional birthday cake again.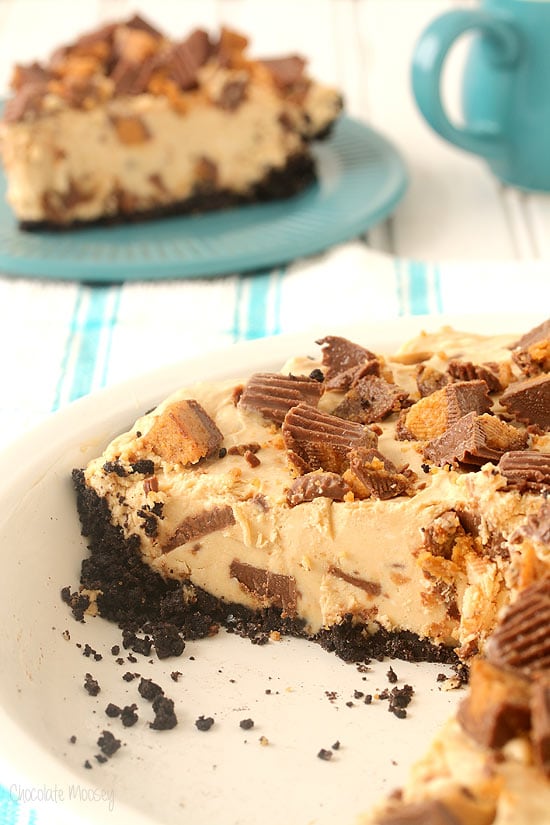 Typically these no bake pies are made with pre-made whipped topping (Cool Whip), but I wanted to go one step further and make homemade whipped cream to fold into the filling. It's really easy as it's nothing more than beating heavy cream for a few minutes until it thickens up. If you have a stand mixer, even better. Just crank it on high and clean up for a few minutes while the mixer does the work (just don't lose track or it'll turn into butter).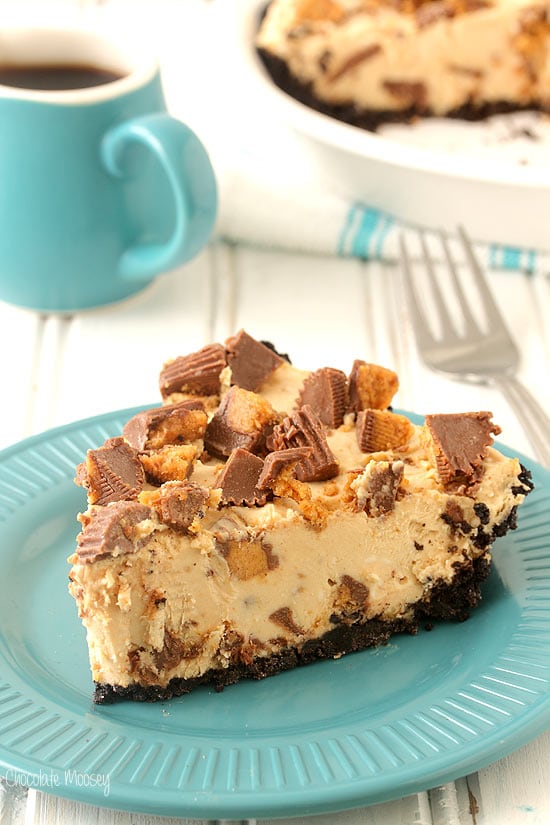 I couldn't make a peanut butter pie without chocolate, so I used Oreo cookies for the crust and lots of chopped peanut butter cups. However, when I first made this pie for one of my coworkers, I used graham crackers for the crust as she wasn't a huge fan of chocolate. I bet this would be even more amazing with a Nutter Butter cookie crust for an extra dose of peanut butter. All that's missing are the birthday candles.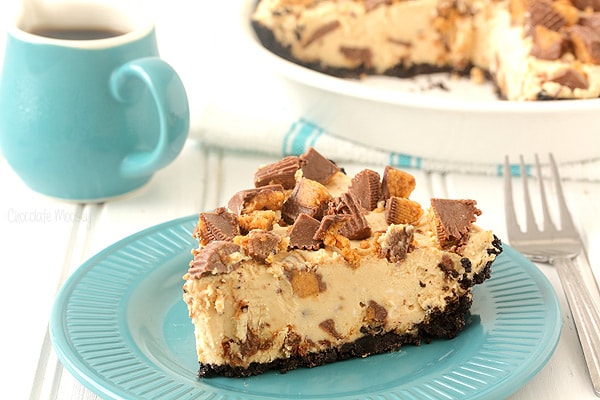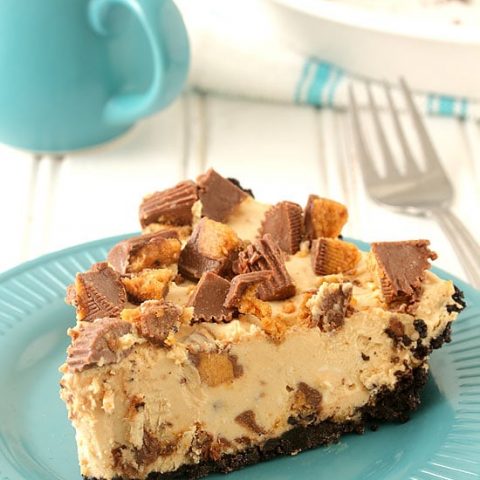 No Bake Peanut Butter Cup Pie
Yield: 8-10

Prep Time: 1 hour

Total Time: 1 hour

Total time does not include chill time. Plan on making this pie a day or two before serving.
Ingredients
2 cups chocolate sandwich cookie crumbs (such as Oreo)
1/4 cup butter, melted
8 ounces cream cheese, softened
3/4 cup creamy peanut butter
3/4 cup powdered sugar
1/2 cup whole milk, room temperature
1/2 cup heavy whipping cream, cold
2 cups chopped peanut butter cups
Instructions
In a large bowl, mix together the cookie crumbs and butter. Pat into a 9-inch pie plate. Refrigerate at least 30 minutes before filling.
In a large mixing bowl, beat together the cream cheese, peanut butter, powdered sugar, and milk until smooth and creamy, about 2-3 minutes.
In another large mixing bowl, beat the heavy cream until it thickens and stiff peaks form (when you pull the beaters straight up, peaks will form and not fall over), about 3-5 minutes.
Fold the whipped cream into the peanut butter mixture until no white streaks remain then fold in 3/4 cup peanut butter cups. Spread into the chilled cookie crust and top with the remaining 3/4 cup peanut butter cups. Refrigerate at least 4 hours or overnight before serving (you can speed up this process in the freezer).


Source: Adapted from Food Network
More No Bake Desserts

No Bake Mint Chocolate Chip Pie