This Nacho Cheese Dip and Sauce with jalapeno pepper is two recipes in one and is made with a secret ingredient that helps it stay silky smooth, even after it cools.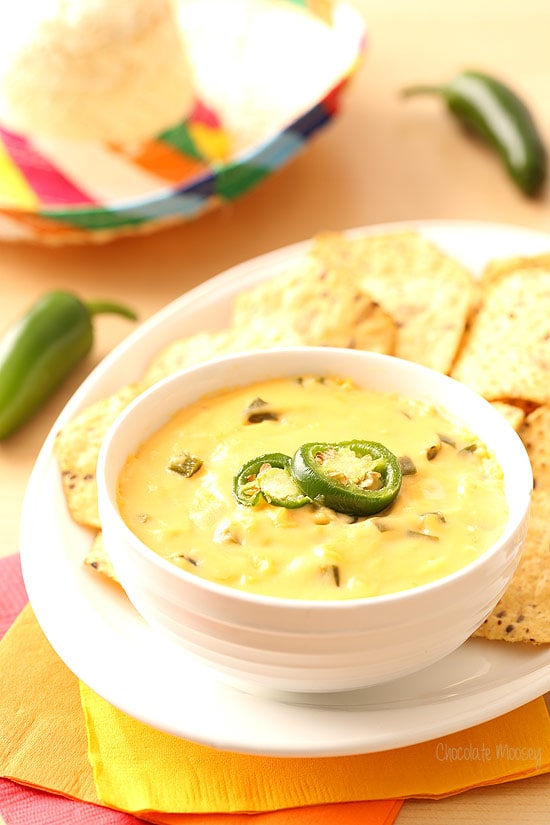 I'm pretty sure I overstated this on my blog, but I love to snack –
popcorn
,
potato chips
,
pita chips
, pretzels, nachos. If I could eat snacks for dinner, I totally would. I'll eat snacks straight from the bag or I'll eat them with dip. Lately I've been craving stadium nachos and cheese with jalapenos. Why? I have no clue, probably because I haven't eaten them in a really long time. Every time I go to a stadium or arena, I usually end up breaking down and spending $6 on a tiny plastic container, just to have it disappear in 5 minutes. And since I don't have plans to go to a sporting event any time soon, time to make some nachos and cheese at home.
The problem with making cheese sauce at home is you have to eat it right away. If you've ever made homemade cheese sauce with regular dairy milk and let it cool, you probably noticed the texture can get a bit gloppy and congealed. Sure you could rescue it by reheating it and whisking in some more milk, but usually by then it's a pain to fix. What if I told you there's a way to have a silky smooth cheese sauce, even after it cools? In fact, when it does cool and thicken, it turns into a dip. A sauce AND a dip combined in one recipe? Turns out evaporated milk is the key to having the sauce/dip remaining silky smooth. I first discovered this trick when I posted about my Italian Nachos with a mozzarella cheese sauce. Now it's time to make a cheddar cheese sauce. Unlike stadium nachos, this Nacho Cheese Dip and Sauce is made with real cheddar cheese and oven roasted jalapenos (and also unlike stadium nachos, it won't cost you $6 for a tiny plate).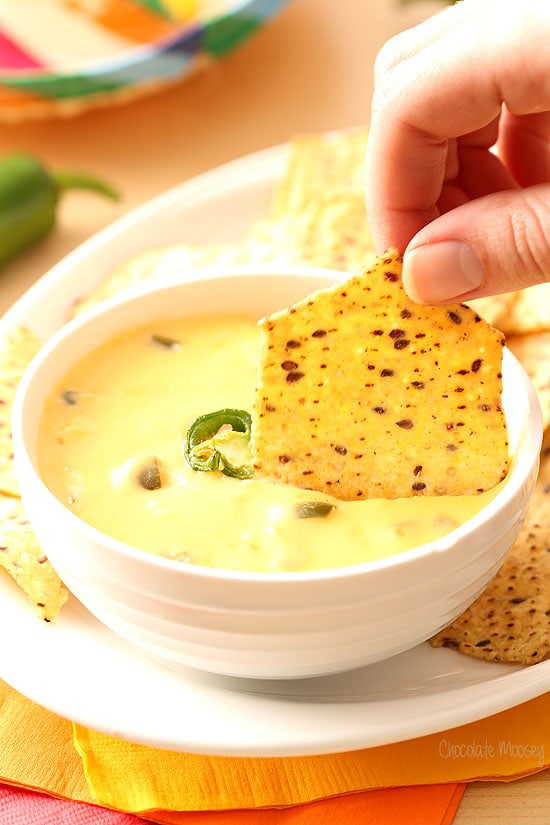 Cinco de Mayo is coming up in a few weeks. Usually I don't think twice about celebrating it, but lately I've had Mexican food on my mind, especially queso dip and enchiladas (stay tuned next week for an enchilada recipe!). If you don't know Spanish, queso dip refers to a cheese dip made with chili peppers. Actually, I think queso is Tex Mex and not quite Mexican, but both cuisines are acceptable for Cinco de Mayo. Traditional queso dip is white from the type of cheese used, but I chose to go cheddar and made Nacho Cheese Dip with jalapenos instead. You don't have to wait for May 5th either; I'd eat this any day of the year, even Christmas.
With every great nacho cheese sauce, you need some great nachos to dip. My latest snack obsession has been with the company
Food Should Taste Good™
, which lives up to their company name as their chips and crackers DO taste good because they are made with real and simple ingredients with sophisticated flavor. Their products are also non-GMO, certified Kosher and certified gluten-free. Many of their Kettle Cooked and Tortilla Chip varieties are also certified vegan. For this Nacho Cheese Dip and Sauce, I used their Multigrain Tortilla Chips. I'll be completely honest – when I hear anything called multigrain, I have mixed feelings about whether I'll like it. I've tried and tried whole wheat bread, but most brands are too wheaty for me. Then I'd rather eat regular pasta than whole wheat. But these chips? They are nothing like either of those. In fact, I couldn't stop eating them as you could taste the nuttiness from the various seeds and grains. You can check out their other product flavors (including unique ones like kimchi and falafel!)
on their website
.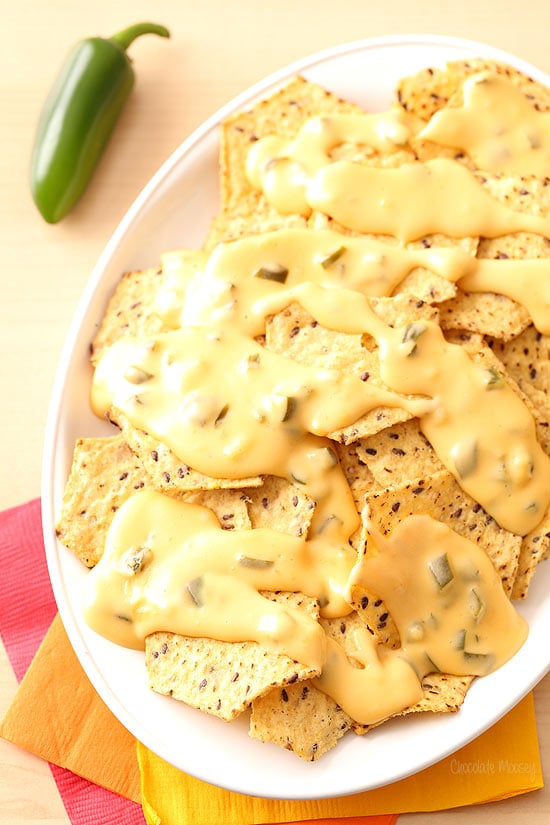 In addition to dipping, you can serve this sauce hot on top of a plate full of nachos. Normally I would do the works with beef, tomato, lettuce, sour cream, etc. but I was perfectly content with the plate you see above for dinner, er I mean snack. I swear I ate a real dinner too.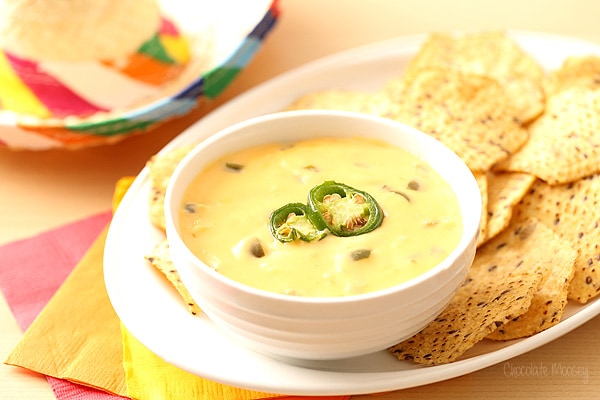 Nacho Cheese Dip and Sauce
Ingredients
2 medium jalapeno peppers
One 12-ounce can evaporated milk
2 teaspoons cornstarch
2 cups shredded cheddar cheese
1 teaspoon salt
Instructions
Preheat oven to 400F. Cut each jalapeno in half lengthwise and remove the seeds and membrane (reserve the seeds if you want it spicy). Place them cut side down onto a baking sheet. Bake for 15-20 minutes or until soft and slightly darkened. When cool enough to handle, chop into small pieces.
In a small bowl, whisk together 1 tablespoon evaporated milk and the cornstarch to make a slurry. Set aside.
In a large saucepan, heat the rest of the evaporated milk until hot but not boiling. Whisk in the cheese, cornstarch mixture, and salt until smooth. Cook for 3-5 minutes or until thickened, whisking often. Stir in the chopped jalapeno (and some of the seeds if you're using for heat). Serve warm.
Disclosure: This post is sponsored by Food Should Taste Good. As always, thank you for reading and supporting brands I work with, which helps keep Chocolate Moosey running.