When I'm craving comfort food, I want pot pie. Chicken Pot Pie For Two is my solution for when you want easy chicken recipes for two without having leftovers for days.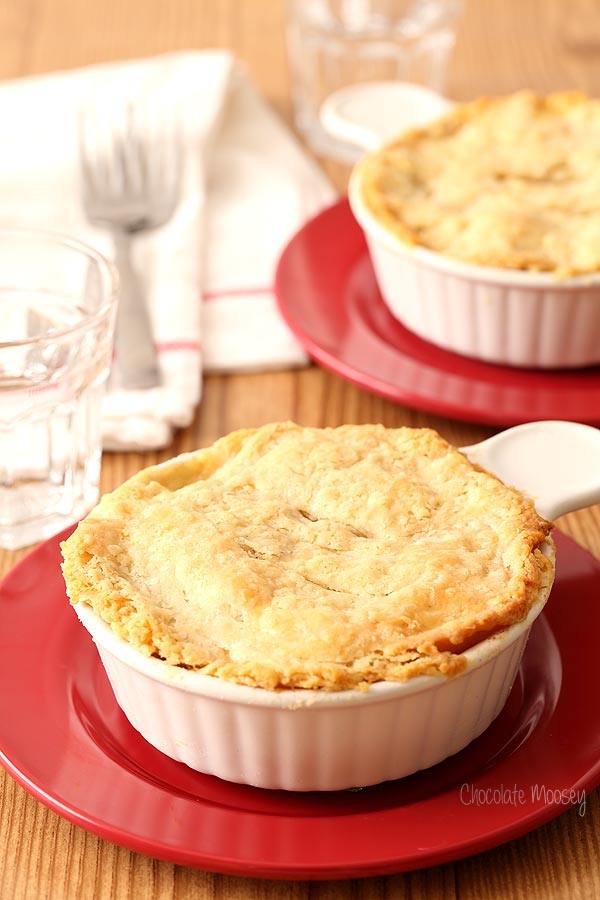 Since I almost always cook dinner for one, one of my biggest challenges is scaling down recipes that aren't straight-forward scalable. I don't mind leftovers as it gives me lunch to eat the next day, but I don't want to be eating the same leftovers for a week either. As an adult, one of my favorite comfort foods that I crave is chicken pot pie, and I have my go-to
Chicken Pot Pie Casserole
recipe I love to make. However, I don't make it often as it makes about 8 servings or so. Then that got me thinking – how can I scale pot pie down for two people (since that second one will be tomorrow's lunch)? Back in September, I made
apple pie for two
complete with pie crust from scratch. That can be my starting point then fill it with chicken pot pie filling. However, as I stared at my 6-ounce ramekins, I started thinking that they wouldn't be big enough (side note – I very rarely eat sides with my dinner). As I dug in my pantry, I found two 12-ounce ramekins. A little bigger than I liked, but I did walk away full from dinner (I'll talk more about adjusting pan sizes in a bit). But I did it! Everything you want in a traditional pot pie – buttery, flaky pie crust; hearty, creamy filling packed full of chicken and vegetables – scaled down to a dinner for two.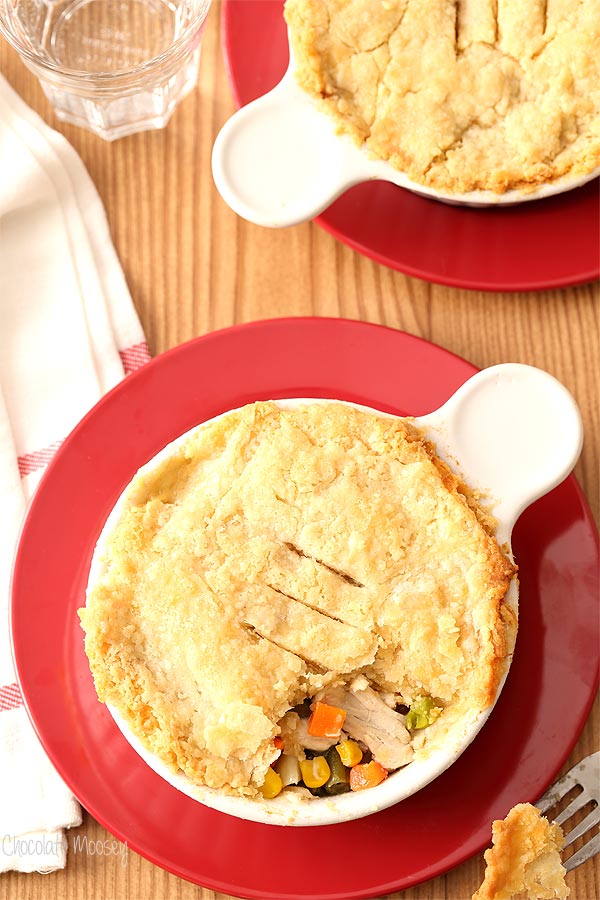 Traditional pot pie is two layers of pie crust stuffed full of creamy chicken and vegetables. I've done different variations with homemade biscuits and puff pastry, but I wanted to stick with the pie crust. Don't let that scare you! Yes, it's made from scratch, but I bet you can make it faster than running to the store for a box (you can even use your food processor!). The taste of homemade crust is unbelievably better than store bought because it's much flakier and more buttery, almost with a melt-in-your-mouth texture. This homemade pie crust is also very forgiving, so if you have a little trouble rolling out your dough in one piece, you can easily patch everything up together. If the top gets a little patched up, call it rustic pot pie. Problem solved.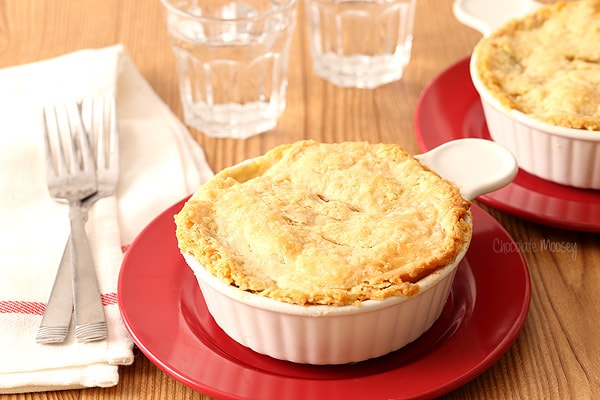 Let's talk ramekin sizes. I know not every household owns small size baking vessels, so I tried to make this recipe as flexible as possible. If you find yourself cooking for two often, I highly recommend investing in ramekins and casserole dishes. Go to your local thrift stores and check out what they have to offer first before you hit the retail stores. I think all but one dish I own are used. Only have 6-ounce ramekins? Make four mini pot pies instead of two. They don't have to be individual dishes either; I have a 5×7 casserole dish that I did buy new at a local business (as seen in my
apple half slab pie
photos). I even thought about using my mini 4-inch springform pans. With all of that said, you can make this pot pie recipe in an 8-inch round cake pan.
Just like how you can adjust the pan sizes, you can also adjust the filling. Chicken pot pie is my favorite, but feel free to sub beef and beef broth or even portobello mushrooms and vegetable broth. Picky about your vegetables? Add only the ones you want. Got leftover ham? Throw that in there too. As long as you leave the proportions the same, you can make pot pie for two your way.
Equipment you may need:

Chicken Pot Pie For Two
Menu planning tip: You can save time by cooking the chicken ahead of time, using leftover cooked chicken, or buying rotisserie chicken. The pie crust can also be made ahead of time.
Ingredients
Pie Crust
2 cups all-purpose flour
1 teaspoon salt
6 tablespoons cold vegetable shortening, cut into 12 pieces
6 tablespoons cold unsalted butter, cut into 12 pieces
4-5 tablespoons cold water
Pot Pie Filling
1 bone-in chicken breast (roughly 8 ounces)*
2 tablespoons butter (add pinch of salt if unsalted)
1/4 cup chopped onion
2 tablespoons all-purpose flour
2 cups chicken broth
2 cups frozen vegetable medley (usually carrots, corn, peas, and green beans)**
1 small potato, peeled and cubed (roughly 1/2 cup)
1 tablespoon heavy whipping cream or milk
Salt, to taste
Instructions
For the chicken
Add chicken to a large pot and add enough water to cover by 1 inch. Bring to a boil then turn down to a simmer and cover. Cook 30-45 minutes or until the chicken is completely cooked through at 165F. Drain the water and let the chicken cool. Once cool enough to handle, shred the meat off of the bones, discarding skin and bones.
For the pie crust
While the chicken is cooking, you can make the dough. In a large mixing bowl, add the flour and salt then use a pastry blender to cut in the cold shortening and cold butter until the mixture is crumbly and looks like small pebbles. Stir in 4 tablespoons cold water and blend until a dough forms. If it's still a little crumbly, add the remaining 1 tablespoon water. Alternatively, you can pulse everything together in a food processor.
On a lightly floured surface, gather the dough into a ball and lightly knead it a few times. Divide the dough evenly into four pieces. Flatten each piece into an evenly round disk. Wrap in plastic wrap and refrigerate at least 1 hour or until cold.
*
For the filling
Preheat oven to 425F.
In a Dutch oven or another large pot with a wide bottom, melt the butter. Add the onion and cook for 5 minutes or until soft. Stir in the flour to make a roux (paste), then slowly whisk in the broth.
Bring to a boil then add the potatoes. Cook for 10 minutes, stirring often, then add the frozen vegetables and cooked chicken. Cook another 5 minutes or until the potatoes are soft (but not overcooked), stirring often. Taste and add salt as necessary (I added an extra 1/2 teaspoon salt based on the broth I used). Stir in the cream/milk.
Take the ramekins out of the refrigerator and divide the filling between the two. Top each pie with the remaining dough pieces. Cut a few slits in the top of each one to let the steam escape.
Bake for 25-30 minutes or until the tops are golden brown (if using smaller ramekins, check after 15 minutes). Cool for 15 minutes then serve hot.
Notes
I saved time by using a frozen vegetable medley. Feel free to use fresh vegetables if they are in season.[br][br]**
Source: Pie dough adapted from
Jeni's Splendid Ice Creams At Home
More Chicken Recipes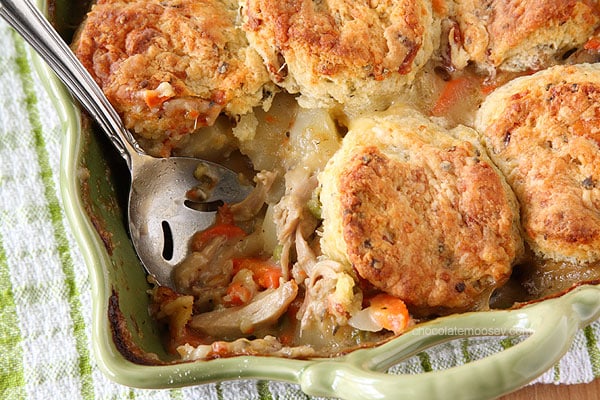 Chicken Pot Pie Casserole with Bacon Cheddar Biscuits