If you love chili cheese fries, then you'll love Chili Cheese Popcorn, a healthier afternoon popcorn snack that still satisfies your craving for spice and cheese.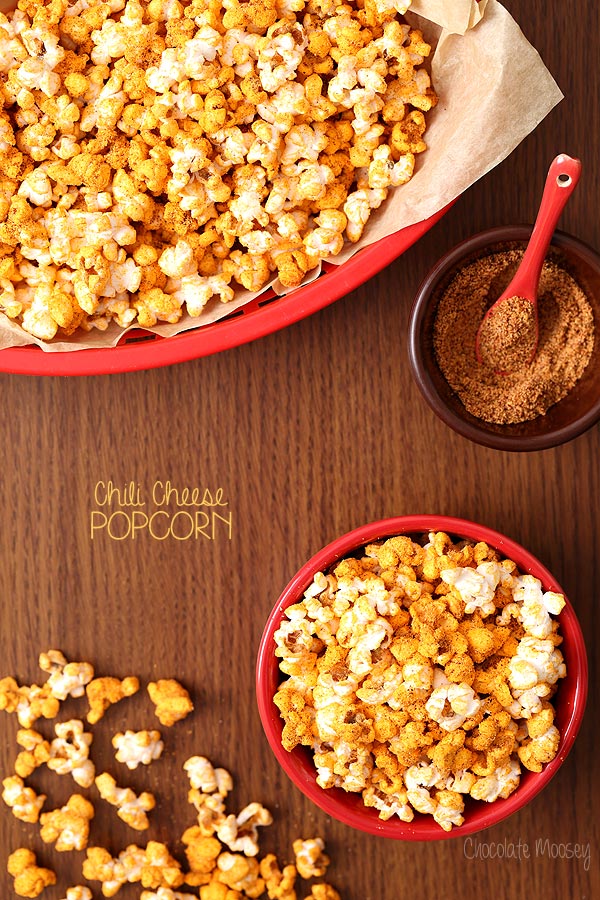 Ahh yes the first full week of the New Year is almost over, and all the healthy recipes around the net are pouring in. Can I make a confession? I have no intention of dieting. Eating healthier and exercising, yes, but not dieting. I don't count calories or Weight Watcher points. I'm not paleo, gluten free, sugar free, low carb, insert label here (kudos to those who are for health reasons). However, I do care about eating healthy. I do (try to) make conscious decisions about what I eat. For starters, I bake chicken wings instead of frying them. I add more vegetables to dinner, including
swapping cabbage for noodles
. However, some habits are hard to break. I need to stop eating chocolate chip everything for breakfast (do I have to?). I need to snack less. Oh boy, am I a snacker. Potato chips, popcorn, cheese puffs, pretzels, nachos, pita chips. I can't buy snacks because I will eat them all in one sitting on the couch. Want to know what my parents bought me as stocking stuffers? Pringles, hulless cheese popcorn, and my favorite honey BBQ cheese puffs. Can you guess if I still have them? (Answer – nope all gone). Even though I refrain from buying snacks, the craving just doesn't go away. The best compromise is to snack in moderation. Since I'm not a nutritionist, I'm not going to pretend this Chili Cheese Popcorn is healthy. It's healthier than most snacks and is certainly healthier than eating authentic chili cheese fries, that's for sure. You can sneak it into the movies or pack it in your lunch when you're stuck at your desk all day. You certainly can't do that with a big batch of chili cheese fries (or can you?!).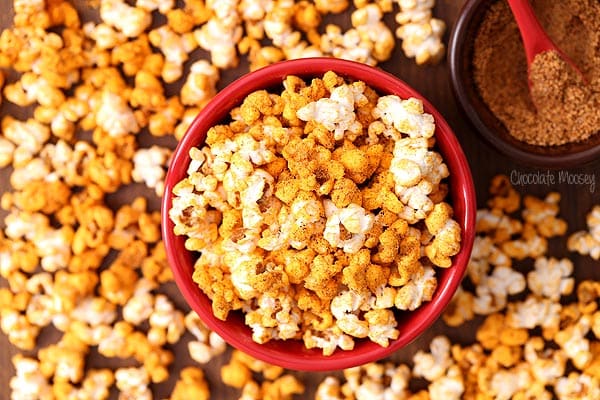 My inspiration for chili cheese popcorn came from
Joy The Baker's first cookbook
. As I requested her second book from the library, I read her first book (again) while I waited. When I saw the photo for glorious chili cheese fries, I immediately wanted them. Except I didn't have any potatoes in the house. Somehow my brain connected chili cheese fries and popcorn together. I have no idea how that happened other than I was hungry and in snack mode with a bag of popcorn kernels.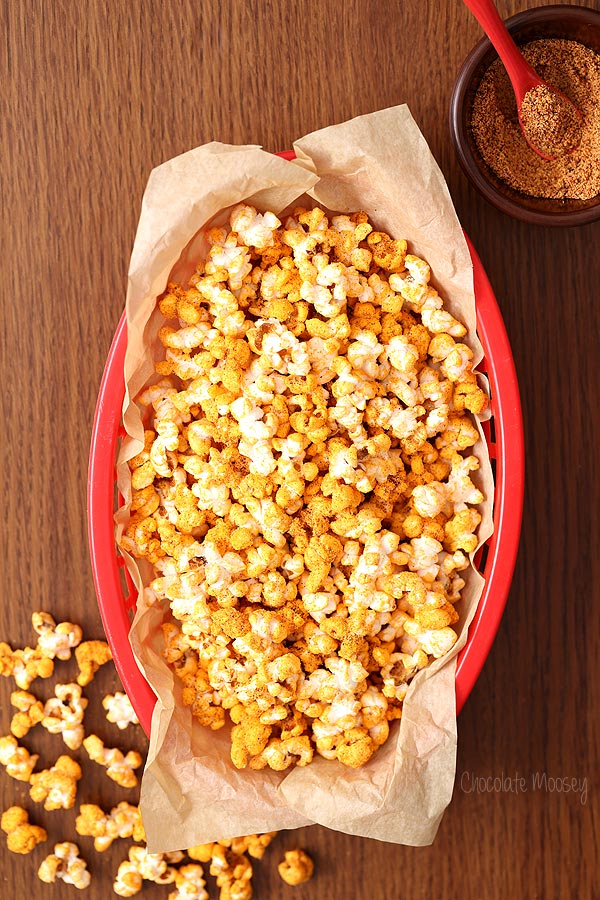 To make it cheesy without being perishable, I used cheddar cheese powder. The brand I used was
Molly McButter
, which I found in the baking aisle by the spices. You may find other brands in the popcorn aisle right next to the kernels. If you don't want to use cheddar cheese powder, right before serving, toss the popcorn with finely shredded cheese (much like my
Irish Cheese and Bacon Popcorn
). You have to eat it right away as the fresh cheese makes it perishable (and refrigerated leftover popcorn just isn't the same).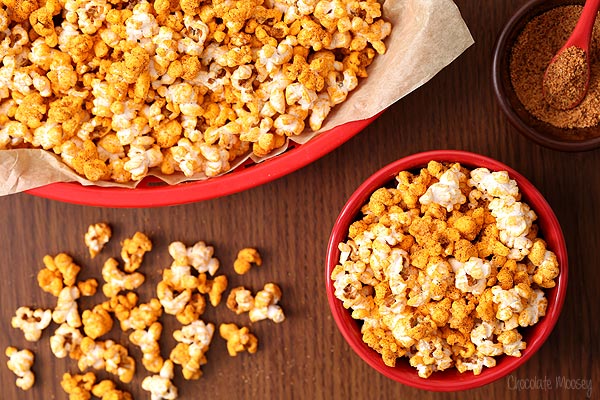 Even though I made this recipe by popping my own popcorn kernels, you can also use microwave popcorn. Just be aware of how much salt you're using. Sometimes, microwave popcorn is already salted, so you don't need to add more.
Items You May Need: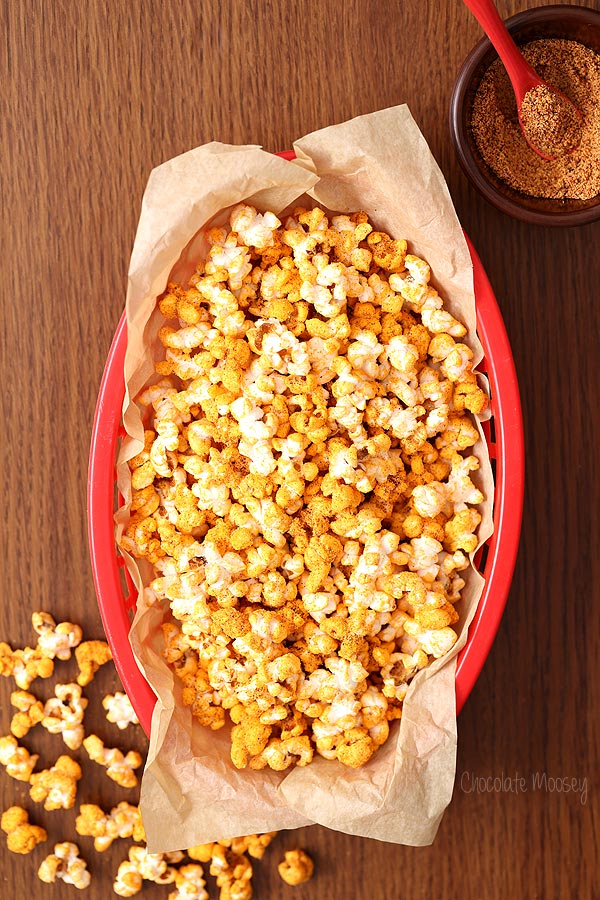 Ingredients
3 1/2 cups fresh air-popped popcorn, unsalted*
1 tablespoon melted unsalted butter or olive oil
3 tablespoons cheddar cheese powder**
1 1/2 teaspoons chili powder
1/2 teaspoon paprika
1/2 teaspoon salt***
1/4 teaspoon ground cumin
1/8 teaspoon cayenne
Instructions
In a large bowl, toss together the popcorn and melted butter or olive oil. Immediately add cheese powder, chili powder, paprika, salt, cumin, and cayenne. Toss again to coat the popcorn. Serve immediately. Store in an airtight container for up to 2 days.
Notes
3 1/2 cups of popped popcorn is roughly equal to 2 tablespoons unpopped kernels plus 1 tablespoon vegetable oil. To make popcorn on the stove: Find a pot with a wide bottom and a lid. Add the oil and stir to coat the bottom. Add the kernels and shake the pan until coated. Turn on the heat. Shake the pan every so often so the kernels move around a bit. After what seems like forever, a kernel should pop. Once that happens, add your lid. Once the popping stops, remove the pan from the heat. Pour into a giant bowl and let cool for a bit. Sift through popcorn to remove any unpopped kernels and possible burnt pieces.

*You can also substitute 1/2 cup finely grated cheddar cheese. Add right before serving and eat immediately. Refrigerate any leftovers (which are great for popcorn soup).

***If you decide to use microwave popcorn, don't add the salt. Taste and adjust salt as needed.
7.8.1.1
3363
https://www.chocolatemoosey.com/2015/01/08/chili-cheese-popcorn/
Source: Inspired by
Joy The Baker Cookbook
More Popcorn And Snack Recipes

Irish Cheese and Bacon Popcorn
Disclosure: This post contains Amazon affiliate links, which means I earn a tiny portion of your sales if you buy through these links. All money earned goes back into buying groceries for the blog. Thank you for your support!