Love Italian ice? Now you can easily make this refreshing Watermelon Italian Ice at home to save money and cool you down as the weather gets hotter (plus it's both dairy and egg free).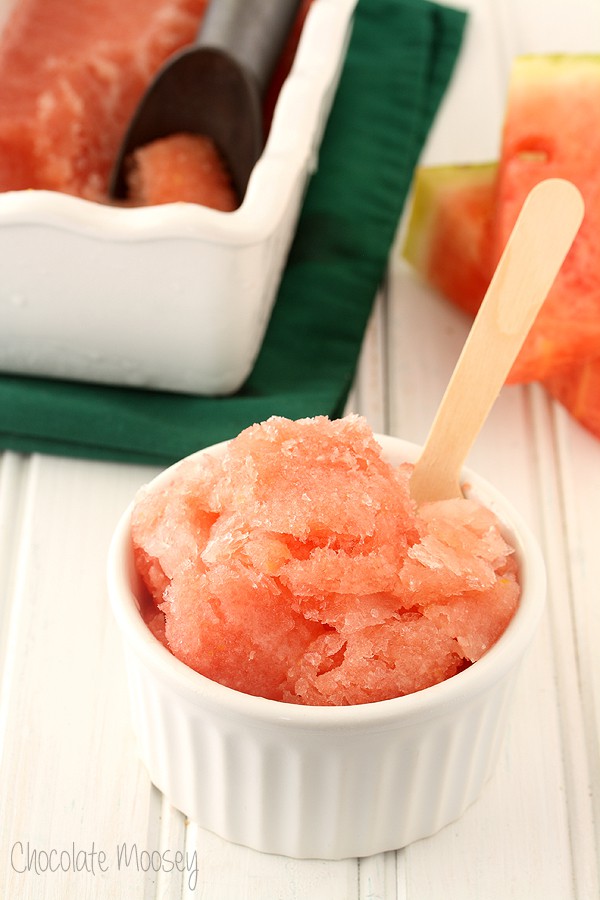 As a kid, I never really liked watermelon. It wasn't so much that I hated it; rather, it just tasted like, well, water. I'd rather have the sweet, assertive taste of mango or pineapple if I wanted some juicy fruit to snack on. Then one hot, blistering summer day last year, I wasn't feeling well due to the heat. My parents were with me and had just bought fresh, cubed watermelon from the store. Considering we didn't have anything to drink in the car, I gave in and ate a few pieces, just enough to get me through the trip. That's when I realized that watermelon isn't so bad after all. Still watery like I remembered but also a little bit sweet. Later that summer, I bought a few watermelon slices of my own and made a watermelon salsa. Summer soon ended, and that was the last of the watermelon for the year.
Fast forward to this year, and I wanted to take watermelon into a new direction. It's not an ingredient you typically bake with, considering how watery it is. As I racked my brain for dessert ideas, frozen treats kept coming to mind. Watermelon ice cream didn't feel cohesive. Then it hit me – Watermelon Italian Ice. And let me tell you – it is the most amazing watermelon treat I've had so far. Not that I've had many watermelon treats, but I was blown away at how good this was. Far greater than expectations I had for it. So whether you eat your weight in watermelon or whether you just nibble on it here and there, just promise you'll give this Watermelon Italian Ice a try.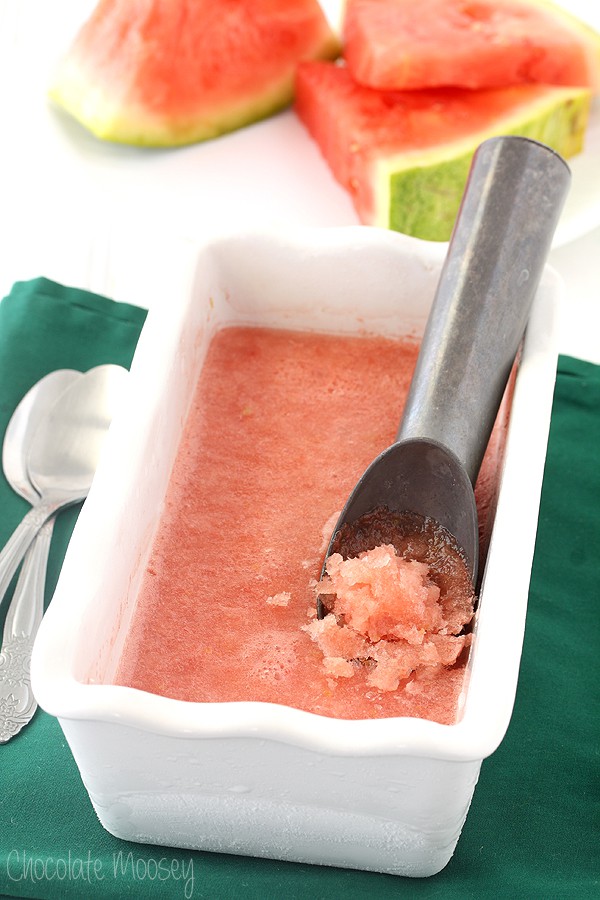 What is Italian ice? It is a frozen treat made with fruit puree/juice and a simple sugar syrup. There's no dairy and no egg. The texture is very similar to eating ice (hence the name) but not quite like a snow cone or shaved ice. Think of a snow cone but with finer ice crystals. It's also very similar to a sorbet but not as smooth. If you still have no idea what I'm talking about, just make a batch. You won't regret it.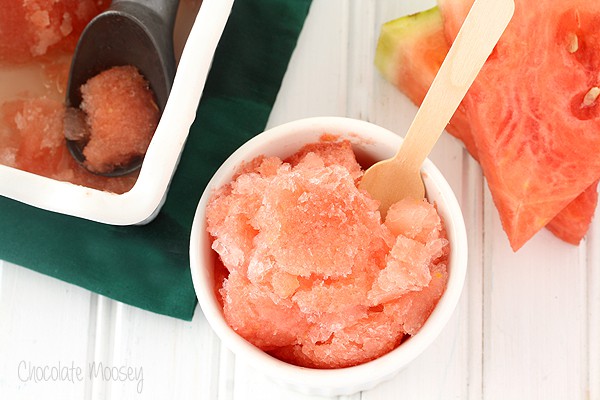 Not going to lie – I was surprised at how strong the watermelon flavor was. I was afraid since my watermelon wasn't the juiciest, the ice wouldn't be as sweet. Luckily, the lemon really brings out the watermelon. If your watermelon is really sweet to begin with, you may want to cut back on the sugar syrup. The ratio is 1:1, so if you want to cut it back to 1/4 cup sugar, you'll also want to make the water 1/4 cup.
The motivation behind this creating this Watermelon Italian Ice is for a watermelon recipe contest for Watermelon.org and Eat Write Retreat. I'm attending this conference in June and decided to step outside of my comfort zone and work with a flavor I don't have a lot of experience with. And thanks to this ridiculously good recipe, I now want to turn all of the fruits into Italian ice. For more watermelon recipes, visit Watermelon.org and their Facebook and Twitter accounts.
Watermelon Italian Ice
Ingredients
1/2 cup water
1/2 cup granulated sugar
2 cups cubed watermelon
1 teaspoon lemon zest
1 tablespoon lemon juice
Instructions
In a medium saucepan, bring the water and sugar to a boil. Cook until the sugar dissolves and the liquid is clear. Remove from the heat.
In a blender, add the watermelon, lemon zest, lemon juice, and sugar water. Pulse a few times until smooth (don't overblend). Pour into a freezer-proof container. Cover and freeze until firm, about 4 hours or overnight.
More Watermelon Recipes

Watermelon Lemonade Margarita Popsicles