Baked Coconut Shrimp made healthy with little fat and a Mango Jalapeno Dipping Sauce made with Greek yogurt. Whether you eat it for dinner or serve it as a party starter, this dish will please all seafood lovers.
Remember the 5 pounds of shrimp that I received via
my Shrimp Showdown post
? Here's another shrimp recipe I made – Baked Coconut Shrimp with Mango Jalapeno Dipping Sauce. This is a recipe I blogged a long, long time ago, probably in my first year or two of blogging. In fact it's been so long that I kinda forgot this recipe existed. It wasn't until a friend helped me brainstorm shrimp ideas that I remembered it. Instead of updating the old post, I decided to repost an updated version, complete with a brand new dipping sauce that I came up with using Greek yogurt, a mango and some jalapenos. The best part is that there is very little fat in this recipe, deeming it healthy. And we like it when shrimp is healthy.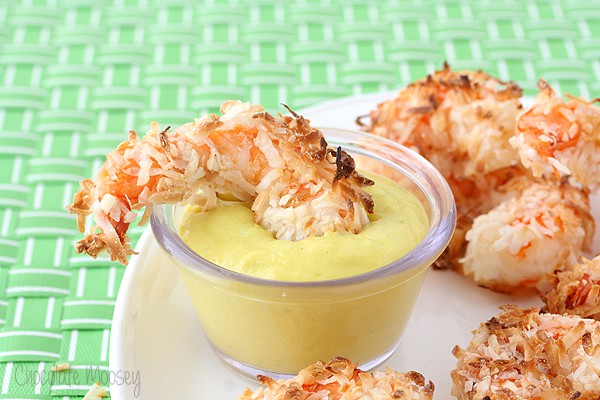 I love eating fried foods, especially fried shrimp. However, my waist and arteries don't feel the same way. That's why I tend to bake my food. And although these are not even close to fried, battered shrimp, they still make a very tasty…snack? Appetizer? Dinner? I guess they are more of a starter than a meal, but if you pair it with a side of noodles or a vegetable, then it can become dinner.
The trick to these baked coconut shrimp is baking them on a rack so the heat circulates underneath, very similar to baking chicken wings. Ideally you want to use a roasting rack in a pan, but a cooling rack on a cookie tray works just as well. The cooking time and amount of shrimp this recipe makes is dependent on the size of your shrimp. My shrimp were almost as big as the palm of my hand! Not only did the cooking time needed to be adjusted, that also meant they used up more of the coating. I did weigh my shrimp to make sure I used one pound rather than trying to give an exact count. You may need to use your cooking instincts to adjust for your shrimp size.
For the dipping sauce, I threw all of the ingredients into a blender while the shrimp were baking. Because the jalapeno is raw, you really notice it, so if you are sensitive to spiceiness, don't add the seeds or membrane (where most of the heat comes from). Instead, make the sauce without it, taste, then decide on if you want more heat. If you do accidentally make it too spicy, add more yogurt.
Baked Coconut Shrimp with Mango Jalapeño Dipping Sauce
Although shrimp is my favorite protein, you can also substitute chicken or turkey cut into strips. Bake it for 20 minutes then check. If they aren't fully cooked, bake another 5 minutes. *Meal planning tip - Take some extra time on a day off to shell the shrimp and cut up the mango ahead of time. You can freeze unshelled shrimp, making them ready to grab at a moment's notice.
Ingredients
Shrimp
2 egg whites
4 tablespoons cornstarch
1 teaspoon salt
1/2 teaspoon ground black pepper
1 cup shredded coconut
1 pound raw shrimp, peeled, deveined, and patted dry
Mango Jalapeno Dipping Sauce
1 cup chopped mango (roughly half a mango)
1/3 cup plain Greek yogurt
1 teaspoon lime juice
1 chopped jalapeno (seeds and membrane optional)
2-3 teaspoons honey
Instructions
Preheat oven to 400F. Line a baking sheet or pan with a wire rack and lightly spray the wire rack with cooking spray.
In one bowl, combine the cornstarch, salt, and pepper. In a second bowl, add the egg whites. In a third bowl, add the coconut.
Working with one shrimp at a time, dredge in cornstarch mixture, then egg whites, then coconut. Place on the wire rack.
Bake for 10 minutes, flip each shrimp over, then bake another 10 minutes or until coconut is toasted. The timing may vary depending on your size of shrimp, so you may need an extra 10 minutes.
While the shrimp are baking, make the dipping sauce. Add the mango, yogurt, lime juice, jalapeno, and 2 teaspoons honey into a blender and blend until smooth. Taste and add the extra honey if needed. Serve shrimp with the sauce.
Source: Adapted from
Food.com
—-
If you enjoyed this Baked Coconut Shrimp with Mango Jalapeno Dipping Sauce, you may also like these recipes:

General Tso's Sweet Chili Shrimp
*Disclosure: The shrimp was provided by OXO and The Shrimp Council for their Shrimp Showdown. I was not required to make any additional recipes including this one, but I wanted to make the most of my shrimp (5 pounds is a lot of shrimp!). No monetary compensation was provided. All writing and photographs are my own unless otherwise noted.